Loppet Run 365 Adult program is designed for goal oriented runners from beginners to the highly competitive level. The program will accommodate the individual needs and goals. The Run 365 programs will offer sessions for the beginner to advanced runners.
Programs
Loppet Run 365 Run Club:
For runners of all ability focused on 5km-25km road and trail racing. This program is for the individual who wants to improve race times and their running mechanics, and learn strategies to stay injury free. Training will include distance and interval sessions, and will also include form drills/running mechanics, strength/activation, and flexibility training. Whether your goal is to run a personal best in a 10km, or just be able to run 10 miles in a training run, you will learn a ton from Abdi Bile. Veteran Loppet Run Club coach Kevin Johnson will join Abdi Bile for most training sessions.
This group will build on the traditions of the Loppet Run Club – we will encourage all our athletes to join in Loppet Events like the Trail Loppet (Sept 19).
Fall Session: Saturday, Sept 12, runs thru November 7, cost $320 *you can join this group anytime- we will pro-rate the registration fee. *
MEET Abdi Bile: LR365 Orientation and "Test Drive" Session – Monday, August 31st, 6pm. Bryn Mawr Meadows Park.
Mondays 6:00pm and Saturdays at 8:00am (note Monday meeting time will move earlier as we move into October).
Most meetings at Bryn Mawr Meadows Park, but we will use other locations to vary the workouts.
Email Abdi Bile with questions: bile@loppet.org
Loppet Run 365 Adult Running (Somali language)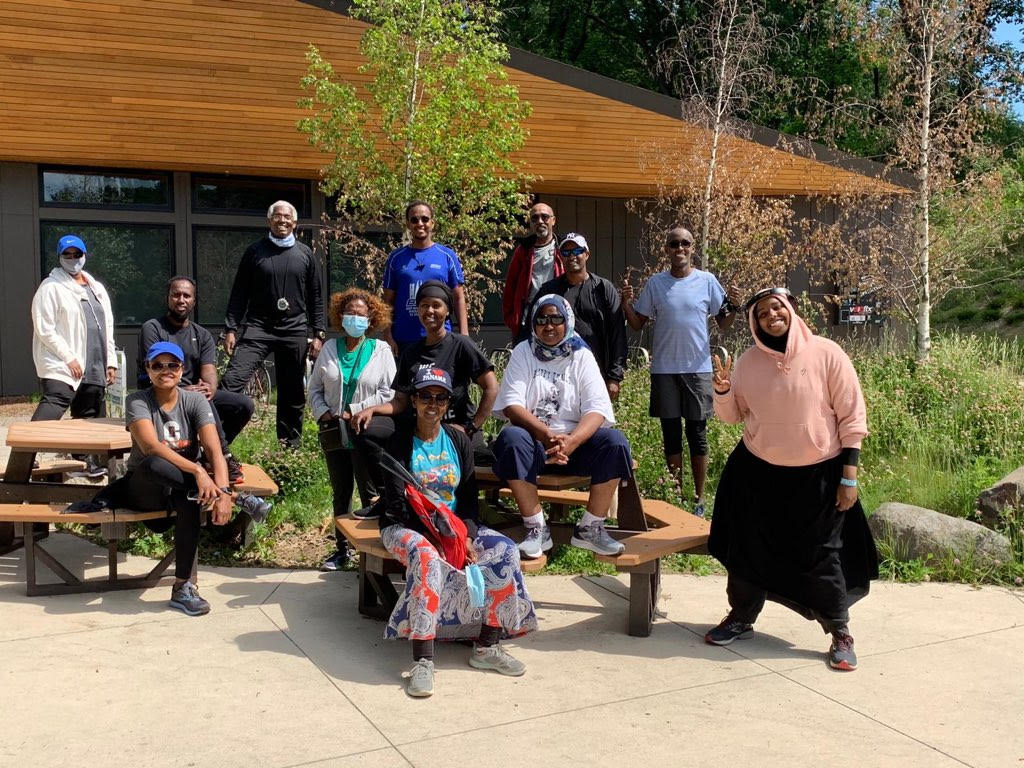 This program is focused on building endurance, improving running mechanics and flexibility. Beginner to Intermediate level of experience. Training advice will be provided for days the group is not meeting. Coached by Abdi Bile- this group will be a Somali language group.
Fridays 6:00pm and Sundays 9:00am
Summer Session: June 19- Aug 16 , cost $240
Fall Session: Aug 21- Oct 18, cost $240
Summer + Fall: June 19-Oct 18, cost $320
Trailhead and other locations
email Abdi Bile with questions: bile@loppet.org
Cedar Riverside Senior Women's Program
This program consists of walking plus easy mobility. Senior exercises promoting health, fitness and active outdoor lifestyle. This program will improve their Flexibility, Mobility, Strength, Balance, Energy and Reduce Stress. Most importantly this pilot program is intended to transform the Somali seniors mental outlook of physical exercise and its benefits. This is one of the Loppet's out-reach programs supported by UCare and we will continue this program as long as the enthusiasm is growing.
Fall Session: August 26- October 28th
Wednesday evenings, 6pm, Cedar Riverside Park
cost $150 for fall session
Register
LR365 Adult Running (Somali Language)
LR365 Adult Somali Senior Fitness
Registration and transaction fees are non-refundable, including in the event of delay, rescheduling, or cancellation of an event or program. An event or program registration is not transferable to another person or another event for any reason, including injury. Participating under another person's name will result in disqualification.
A Note About the Data We Collect
Proceeds from the Loppet Run 365 Programs benefit the Loppet Foundation. Learn more about the Foundation's mission, vision, and values.
Coaching
Abdi Bile, Loppet Running Director
Along with an incredibly successful running career, Abdi Bile has made a name for himself over the years as a highly knowledgeable running coach. His distinguished career includes coaching as the National Head Coach of the Kingdom of Saudi Arabia and United Arab Emirates, the Senior Endurance Coach as Aspire Academy, and the Junior National Team Coach of Qatar. Bile was also the Co-Founder and Head Coach of the Savannah International Training Center in the United States, sponsored by the International Olympic Solidarity Program.
Bile has made it his personal mission to mentor and inspire youth to enjoy sports and a variety of outdoor activities, aligning well with the Loppet Foundation's mission to create a shared passion for year-round outdoor adventure in the Minneapolis area.