Loppet TRAIL KIDS Winter Program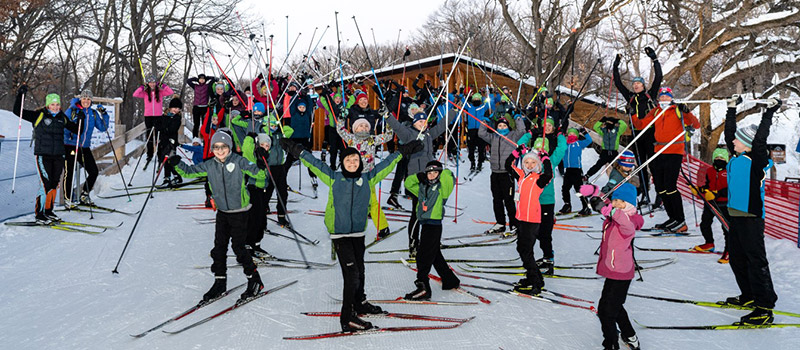 The Loppet TRAIL KIDS Winter Program is for youth ages 7 – 13 years old and provides coaching instruction for both classic and skate ski technique. Loppet TRAIL KIDS is offered at two locations (Hyland and Wirth Park).
Beginner to advanced skiers are split into ability and age coaching groups so that each youth is challenged appropriately. TRAIL KIDS sessions include technique drills, relays, games on skis, distance adventure skiing and preparing for upcoming race events. The main focus is developing skills, having fun and falling in love with a lifetime sport!
The winter program has two options for sessions:
Twelve Week TK Nordic Session: Meets twice a week from December through mid March (registration fee includes 13 weeks (24 sessions) of programming along with registration for MyXC Festival and Championships). No sessions the week of December 23 – January 3 due to holiday winter break and February 20 (Junior Birkie). Total of 24 practice sessions and Super Ski Race series.
Six Week Session ( February – March)
The Later Session starts February and ends the second week of March running a total of 6 weeks ( 12 sessions). Program includes 12 weeks of coached sessions along with registration for MyXC Festival and Championships and Super Ski Race Series events.
Both Winter Programs Include:
MyXC Festival and Championships races and festival entry fee for Saturday and Sunday race events.
Discounted registration for designated Loppet Festival youth race events.
Additional weekend and holiday adventure distance ski events (waffle Loppet).
Loppet TRAIL KIDS race hat.
Bi-weekly 1.5 hour coached training sessions focused on technique, ski drills, endurance, strength, speed, relays, games, and race tactics. Large focus is on developing skills, adventure and falling in love with a lifetime sport!
Coaching and wax support at specific 2020 CXC/Skiwerx race events
---
2019/20 Winter Program Locations
Tuesday/Thursday 12 Week Nordic Session:

Offered at Both Wirth Trailhead and Hyland Locations
Time/Day: Tuesdays/Thursdays, 6:00–7:30 pm
Dates: December 5 – March 12 (No sessions the week of December 23 – January 3 due to holiday winter break and February 20 (Junior Birkie).
Location Meeting Spot: Wirth Trailhead Minneapolis or Hyland Lake Park, Bloomington
Registration Fee: $480 or $ 500 after November 20
Monday/Wednesday 12 Week Nordic Session:

Offered at Wirth Trailhead Location Only
Time/Day: Monday/Wednesdays 6:00–7:30 pm
Dates: December 4 – March 11 (No sessions the week of December 23 – January 3 due to holiday winter break and February 20 (Junior Birkie).
Location Meeting Spot: Wirth Trailhead Minneapolis
Registration Fee: $480 or $500 after November 20
Tuesday/Thursday 6 Week Nordic Session ( Hyland & Wirth)
Time/Day: Tuesdays/Thursdays, 6:00–7:30 pm
Dates: February 4 – March 12 ( No session February 20 (Junior Birkie).
Location Meeting Spot: Wirth Trailhead Minneapolis or Hyland Lake Park, Bloomington
Registration Fee: $240 or $270 after January 1, 2020
Monday/Wednesday 6 Week Nordic Session ( Wirth Only)
Time/Day: Monday/Wednesdays 6:00–7:30 pm
Dates: February 3 – March 11
Location Meeting Spot: Wirth Trailhead Minneapolis
Registration Fee: $240 or $270 after January 1, 2020
Wirth
Registration Closed
Hyland
Registration Closed