Part of the City of Lakes Loppet Winter Festival
Saturday, February 5
The Trailhead, 1221 Theodore Wirth Parkway
Come on down to The Trailhead on Saturday and enjoy the world's largest winter Kubb tournament. Kubb is a Swedish lawn game, similar to Cornhole or bocce ball in the Midwest. Teams of 3-6 players will compete in a 64-team tournament. There will be a round-robin stage starting at 10:00am, and then a single elimination stage from 2:00 – 6:00pm to determine the champions!
Not interested in the competitive side? We also offer a more casual experience. The Recreational Kubb tournament is perfect for newcomers to the game of Kubb, as well as those who want to take a break from the rest of the action surrounding the Loppet Festival.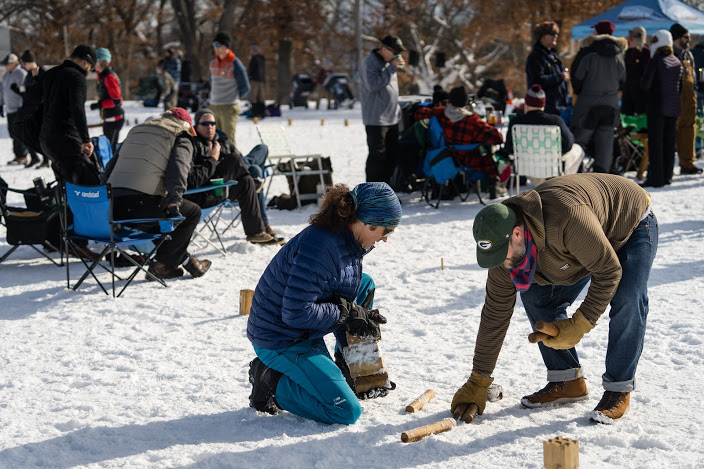 Register
The registration fee is per team. Please choose your registration carefully – the "ticket" you choose determines in which tournament you will play (Championship or Recreational).
There is no in-person registration.
NOTE: The Recreational Kubb is full. As of Sun, 1/23, there are two spots open in the Championship Kubb and registration has been extended to Wed, 1/26.
Register Now!
| | Status | Starting Opening Day | Starting 12/7/21 | Starting 1/11/22 | Starting 2/1/22 | Starting 2/3/22 | Registration Deadline |
| --- | --- | --- | --- | --- | --- | --- | --- |
| Captain Ken's Kubb Tournament | Open | $75 | $75 | $75 | N/A | N/A | 1/21/22 11:59pm |
Proceeds from the Captain Ken's Kubb Tournament benefit the Loppet Foundation. Learn more about the Foundation's mission, vision, and values.
Registration and transaction fees are non-refundable, including in the event of delay, rescheduling, or cancellation of an event or program. An event or program registration is not transferable to another person or another event for any reason, including injury. Participating under another person's name will result in disqualification.
How to Play Kubb

First time attending a kubb event or even your first time playing the game kubb? No problem! Check out this helpful FAQ. Pitches will be available the morning of the tournament to learn and play the game. Find one of our Kubb Ambassadors who can explain the game and get you started on the basics before matches start at 10am.
Format
Individuals may only register and participate for one team in one tournament. Playing for another team in your own tournament or the other tournament will result in disqualification of both the individual and team.
Championship Kubb Tournament
Recommended for teams familiar with kubb who aim to beat the best and compete for the Frostbeard Trophy.
The Championship Kubb Tournament will involve group play and a knockout bracket. Team captains will receive specific format information after registration closes on January 22nd.
Recreational Kubb Tournament
Recommended for casual teams or those less familiar with the game of kubb. All are welcome in the Recreational Kubb Tournament!
The Recreational Kubb Tournament is same kubb tournament you've come to know and love since 2012 – free Surly beer ticket and all!
Teams are placed in groups of four. Teams must consist of at least three players with a maximum of six players. Not all players on each team are required to throw on every turn, however no single player may throw more than two batons. All matches will follow U.S. Championship Rules. Teams will play three matches in the Round Robin, one against each of the other three teams in their group. Teams will then be seeded into a bracket based on their Round Robin Results. Teams losing their first knockout match will move the consolation bracket. Teams are guaranteed 5 matches.
Time Limits
In keeping with our goal of offering a unique kubb experience while maintaining a competitive tournament for participants, time restrictions are necessary to ensure the semifinal and final matches are played on time, coinciding with the Luminary Loppet. Matches not completed by their designated ending times will be determined by the tiebreak rule. All Championship Bracket rounds will start at the designated times listed on the schedule even if both teams from the previous round have advanced. The purpose of this is to avoid excessive downtime for teams if one side of the bracket is getting too far ahead of the other. This will also allow teams finishing early to warm up between matches knowing when their next match will begin.
Tiebreak Scenario
The following explanation is to break a tie in the Round Robin stage to determine which two teams move on to the Championship Bracket if, after all Round Robin matches are complete, a tie exists between three or more teams. Note that the first tiebreak is not games won or head-to-head.
Example:
Teams A, B, and C will compete in a throw-off to determine which teams advance.
| Team | W | L |
| --- | --- | --- |
| Team A | 2 | 1 |
| Team B | 2 | 1 |
| Team C | 2 | 1 |
| Team D | 0 | 3 |
Throw-off
A throw-off consists of each team throwing 6 shots from their base line trying to knock over as many kubbs as possible. The two teams knocking over the most kubbs will advance to the Championship Bracket. In this example, if Team A knocks over 3 kubbs in the throw-off and Teams B and C both knock over 2 kubbs, Team A will advance to the Championship Bracket as the group winner. Teams B and C would then throw again with the winner moving on to the Championship Bracket as the group runner-up. As is the case for match play, no player may throw more than two batons during a throw-off.
Packet Pickup
There is no physical packet that needs to be picked up for any Kubb teams. All information regarding schedule and brackets will be emailed out the week of the event, and any needed materials will be given out at the event.
Registration Questions:
registration@loppet.org
Awards
Championship Bracket
1st Place: $250, King of the Loppet Award, Tournament Medals
2nd Place: $100, Tournament Medals
3rd Place: $50, Tournament Medals
Recreational Bracket
Tournament medals to the 1st-3rd place teams.
Awards ceremony for this event will take place in the Kubb competition area immediately after the tournament is over. Must be present to receive a cash awards packet.