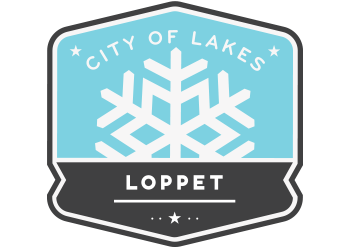 February 4-6, 2022
City of Lakes

Loppet Winter Festival
The Urban Ski Festival

Minneapolis's Iconic Celebration of Winter
Growing from a once humble cross-country ski race in 2003, the City of Lakes Loppet Winter Festival has come to be the staple event of winter in the North.
The City of Lakes Loppet Winter Festival is a two-day festival that includes the Luminary Loppet, which is the most magical night of winter; a variety of point-to-point Cross-Country Ski, Fat-Tire Bike, Skijor, and Snowshoe events, both competitive races and recreational touring events through Theodore Wirth Park; and a number of unique events, such as the Captain Ken's Kubb Tournament – plus much more.
The vast majority of Festival activities take place in the outdoors with ample space for social distancing, e.g. races, Kubb, visiting sponsor tents, the Surly Beer Garden, and food trucks and stations.
Please stay home if you are experiencing symptoms of COVID-19 or have recently tested positive. Here are CDC Isolation and Quarantine Guidelines shared by the City of Minneapolis.
Masking is required inside the Trailhead, inside the changing tent, inside the North Beach registration tent and on the shuttle buses.
Masking is recommended in any situation where social distancing may be challenging, e.g. registration lines, beer ID and service lines, start/finish areas and lines for food/drink tents.
We recommend that race participants carry a mask with them in case they require assistance or transport as well as to have available at the finish for the Trailhead.
See the full Festival COVID statement here.
Learn more and register for the City of Lakes Loppet Winter Festival events on each event's webpage.
Festival Events
---
We would like to thank these sponsors for helping to make this major winter celebration possible.
Gold Sponsors
Silver Sponsors
Bronze Sponsors
Official Apparel Provider
Partners
Join the Adventure!
Detailed sponsorship opportunities and packages are available.
Please contact the Loppet Foundation Sponsorship Manager:
sponsorship@loppet.org