Part of the City of Lakes Loppet Winter Festival
Sunday, February 6: 10:40am
3000 East, W Bde Maka Ska Pkwy, Minneapolis, MN 55408
The Snowshoe Loppet is a point-to-point course from Bde Maka Ska back to The Trailhead via woods and groomed ski trails (where snowshoers are not normally allowed). This snowshoe run / walk follows the same course as the 10K Classic/ Skate Ski Tours and is a perfect event to explore the beautiful woods of Theodore Wirth Park in a unique way!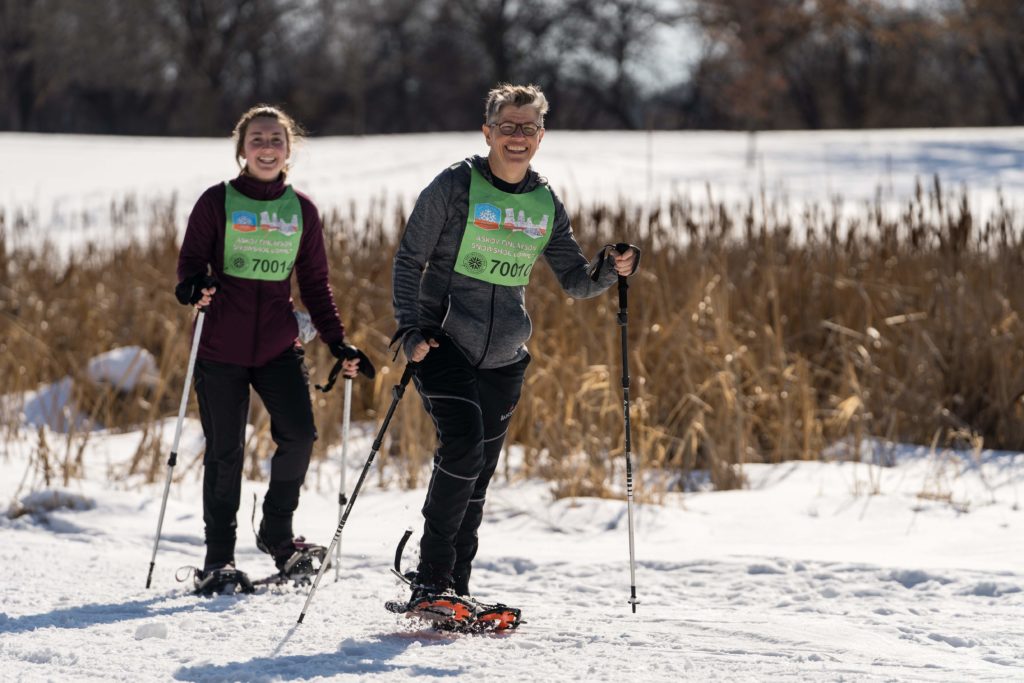 Registration & Packet Pickup
Register Now!
| | Status | Starting Opening Day | Starting 12/7/21 | Starting 1/11/22 | Starting 2/1/22 | Starting 2/3/22 | Registration Deadline |
| --- | --- | --- | --- | --- | --- | --- | --- |
| Askov Finlayson Snowshoe Loppet | Open | $30 | $30 | $35 | $40 | $60 | N/A |
Proceeds from the Askov Finlayson Snowshoe Loppet benefit the Loppet Foundation. Learn more about the Foundation's mission, vision, and values.
Registration and transaction fees are non-refundable, including in the event of delay, rescheduling, or cancellation of an event or program. An event or program registration is not transferable to another person or another event for any reason, including injury. Participating under another person's name will result in disqualification.
A Note About the Data We Collect
Packet Pickup
2022 City of Lakes Loppet Winter Festival packet pickup will be available at the following times and locations:
Thursday, February 3: The Trailhead, 4pm-8pm
Friday, February 4: The Trailhead, 4pm-8pm
Saturday, February 5: The Trailhead, 7am-3pm (note that this is best for day of at Trailhead races. Parking will be limited.)
Saturday, February 5: Bde Maka Ska, 7am-10am (for Saturday point to point races only)
Sunday, February 6: Bde Maka Ska, 7am-12pm (for Sunday point to point races only)
Maps & Course Information
Sunday Point-to-Point Map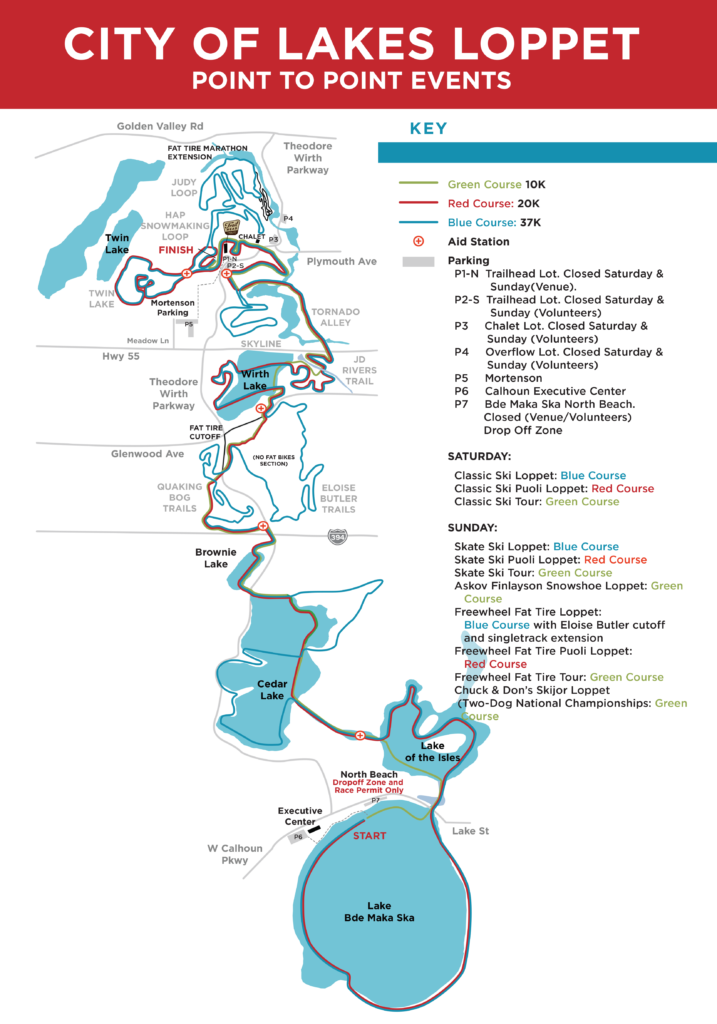 Parking & Transformation
We encourage participants to bike, bus, ski, or walk to the City of Lakes Loppet Winter Festival events. For those who choose to drive, please read the sections below for information on parking and drop off / pickup.
On Friday, parking is available at Theodore Wirth Park in The Trailhead parking lot and the Theodore Wirth Chalet parking lot.
Friday Packet Pickup
Parking at Theodore Wirth Park
Saturday/Sunday Drop off / Pick up
Sunday

Road Closures
Parking at Bde Maka Ska (Start of point to point races)
Please allow yourself extra time to find parking. Note that your car is your best warming place. If possible, it is helpful to pick up your packet before race day.
North Beach Parking Lot: No participant parking (volunteer/permit parking only). But drop offs are allowed. Please see section below about Bde Maka Ska drop offs.
Lakeside Center (formerly Calhoun Executive Center): Participant parking available
If the Lakeside Center parking lot is full, there is also significant nearby neighborhood and general lot parking.
Drop off / pick up near Bde Maka Ska
North Beach Parking Lot: Available for participant drop off/pick up. But there are also many places on the parkway around the lake where you can pull in and then ski/bike/walk to the start at North Beach.
Parking at Theodore Wirth Park
Mortenson Lot: Participant parking available. Mortenson is walking distance to the festival.
Participant parking available on street in nearby neighborhoods.
There is very limited parking available at any Theodore Wirth Park Parking Lots. It is by Race Permit only (volunteers, staff, certain participant groups with extra considerations). Roads will be closed and monitored for permits.
Drop off / pick up in Theodore Wirth Park
Dropoffs and pickups will be allowed at the Chalet (1301 Theodore Wirth Pkwy). Please note that access to the Trailhead will be closed at Hwy 55. You will need to approach the Chalet via Plymouth Ave from the east or Golden Valley Rd from the north.
Win a Pair of Snowshoes
Snowfoot is generously donating a pair of snowshoes to a participant of the Askov Finlayson Snowshoe Loppet. Anyone that registers for the event is automatically entered to win the snowshoes. A winner will be drawn on February 9th. You may increase your number of entries by taking a photo training for the Askov Finlayson Snowshoe Loppet and send it to marketing@loppet.org.
Results & Photos
Awards
Commemorative medals for all finishers.
Awards to the top three male and female overall snowshoers.
1st Place: $150, Hand-crafted awards
2nd Place: $100, Hand-crafted awards
3rd Place: $50, Hand-crafted awards
Awards ceremony for this event will take place at the finish area podium as soon as results are posted. Must be present to receive cash awards packet.