Part of the City of Lakes Loppet Winter Festival
Saturday, February 5: 12:00pm
The Trailhead, 1221 Theodore Wirth Parkway
If you want an adventure that mixes the great outdoors with a bit of a scavenger hunt, give this unique event a go. Hosted by the Minnesota Orienteering Club, the Ski-Orienteering Loppet is a timed event in which participants navigate on skis using map and compass to find checkpoints located throughout Theodore Wirth Park.
Orienteering is an activity that everyone in the family can enjoy, regardless of age or experience. All are welcome from experienced and competitive orienteers who fly through the woods to beginners and non-competitive orienteers who want to follow the trails and enjoy the park at a more leisurely pace.
The Ski-Orienteering Loppet usually has two different courses available to fit your experience and fitness: Medium/Long (7-9k) and Short (4-5k).
Participants will receive information on start location/details directly from MNOC.
For more information on the Minnesota Orienteering Club and to see a complete list of events for the season, visit the MNOC website.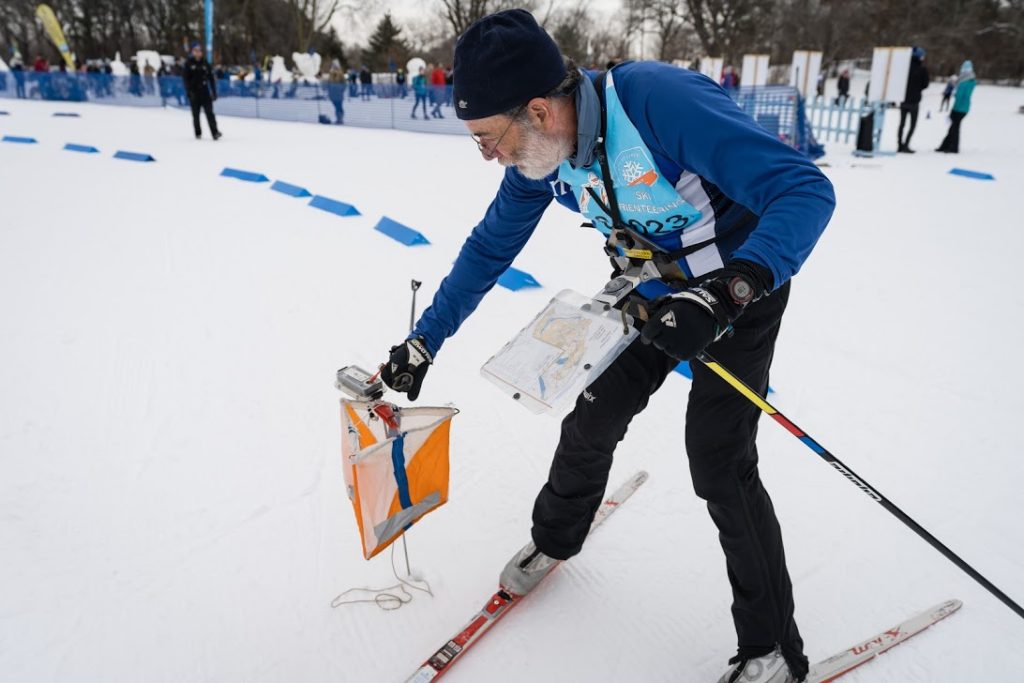 Registration & Packet Pickup
Register Now!
There is no on-site or race-day registration for the Ski-Orienteering Loppet.
| | Status | Starting Opening Day | Starting 12/7/21 | Starting 1/11/22 | Starting 2/1/22 | Starting 2/3/22 | Registration Deadline |
| --- | --- | --- | --- | --- | --- | --- | --- |
| MNOC Ski-Orienteering Loppet | Open | $20 | $22 | $26 | $30 | $35 | N/A |
Proceeds from the Ski-Orienteering Loppet benefit the Loppet Foundation. Learn more about the Foundation's mission, vision, and values.
Registration and transaction fees are non-refundable, including in the event of delay, rescheduling, or cancellation of an event or program. An event or program registration is not transferable to another person or another event for any reason, including injury. Participating under another person's name will result in disqualification.
A Note About the Data We Collect
Packet Pickup
2022 City of Lakes Loppet Winter Festival packet pickup will be available at the following times and locations:
Thursday, February 3: The Trailhead, 4pm-8pm
Friday, February 4: The Trailhead, 4pm-8pm
Saturday, February 5: The Trailhead, 7am-3pm (note that this is best for day of at Trailhead races. Parking will be limited.)
Course Map
Course Map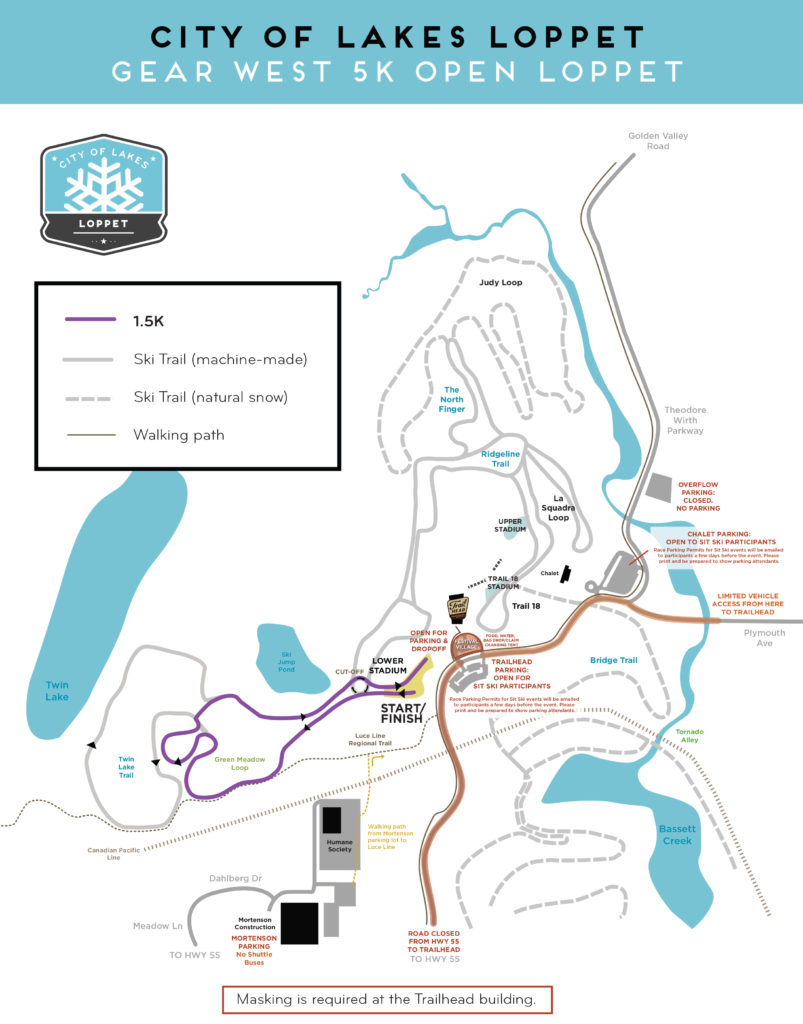 Parking & Transportation
We encourage participants to bike, bus, ski, or walk to the City of Lakes Loppet Winter Festival events. For those who choose to drive, please read the sections below for information on parking and drop off / pickup.
On Friday, parking is available at Theodore Wirth Park in The Trailhead parking lot and the Theodore Wirth Chalet parking lot. 
Friday Packet Pickup
Parking at Theodore Wirth Park
Saturday Drop off / Pick up
Saturday: Races & Events at Wirth
Road Closures
Parking at Theodore Wirth Park
Mortenson Lot: Participant parking available. Mortenson is walking distance to the festival.
Participant parking available on street in nearby neighborhoods.
There is very limited parking available at any Theodore Wirth Park Parking Lots. It is by Race Permit only (volunteers, staff, certain participant groups with extra considerations). Roads will be closed and monitored for permits.
Drop off / pick up in Theodore Wirth Park
Dropoffs and pickups will be allowed at the Chalet (1301 Theodore Wirth Pkwy). Please note that access to the Trailhead will be closed at Hwy 55. You will need to approach the Chalet via Plymouth Ave from the east or Golden Valley Rd from the north.
Awards
Commemorative medals for all finishers.
Long Category
Hand-crafted awards for the first three male and female finishers.
Short Category
Award medals for the first three overall finishers.
Awards for this event will take place at the finish area podium as soon as results are posted- see the Ski-O event table in the start/finish area for details.
Results & Photos