Part of the City of Lakes Loppet Winter Festival
Saturday, February 3: 12:00pm (tentative)
If you want an adventure that mixes the great outdoors with a bit of a scavenger hunt, give this unique event a go. Hosted by the Minnesota Orienteering Club, the Ski-Orienteering Loppet is a timed event in which participants navigate on skis using map and compass to find checkpoints located throughout Theodore Wirth Park.
Ski Orienteering adds an additional element of challenge to the traditional sport of orienteering. If you are primarily a skier, you will add to your sport the challenge of finding efficient routes to a series of locations throughout the trail system as identified on a map. If you are primarily an orienteer, you will have the added challenge of moving through the park on cross country skies to complete the course. When you have finished, you will all be a ski-orienteerer!
To best fit your experience and fitness, the Ski-Orienteering Loppet offers two course choices at the time of registration. A medium/long course (approx. 7-9K) will challenge the participant with plenty of hills, orienteering route choices, and, depending on snow conditions, possibly route choices that may take you off of the groomed ski trails. A short (4-5k) course will be a bit more friendly to the beginner/intermediate skier/orienteerer. The short course will be mostly on the groomed ski trails, including a few hills up and down (with possible shortcuts off trail if so desired by the participants).
This event is open to either the classic or skate ski technique at the participant's preference.
Participants will receive additional important race information on start location/details directly from MNOC prior to race day.
For more information on the Minnesota Orienteering Club and to see a complete list of events for the season, visit the MNOC website.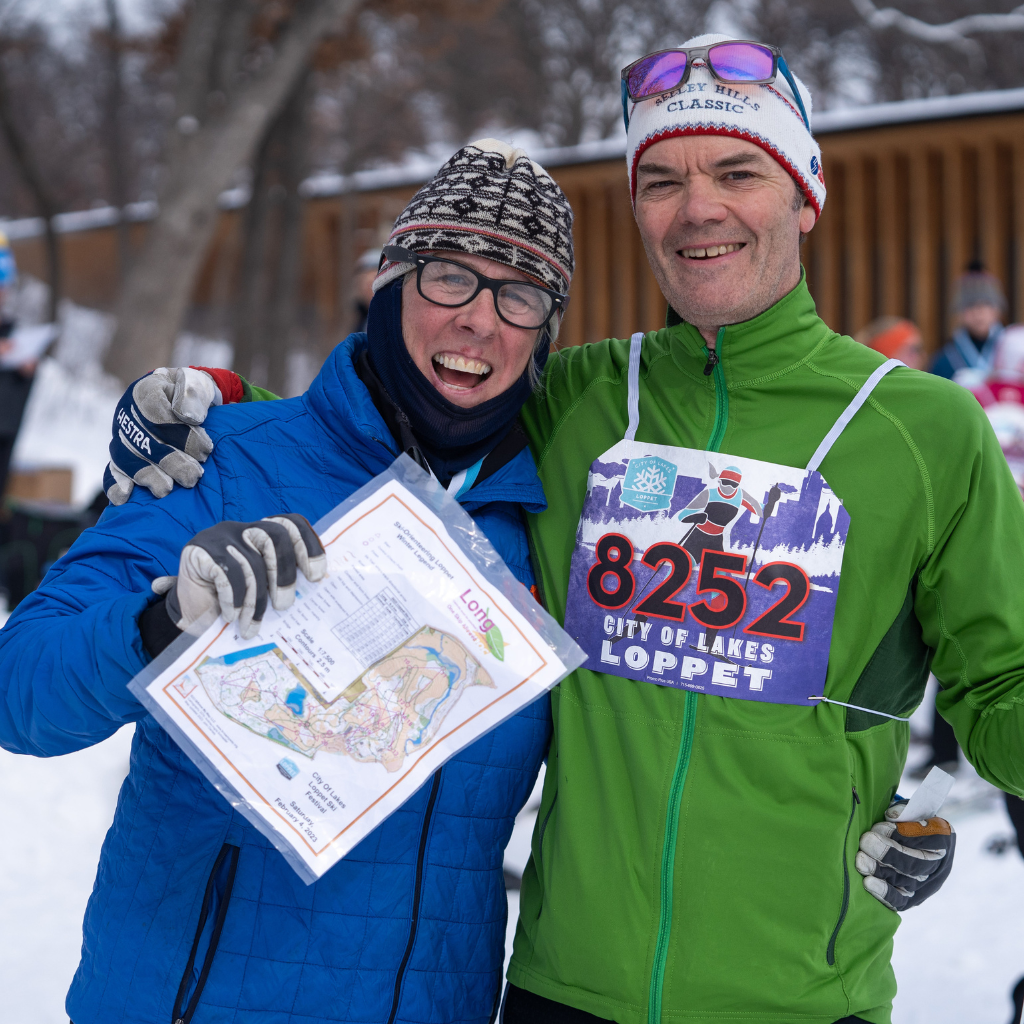 Photo by Todd Bauer
The Start and Finish
Start and Finish Location: All races finish at The Trailhead, Theodore Wirth Park, 1221 Theodore Wirth Pkwy, Minneapolis MN 55422
Parking and Transportation: Please see notes below.
Updates
Registration opens Sunday, October 1, 2023!
We are using RunnerTag for photos! You can look up your race number to see if we caught any pictures of you. We can't make promises but we do try to get everyone!
Registration & Packet Pickup
Register Now!
There is no on-site or race-day registration for the Ski-Orienteering Loppet. Registration closes at midnight on Wednesday, January 31, 2024.
| | Status | Starting 9AM, 10/1/23 | Starting 11/19/23 | Starting 12/17/23 | Starting 1/14/24/small> | Starting 1/31/24/small> | Registration Deadline |
| --- | --- | --- | --- | --- | --- | --- | --- |
| Ski-Orienteering Loppet | Open | $22 | $24 | $28 | $34 | $40 | 12pm noon, 1/31/24 |
Proceeds from the Ski-Orienteering Loppet benefit the Loppet Foundation. Learn more about the Foundation's mission, vision, and values.
Registration and transaction fees are non-refundable, including in the event of delay, rescheduling, or cancellation of an event or program. An event or program registration is not transferable to another person or another event for any reason, including injury. Participating under another person's name will result in disqualification.
A Note About the Data We Collect
Packet Pickup
Packet Pick-up for the Ski-Orienteering event will be available only at the start area of the event on the day of the event. Check-in and packet pick-up will be available from 11:00 – 11:45 at the race start on Saturday, February 4. Packets for the ski-o are NOT available for pick-up at the Trailhead building as noted for other Festival events.
Course Map
The ski orienteering courses will be set in and around the North Wirth ski trails. The course maps will be distributed to participants at the start line. (As per orienteering procedure, the course maps are "top secret" until race time.)
Event Schedule
Saturday – Tentative for 2024
10:00am – 3:00pm: Shuttle Bus runs between The Trailhead and Mortenson, leaving the Trailhead every 15 min on the quarter hour
10:00am – 3:00pm: Utepils Beer Garden and Festival Village
10:00am – 4:00pm: Heated Changing Tent
10:30am – 4:00pm: The Trailhead Food Station
11:00am – 11:45am: Ski-Orienteering Check-in and Packet Pick-up
12:00 noon: Ski-Orienteering mass start
1:30pm: Ski-Orienteering course closes and awards
Parking & Transportation
We encourage participants to bike, bus, ski, or walk to the City of Lakes Loppet Winter Festival events. For those who choose to drive, please read the sections below for information on parking and drop off / pickup.
Parking
Saturday: Races & Events at Wirth
Road Closures
Ski-O Parking at Theodore Wirth Park
Ski-O participants may park at Mortenson Parking Lot

Mortenson is walking distance to the festival.
Shuttle bus between Mortenson-Trailhead, Sat 10am-3pm. Leaving the Trailhead every 15 min on the quarter hour.

Participant parking available on street in nearby neighborhoods.
There is very limited parking available at any Theodore Wirth Park Parking Lots. It is by Race Permit only (volunteers, staff, certain participant groups with extra considerations). Roads will be closed and monitored for permits.
Drop off / pick up in Theodore Wirth Park
Dropoffs and pickups will be allowed at the Chalet (1301 Theodore Wirth Pkwy). Please note that access to the Trailhead will be closed at Hwy 55. You will need to approach the Chalet via Plymouth Ave from the east or Golden Valley Rd from the north.
Festival Village and Post-Race Party
2024 Festival Village Map coming soon!
Refreshments! All skiers (that are of age) get one free beer (or alternative soda) at the finish at the Trailhead! Please have ID available. Additional beer may be purchased on site by participants or spectators.
Chili! For years, the Loppet has served Captain Ken's Chili at the finish line. It is our goal to do that again in 2024. Just what a tired skier needs to start the recovery process!
Sponsors! Our sponsors help make everything happen and better! Please visit and thank them for their support. We are sure you will have some fun with them, too!
Changing Tent: Right next to Bag Claim is a heated changing tent to get into dry clothes! We recommend including walking shoes in your bag if you are meeting a pickup at the Chalet or Mortenson.
Race Bibs: In an effort to reduce the waste generated by thousands of bibs, the Loppet will collect all bibs at several post-race locations. We realize that some participants would like to keep their bib for their own personal "wall of fame" and that is OK. But if you are indifferent and know that it would sit on a corner shelf and eventually end up in the trash, please return your bib after the race.
Bib Drop Locations: Finish line, bag claim and the Trailhead exit.
And, yes, it also saves the Loppet significant expense which allows us to direct more finances toward our mission-based programs.
We are hoping to reuse the vast majority of our Festival bibs to allow them to live out a full and active life. Thank you for helping us reduce waste and move toward greener events!
Awards
All Finishers – Commemorative medals for all finishers.
Long Category – Hand-crafted awards for the first three male, female and non-binary finishers.
Short Category – Award medals for the first three overall finishers.
Awards for this event will take place at the finish area podium as soon as results are posted- see the Ski-O event table in the start/finish area for details.