Part of the City of Lakes Loppet Winter Festival
Saturday, February 5: 2:00pm (3K), 2:15pm (2K), 2:30pm (1K)
The Trailhead, 1221 Theodore Wirth Parkway
Gist's Next Generation Loppet is designed to inspire the next generation of Loppet skiers by providing all the fun and excitement of the longer Loppet ski events in shorter distances perfect for youth or junior skiers newer to the sport.
Gist's Next Generation Loppet skiers will be able to choose from 3K, 2K, and 1K distances. Both distances are freestyle technique, meaning you can classic or skate ski the course.
The Open Loppet 5K is also a good option for skiers of any age looking for more of a challenge through a further distance and added competition.
Registration & Packet Pickup
Register Now!
| | Status | Starting Opening Day | Starting 12/7/21 | Starting 1/11/22 | Starting 2/1/22 | Starting 2/3/22 | Registration Deadline |
| --- | --- | --- | --- | --- | --- | --- | --- |
| Next Generation Loppet (3K/2K/1K) | Open | $20 | $20 | $20 | $25 | $30 | N/A |
Proceeds from the Next Generation Loppet benefit the Loppet Foundation. Learn more about the Foundation's mission, vision, and values.
Registration and transaction fees are non-refundable, including in the event of delay, rescheduling, or cancellation of an event or program. An event or program registration is not transferable to another person or another event for any reason, including injury. Participating under another person's name will result in disqualification.
A Note About the Data We Collect
Packet Pickup
2022 City of Lakes Loppet Winter Festival packet pickup will be available at the following times and locations:
Thursday, February 3: The Trailhead, 4pm-8pm
Friday, February 4: The Trailhead, 4pm-8pm
Saturday, February 5: The Trailhead, 7am-3pm (note that this is best for day of at Trailhead races. Parking will be limited.)
Saturday, February 5: Bde Maka Ska, 7am-10am (for Saturday point to point races only)
Sunday, February 6: Bde Maka Ska, 7am-12pm (for Sunday point to point races only)
Festival Amenities
6:00am – 9:00am: North Beach Volunteer Parking
7:00am – 11:00am: North Beach Classic Races Last Minute Bib Pickup
7:00am – 11:00am: North Beach Parking Lot Dropoff Zone
8:00am – 11:00am: North Beach Bag Drop (Got Junk trucks)
10:00am – 2:30pm: The Trailhead North Parking Lot Bag Claim
10:00am – 3:00pm: Surly Brewing Co. Beer Garden and Festival Village
10:00am – 4:00pm: Changing Tent Heated
10:30am – 4:00pm: The Trailhead Food Station
11:00am – 4:00pm: Shuttle Bus runs between The Trailhead and Calhoun Executive Center
Map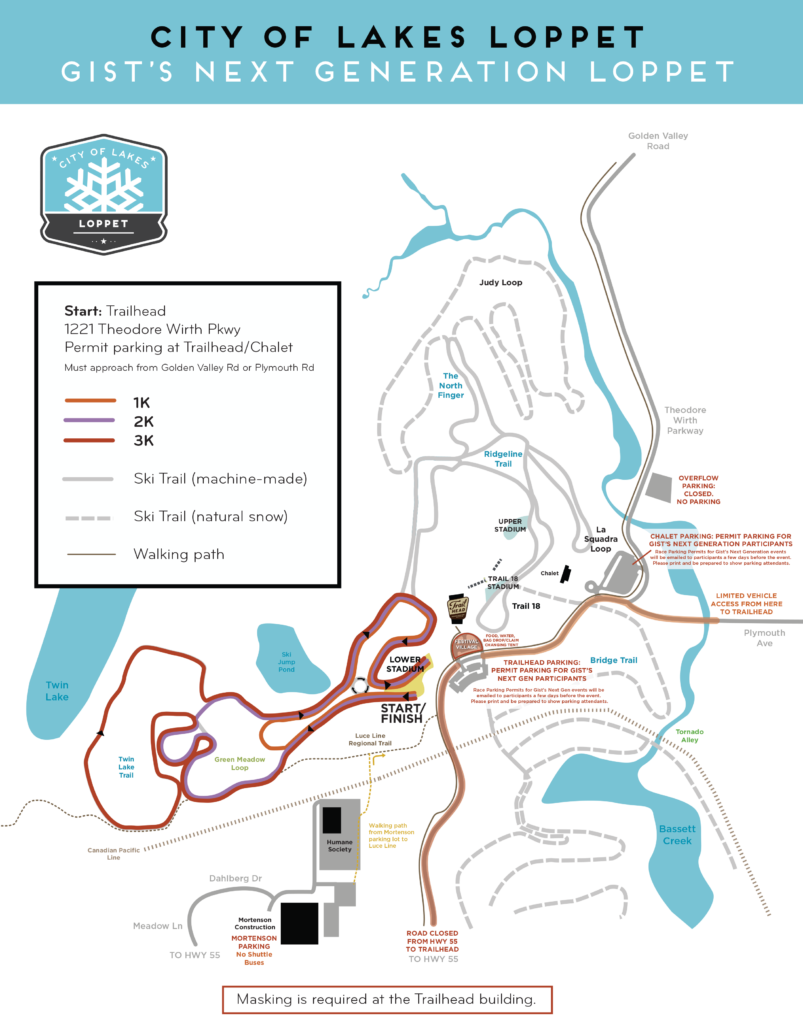 Parking
Friday (packet and glow stick pickup)
Parking at Theodore Wirth Park
Saturday: Races & Events at Wirth
Road Closures
Parking at Theodore Wirth Park
Mortenson Lot: Participant parking available. Mortenson is walking distance to the festival.
Participant parking available on street in nearby neighborhoods.
There is very limited parking available at any Theodore Wirth Park Parking Lots. It is by Race Permit only (volunteers, staff, certain participant groups with extra considerations). Roads will be closed and monitored for permits.
Drop off / pick up in Theodore Wirth Park
Dropoffs and pickups will be allowed at the Chalet (1301 Theodore Wirth Pkwy). Please note that access to the Trailhead will be closed at Hwy 55. You will need to approach the Chalet via Plymouth Ave from the east or Golden Valley Rd from the north.
Awards
Commemorative medals for all finishers.