Part of the City of Lakes Loppet Winter Festival
Friday-Sunday, Jan 29-31, 6pm-10pm
Friday-Sunday, Feb 5-7, 6pm-10pm
The Trailhead, Theodore Wirth Park (1221 Theodore Wirth Parkway)
The non-competitive, Luminary Loppet is the Twin Cities' most magical event of the season, as well as the primary financial driver that enables the Loppet Foundation to pursue its mission of creating a shared passion for year-round outdoor adventure in the Minneapolis area, focusing on underserved youth and families. Walk or snowshoe over Theodore Wirth Park's groomed ski trails alongside candle-lit luminaries outlining a serene landscape of glowing ice celebrating winter in the Bold North.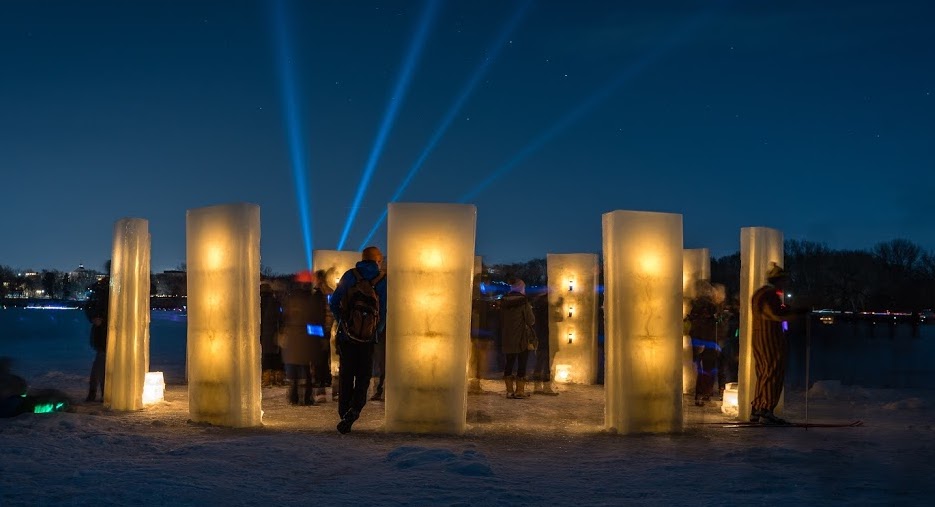 Register
Waitlist Update
We will begin a controlled re-opening of the Luminary Loppet registration on Monday, January 18.
Emails will go out to 100 people per day who had previously registered for the waitlist, in the order of when people signed up for the waitlist, until the event has reached max capacity. When you are chosen from the list, an email will be sent to you at 9am with a special registration code valid from 10am that day until 9am the next day. It is important to note that registration will fill up quickly, so the sooner you place your order on that day, the better odds you will have of securing a spot. If multiple people from your "quarantine unit" want to start together, you must register at the same time under the same name.
If you signed up for the waitlist, please check your inbox each day next week at 9am (including your promotions or spam folders) to see if you received an email from us. We likely will not be able to accommodate everyone on our waitlist, so we apologize in advance if you do not receive an email. Unfortunately, once we run out of tickets, that means there are none left. Please understand how challenging it is for us to not be able to just let everyone enjoy the Luminary Loppet this year, especially since we know this is an annual tradition for so many of you. Please know how much we at the Loppet Foundation appreciate and understand the importance of those traditions to our community. And while we expect this year to be spectacular, we are now even more inspired to do everything we can to ensure everyone is able to enjoy a remarkable Luminary Loppet in 2022.
Registration Information
When registering, you will be prompted to pick a date (ex: Fri, Jan 29) and preferred start time range (ex: 7-8pm). To ensure proper social distancing, ticket holders will later be assigned a specific start time within that range (ex: 7:20pm) which will be emailed to you within 1-2 weeks of the event date.
THERE IS NO ON-SITE REGISTRATION. Please buy your tickets online in advance this year. If you show up without a ticket, we will have to turn you back. Due to COVID-19, it isn't safe for volunteers or others to create this kind of touch point or potential gathering spot.
Friday, January 29
Registration Full
Saturday, January 30
Registration Full
Sunday, January 31
Registration Full
Friday, February 5
Registration Full
Saturday, February 6
Registration Full
Sunday, February 7
Registration Full
Proceeds from the Luminary Loppet benefit the Loppet Foundation. Learn more about the Foundation's mission, vision, and values.
Registration and transaction fees are non-refundable, including in the event of delay, rescheduling, or cancellation of an event or program. An event or program registration is not transferable to another person or another event for any reason, including injury. Participating under another person's name will result in disqualification.
A Note About the Data We Collect
Supporting the Front Line During COVID-19
In a year in which so much has been taken from us, front line and essential workers have been there for the rest of us. To help return the favor, the Loppet Foundation will be connecting with our own neighboring North Minneapolis front liners to provide them with free Luminary tickets. It is our hope that a peaceful evening winter walk through light in the dark helps them find and bolster their own peace, light, and hope.
However, we will need your help to do this. Because of the pandemic, we expect to have very limited participation compared to normal years but would still like to use as many spots as we can for those who have continued to serve us and stand in the face of risk. You can help by donating to the cause or by purchasing extra tickets for front liners with that registration option.
Event Day Information
Complete information regarding event maps and logistics, parking and transportation, registration and packet pick-up can be found here.
Stay tuned to our Event Updates page to be the first to learn if conditions-based event adjustments must be made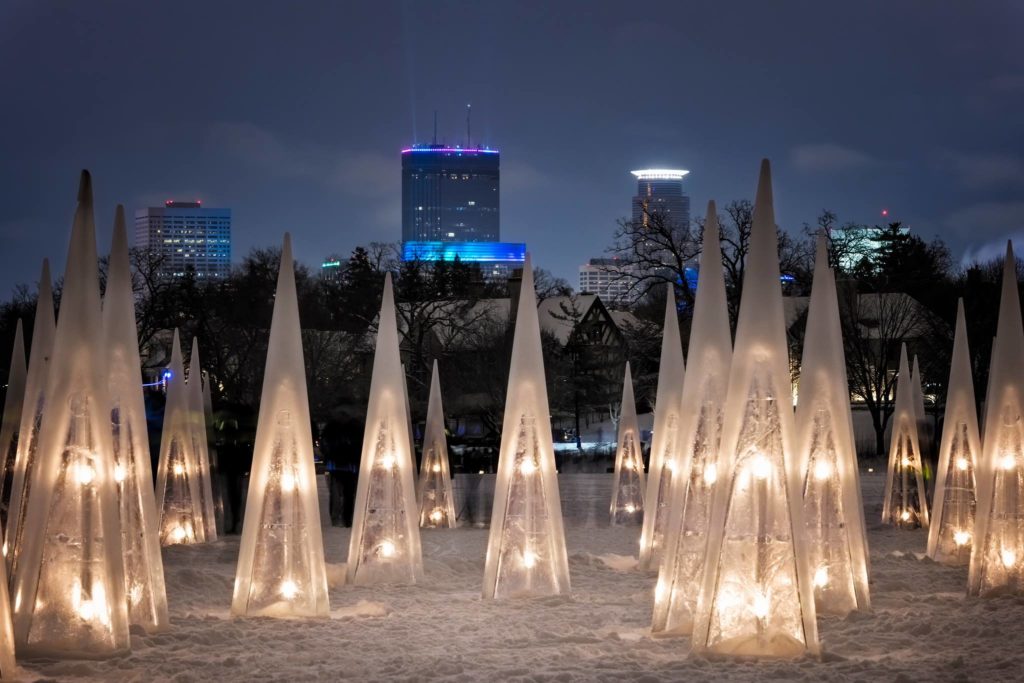 Location / "Course"
Unlike past Luminary Loppets held on Lake of the Isles, the 2021 Luminary Loppet will be held on the trails near The Trailhead in Theodore Wirth Park. Walkers and snowshoers will enjoy a wide, machine-groomed, loop covering 2.5 km of the "Back 40" section of the park, which includes starry views from the "prairie", a moonlit lake, trails through the woods, and even a hidden and largely unknown frozen pond to explore.
As opposed to past years, there will only be one start area and one finish area. You will be allowed one time through the "course" per ticket.
Rules & Guidelines
The Luminary Loppet will be what it always is – a magical, peaceful night of light, ice, snow and wonder. In order to make the best experience possible for everyone, we ask that you please adhere to the following:
Masks will be required. You must wear a face covering at all times during the event to help protect yourselves, other participants, and volunteers from COVID-19.
This year the Luminary Loppet will be for walking and snowshoeing only (No Skiing). While our ski trails are very wide, there isn't as much space as on Lake of the Isles and we feel it is safer to not mix travel types (especially of such varying speeds) during the time of COVID-19. Please check out one of the City of Lakes Loppet Winter Festival's ski events happening that week if you would like to ski our trails.
As has always been the case, dogs (and other animals) are not allowed at the Luminary Loppet. We love dogs, but especially this year, we need to keep space for social distancing – and we have to keep our ski trails clean for the other festival events.
In order to amplify the soft yellow light of the luminaries, personal lights are not allowed (this includes flashlights, strobe lights, light-up toys, blinking lights, light up jewelry/clothing, lights on sleds, etc.). The trail will be plenty bright for you to walk comfortably and see where you are going.
Your Ticket
There will be no glowsticks this year. Instead, 1-2 weeks before the event, you will receive an email that confirms your official start date and time. Present this confirmation email at the start of the course. Please have your pass printed (as opposed to on your phone, as many phones' batteries tend to die in the cold).
Transportation
Visit metrotransit.org for information on bus service to the Theodore Wirth Park.
For those who choose to drive, parking will be available at Mortenson Construction Company's parking lot. It is a 5-10 minute walk to the Luminary Loppet from there.
Volunteer
Volunteer to work alongside great community members and help to make the Luminary Loppet event at the Loppet Ski Festival a wonderful event for everyone.
*Please note: Volunteers will not be permitted to walk through the course during or after their shift. While it is possible that you may be placed along the course to assist with traffic flow, you will not be guaranteed an opportunity to view the Luminary Loppet in its entirety unless you purchase a ticket.
Help Light the Night From Your House
Our usual luminary production method requires a large number of volunteers to work together in close proximity, in an endeavor that could put our volunteers at risk. Our volunteers are our lifeblood, and we take their safety to heart. That being said, this provides a new and unique opportunity for you to be part of the Luminary Loppet by helping us build the luminaries!
We will be sharing information here on how you can make ice luminaries yourself or with your family and bring them to Theodore Wirth Park for us to store and then put outside during the Luminary Loppet nights. You can have a hand in the most magical night of winter!
Sponsors
Help sponsor the event! If you are interested in supporting the 2021 Luminary Loppet, please contact Anne Olson at olson@loppet.org.