Luminary Loppet
Saturday, February 6: 6:00pm – 10:00pm
Lake of the Isles
The non-competitive, candlelit Luminary Loppet is the Twin Cities' most magical event of the season, as well as the primary financial driver that enables the Loppet Foundation to pursue its mission of creating a shared passion for year-round outdoor adventure in the Minneapolis area, focusing on underserved youth and families.
Ski, walk, or snowshoe with friends, family, and neighbors on Lake of the Isles's groomed trails while immersed in a serene landscape of glowing ice luminaries in the heart of Minneapolis' Uptown. Enjoy complimentary hot chocolate by the glow of a campfire.
After exploring the icescape, retire to the REI Co-op Luminary Party on the Lagoon. There, party-goers can enjoy live tunes, food trucks and, for those of age, Surly beer.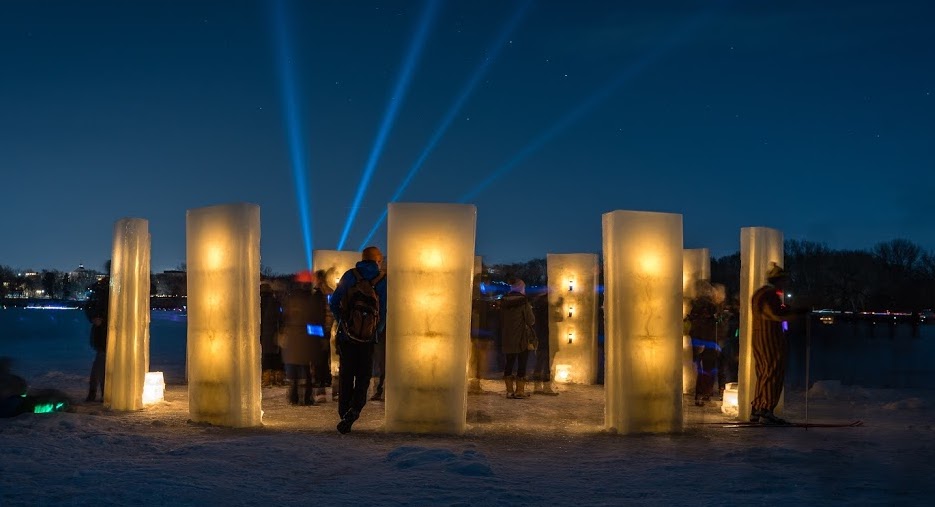 REI Co-op Luminary Party
Saturday, February 6: 6:00 – 10:00 p.m.
Lake of the Isles Lagoon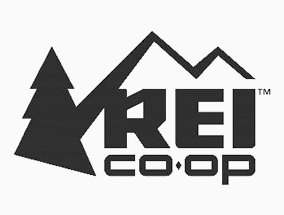 Join REI Co-op for the "coolest" party in town. The party kicks off and heats up with an outdoor concert featuring dancing, Surly Brewing Co. beer, and giveaways.
The REI Co-op Luminary Party is free for registered Luminary Loppet participants and $10 at the door for everyone else.
Register
There are six start wave times for the Luminary Loppet: 6:00pm, 6:30pm, 7:00pm, 7:30pm, 8:00pm, and 8:30pm. Participants may start at or after their registered start time, and may stay on the lake as long as they like. Each start wave is capped, so register early to be sure to get your preferred start time.
Registrants receive an official Luminary Loppet glow stick which they must wear on the outside of their coat throughout the event. The glow stick adds to the event, demonstrates that the wearer supports the mission of the Loppet Foundation, and entitles the participant to:
Skiing, snowshoeing, or walking access to the groomed trail on Lake of the Isles that is lined with 1200 plus ice luminaries.
Access to all of the features on Lake of the Isles including fire dancers, Ice Cropolis, Ice Henge, and the Enchanted Forest.
Free hot chocolate provided by Nestle.
Entrance into the REI Luminary Party featuring live music.
Register Now!
| | Status | Through 9/21/20 | Through 11/30/20 | Through 1/4/21 | Through 2/1/21 | Through 2/5/21 | Final Price | Registration Deadline |
| --- | --- | --- | --- | --- | --- | --- | --- | --- |
| Luminary Loppet - Adult Rate | Open | $20 | $24 | $28 | $32 | $36 | $40 | None |
| Luminary Loppet - Youth Rate (16 and under) | Open | $10 | $12 | $14 | $16 | $18 | $20 | None |
Proceeds from the Luminary Loppet benefit the Loppet Foundation. Learn more about the Foundation's mission, vision, and values.
Registration and transaction fees are non-refundable, including in the event of delay, rescheduling, or cancellation of an event or program. An event or program registration is not transferable to another person or another event for any reason, including injury. Participating under another person's name will result in disqualification.
Event Day Information
Complete information regarding event maps and logistics, parking and transportation, registration and packet pick-up can be found here.
Stay tuned to our Trail Conditions page to be the first to learn if conditions-based event adjustments must be made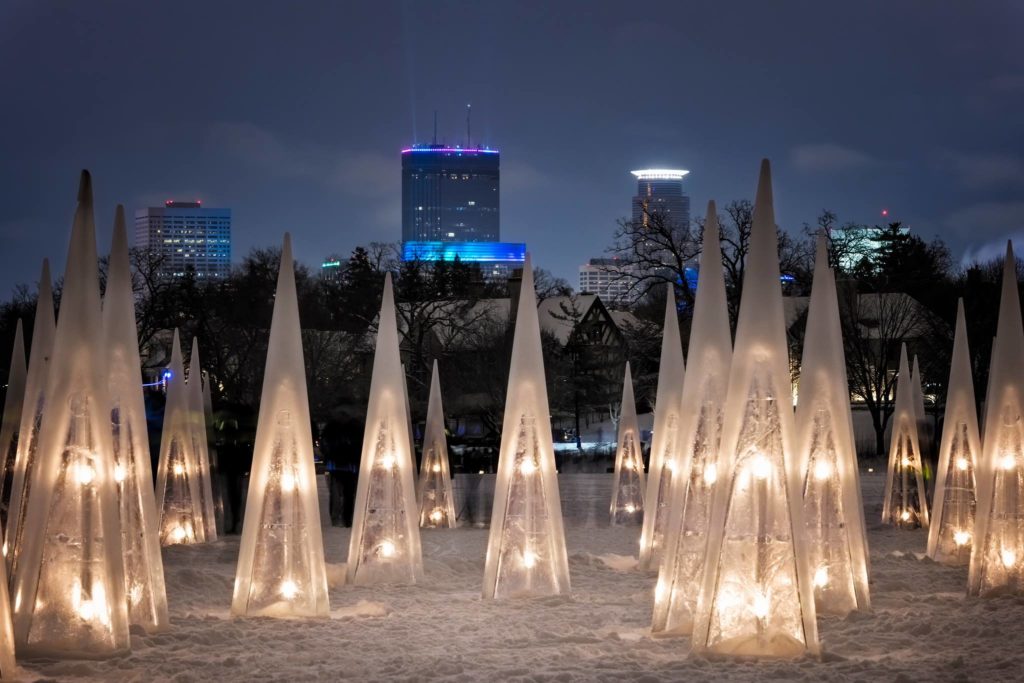 Glow Stick Pick-up
In keeping with the spirit of the event, there are no electric lights allowed on the lake. Instead, each participant will receive an official Luminary Loppet glow stick.
To ensure the quickest pickup experience, please have your check-in pass with the QR code (emailed to you when you registered) displayed on your phone/device (preferred) or printed out for our staff to scan.
Early Glow Stick Pick-up
Friday: 5pm-8pm at Loppet Village in The Trailhead at Theodore Wirth Park. Click here for parking information.
Saturday Glow Stick Pick-up
10am – 3:30pm at Loppet Village in The Trailhead at Theodore Wirth Park. Click here for parking information.
10am – 4pm at Calhoun Square Mall, in the Rotunda.
2pm – 8:30pm at the Luminary Party at the Bde Maka Ska Lagoon
6pm – 8:30pm from one of the four on-ice remote tents on Lake of the Isles.
Start Location
There is no official start or finish location. Participants may start at any of the four registration tents located around Lake of the Isles or in the Lagoon between Lake of the Isles and Bde Maka Ska. Participants that have already picked up their glow stick can ski, walk or snowshoe in from anywhere around Lake of the Isles.
Ski Rentals
Limited ski and snowshoe rentals are available from Boulder Nordic Sport in The Trailhead at Theodore Wirth Park, Hoigaard's, and REI Co-op at their Bloomington location.
Transportation
As a sponsor of the City of Lakes Loppet, Metro Transit is providing complimentary bus rides to the Luminary Loppet for registered participants.
Visit metrotransit.org for information on bus service to the Uptown area.
Volunteer
Volunteer to work alongside great community members and help to make the Luminary Loppet event at the Loppet Ski Festival a wonderful event for everyone. Opportunities are available prior-to and on the event weekend. Please dress appropriately according to the weather we will be outside.
Browse the sign up list below for volunteer opportunities such as:
Luminary Freezing and Hatching
Ice Hauling
Food and Firewood Distribution
Stop Attendant
If you are interested in a leadership position, please contact our volunteer coordinator at volunteer@loppet.org or sign up for a position listed below.
Sponsors
Join the Adventure!
Detailed sponsorship opportunities and packages are available.
Please contact the Loppet Foundation Sponsorship Manager:
sponsorship@loppet.org
Major Sponsors
Luminary Loppet Host Sponsors
REI Luminary Loppet Party Sponsors
Partners