LUMINARY LOPPET RESCHEDULED TO SATURDAY FEBRUARY 18 – READ MORE HERE
The candlelit Luminary Loppet on Saturday, February 18, is the Twin Cities' most magical event of the season.
Come out to Lake of the Isles and enjoy the Luminary Loppet where you can walk, snowshoe, or ski on the candlelit trail winding across the lake. Experience 1,200 luminaries lining the trail with unique ice features and much more – all in the heart of Uptown. The Luminary Loppet is also the Loppet Foundation's largest fundraiser of the year – supporting our year-round programs promoting outdoor adventure for all in the Minneapolis area.
Refreshments such as hot chocolate will be offered at tents across the lake. Food trucks, Utepils beer, and music are located at the Luminary Party.
The Luminary Loppet is part of the City of Lakes Loppet Winter Festival, which includes cross-country ski, fat-tire bike, snowshoe, and skijor races and tours, youth events, and more. The Luminary Loppet is not a race – enjoy a night out with family and friends!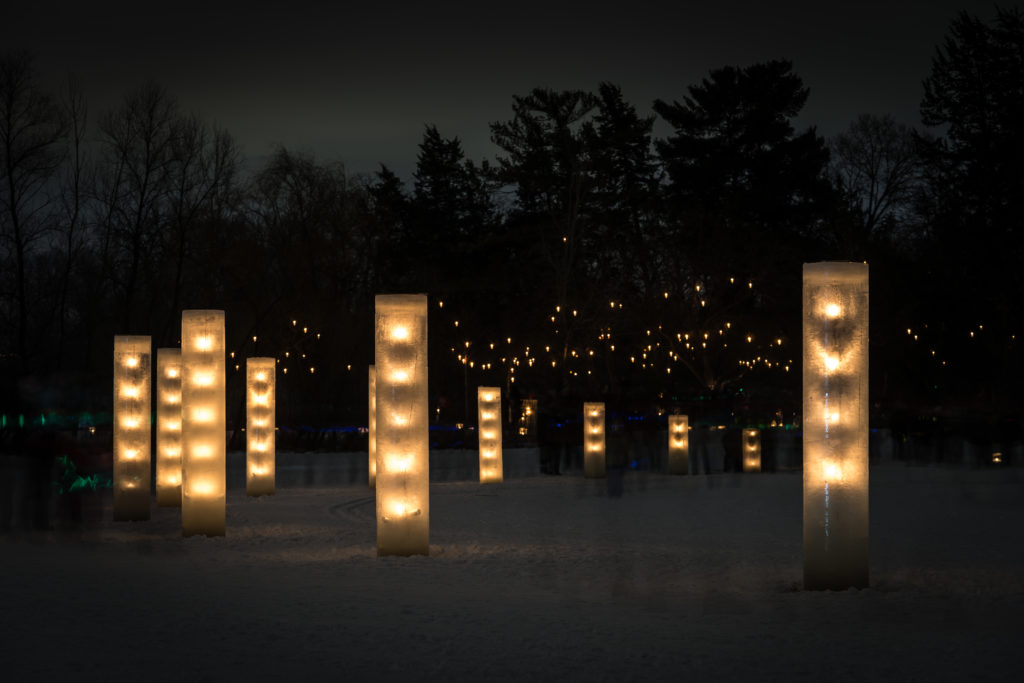 Volunteer
Volunteer to work alongside great community members and help to make the Luminary Loppet come to life. Opportunities are available prior to and on the event weekend. Please dress appropriately according to the weather, as you will be outside.
If you are interested in a leadership position, please contact our volunteer coordinator at volunteer@loppet.org.
*Please note that volunteers do not receive passes to the Luminary. If you do purchase a pass – please be sure it does not conflict with your volunteer shift.
Register
To avoid congestion, there are six start wave times for the Luminary Loppet:
6:00pm WAVE FULL
6:30pm WAVE FULL
7:00pm WAVE FULL
7:30pm WAVE FULL
8:00pm WAVE FULL
8:30pm WAVE FULL
Loppet Foundation members receive early access to Luminary Loppet pass (from October 13 to October 16). Become a member to gain early access! Passes will go on sale to the general public on October 18. Each start wave is capped, so remember to register early to get your preferred start time before the waves sell out. Participants may start at or after their registered start time (NOT before), and they may stay on the lake as long as they like.
All registered participants will receive an official Luminary Loppet pass, which must be displayed at all times during the event to gain access to the lake and the Luminary Party, and take advantage of the many Luminary Loppet activities.
Check the Luminary Loppet 2023 – Ticket Exchange Facebook group if looking to purchase or sell Luminary passes.
| | Status | First 8,000 participants | Next 4,000 participants | Next 4,000 participants |
| --- | --- | --- | --- | --- |
| Luminary Loppet - Adult | $35 | $20 | $30 | $35 |
| Luminary Loppet - Youth (age 4-16; 3 and under free) | $12 | $12 | $12 | $12 |
Proceeds from the Luminary Loppet benefit the Loppet Foundation. Learn more about the Foundation's mission, vision, and values.
Registration and transaction fees are non-refundable, including in the event of delay, rescheduling, or cancellation of an event or program.
Luminary Party
Join us for the "coolest" party in town. The Luminary Party kicks off and heats up with an outdoor concert and dancing. The party also features Utepils beer (for attendees ages 21+), photo booths, fire pits, food trucks, Loppet merchandise for sale, and prize giveaways/sweepstakes.
The Luminary Party is free for registered Luminary Loppet participants. For those not registered, passes exclusively to the Luminary Party go on sale for $10 at the door at 7pm.
One can of Utepils beer is included for all registered Luminary Loppet participants who are 21+ years old (with a valid ID). Additional Utepils beer is available for purchase. Party-only guests may also purchase Utepils beer. The Luminary Loppet will be cash free this year – credit cards only for all purchases.
Kicking off the night is Katy Vernon, a celebrated ukulele playing singer songwriter, with Paul Odegaard on trumpet for a dynamic and unique performance. Some Cover Band ( SSCB ) will also take to the stage to rock the night out with an exciting, no-frills, explosive stage performance of all covers.
Please note: The Luminary Party last call is at 9:45pm, with music and beer service ending at 10pm.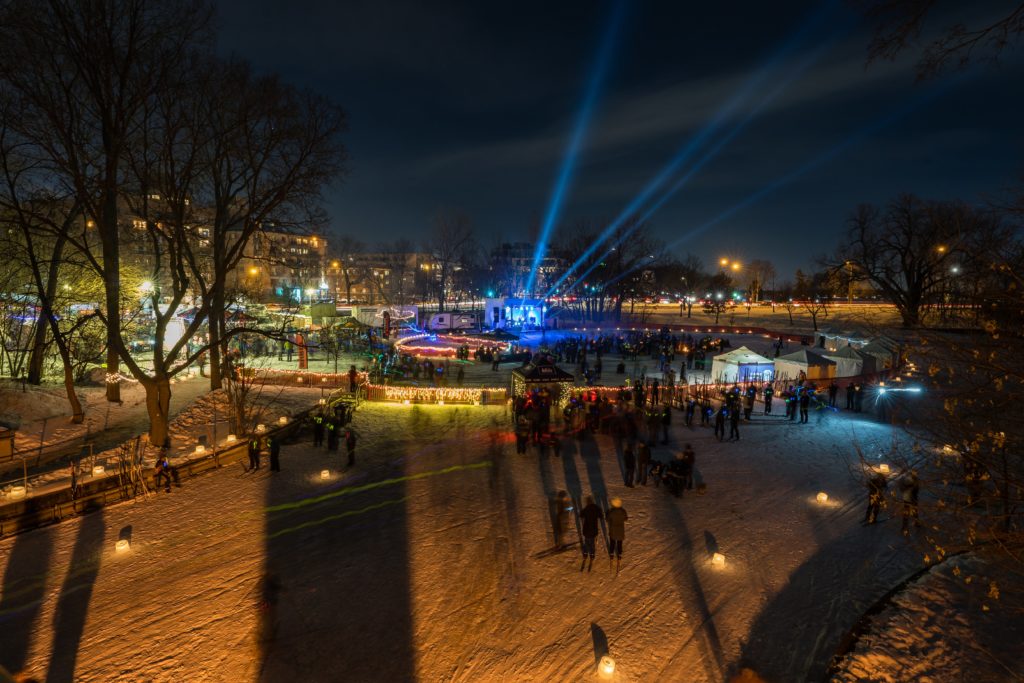 Pass Logistics
All registered participants will receive an official Luminary Loppet pass, which must be displayed at all times during the event to gain access to the lake and the Luminary Party, and take advantage of the many Luminary Loppet activities.
Please see below for pass pickup options. To ensure the quickest pickup experience, please have your check-in pass with the QR code (emailed to you when you registered) displayed on your phone/device or printed out for our staff to scan. Picking up your pass ahead of time allows you to skip the registration tent lines on the lake.
Pass Pick Up
Lunds Uptown – 1450 W. Lake St
Friday, February 17, 5pm – 8pm
Saturday, February 18, 10am – 4pm
Lagoon Tent ( between Lake of the Isles and Bde Maka Ska )
Saturday, February 18, 2pm – 8:30 pm
On Lake of the Isles ( Registration Tents – See map for locations )
Saturday, February 18, 6pm – 8:30 pm
Luminary Map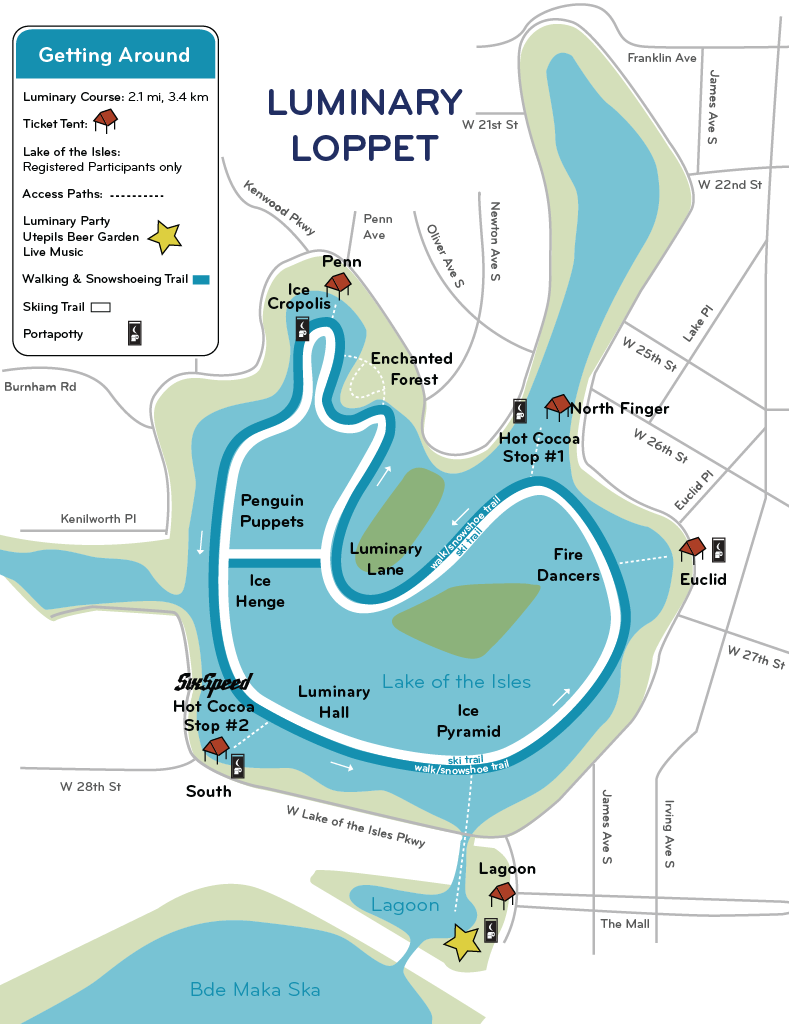 Important Information
Dogs (and other animals) are not allowed at the Luminary Loppet. Please respect the experience of other Luminary Loppet participants.
Flashlights and personal lights are discouraged (this includes strobe lights, blinking lights, and light-up toys, jewelry/clothing, sleds, etc.). The trail will be plenty bright for you to comfortably see where you are going.
Rentals: Limited ski and snowshoe rentals are available from The Trailhead at Theodore Wirth Park, Hoigaard's, and REI Co-op at their Bloomington location.
Transportation: Metro Transit is providing complimentary bus rides to the Luminary Loppet for registered participants.
You must have a valid ID to receive your free Utepils beer (1 per attendee).
There is no official start or finish location. Participants that have already picked up their pass prior to their start may begin their evening from anywhere around Lake of the Isles.
Accessibility: Please acknowledge that the Luminary course is on ice and snow and conditions are not favorable for wheelchairs. However, sleds are an option.

The best place to access the lake via sled/sit ski is at Euclid Ave. Note that the Lagoon entrance has access to the lake only via stairs.
Limited number of handicap parking will be available on Euclid between Isles Pkwy and W 26th St (see map)
Handicap accessible porta potties are located near Euclid and Penn Ave registration tents.
For accessibility questions and further information, please contact luminary.info@loppet.org.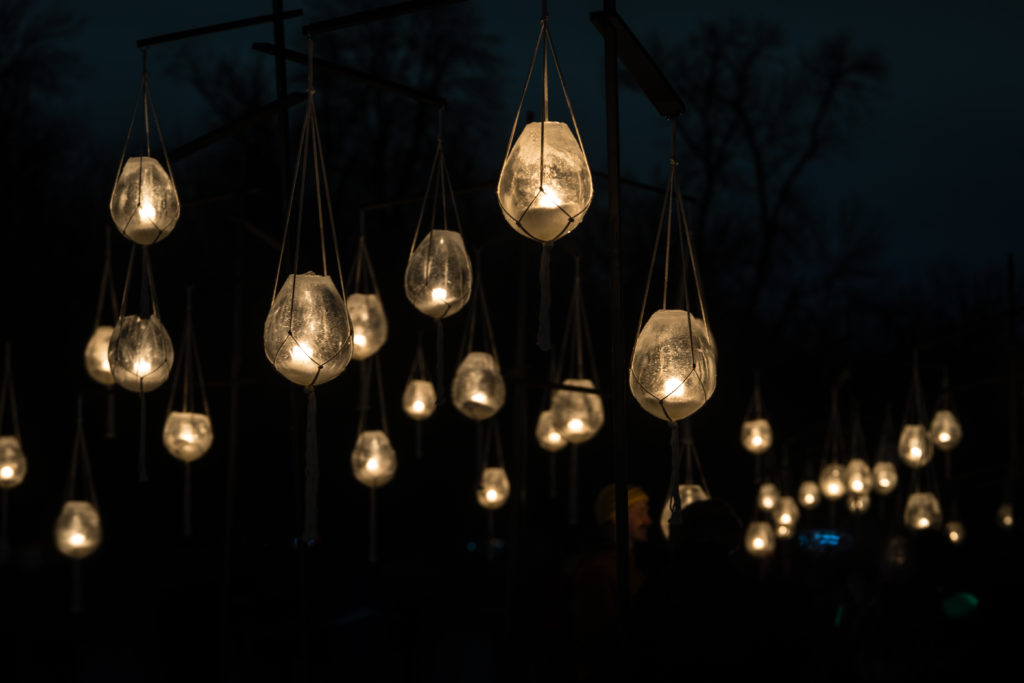 Sponsors