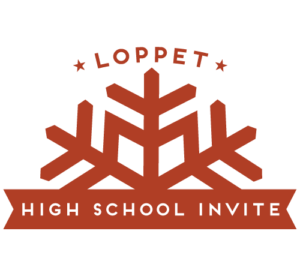 REGISTRATION FOR THE 2022 INVITE IS FULL
The Loppet High School Invite is sponsored by the Eden Prairie Nordic Ski Team in cooperation with the Loppet Foundation. The Loppet Invite is a sanctioned high school invitational nordic ski meet held at Theodore Wirth Park.
The Invite is designed for the top ten varsity ski racers from each high school to compete in a limited field of 16 teams from Minnesota. Three skiers will race in the 5K skate, three in the 5K classic, and four (two relays of two) will compete in the sprint relay event.
COVID-19 Updates
We are monitoring COVID-19 and guidelines/recommendations from the CDC, MN Dept of Health, MPRB and the MSHSL. We will communicate any race format, schedule or status changes as soon as possible in the event changes are necessary. Please ensure that any athletes or coaches stay home if they are experiencing symptoms of COVID-19 or have tested positive.
Race Format & Scoring
16 teams with up to 10 boys and 10 girls. Each team will enter the following number of racers for boys and girls teams:
Individual Races
3 racers entered for individual 5K Skate.
3 racers entered for individual 5K Classic.
Each mass start race will have three wave starts with one minute between each wave. Place one skier in wave 1, one skier in wave 2, and one skier in wave 3.
Sprint Relay Race
Each team will enter two relays with two skiers each (4 skiers total per school team).
There will be two semi-final heats for both boys and girls. Each school will have one relay in each heat.
The top two relay teams from each semi-final heat automatically qualify for finals. The next six fastest relays advance by time to the finals.
In even years the relays are classic, odd years are skate. Note: In 2022, the relays will be skate to match up with sections/state.
Team Scoring
The team score is determined by each team's top two 5K Skate finishers, top two 5K Classic finishers and top relay team. For the 5K races, the point values will begin at 60 points for first place, 59 for second place, 58 points for third place, etc. For the relays, the point values will begin at 119 points and descend by three points for each successive place, i.e. 119 points for first place, 116 points for second place, 113 points for third place, etc. Non-scoring individuals, as well as relays, will hold their finish place, and bump other individuals or teams down in place. A team's total score is the sum of their 5K Skate, 5K Classic and relay scores.
Tentative Schedule
7:30 am: Coaches Meeting/Bib Pick-up – Inside Trailhead
All events below will start and finish in lower stadium near new Trailhead building/parking lot.
8:30 am: Girls Semifinal Sprint Relay – Heat 1
8:55 am: Girls Semifinal Sprint Relay – Heat 2
9:25 am: Boys Semifinal Sprint Relay – Heat 1
9:50 am: Boys Semifinal Sprint Relay – Heat 2
10:10 am: Boys 5K Classic (three waves, one minute apart)
10:15 am: Girls 5K Classic (three waves, one minute apart)
10:40 am: Boys 5K Skate (three waves, one minute apart)
10:45 am: Girls 5K Skate (three waves, one minute apart)
11:10 am: Girls Sprint Relay Finals
11:35 am: Boys Sprint Relay Finals
12:00 pm: Awards
* In even years, relays are classic. Odd years are skate. Note: relays are skate in 2022 to match up with sections/state.
Register
REGISTRATION IS FULL FOR 2022
Registration will open November 1
A password is required to register. If you do not have it (emailed to coaches), please contact Paul Johnson to receive it.
Deadline to register is December 31 or until meet is full, whichever comes first.
Fee per team is $160 ($320 for boys and girls). Price increases to $200/$400 on December 15.
Registration is online only. Please contact us if you require an alternative payment method.
A separate registration process will be shared with coaches to enter specific athletes into races closer to the event date.
Venue & Course Information
Directions: The Trailhead
Please note: Courses may be dependent on natural snow and ongoing progress on the snowmaking loop. We will strive to keep all teams apprised of our trail conditions. Courses described below are considered tentative.
Courses are dependent on snowmaking. Ideal courses: Loppet Invite Google Map
Sprint Relay Course Information
Out of the lower stadium, up to Coaches Corner, then back down to the stadium.
5K Skate/Classic Course Information
Skate: Green Meadow loop, come back towards the stadium and go up the Ridgeline Trail and do North Finger, La Squadra and Trail 18 (Maintenance Loop). Return to stadium via Ridgeline Trail.
Classic: Twin Lakes loop, come back towards the stadium and go up the Ridgeline Trail and do North Finger. Return on Ridgeline Trail to stadium. We will try to get two tracks placed where it makes sense. It will not be best line.
Trail Passes
Any teams skiing the course before or after Saturday must purchase and display passes for all skiers and coaches.
Racers displaying their bibs do not need to display a ski pass on Saturday. All other skiers must be displaying a ski pass.
The Trailhead and Team Tents
At this time, it is unknown if the Trailhead will be available to teams. Please plan on maintaining team tents outside. If the Trailhead is not available, portapotties will be provided outside. Waxing must be done at team tents set up near the Lower Stadium start/finish area.
Bus Drop Off and Pick Up
Please note the following 2021-22 policy regarding buses:
Team Drop Off: Buses may drop off teams in the one-way circle in front of The Trailhead, unloading time is 5 MINUTES
Buses During Practice or races: After unloading, buses must park off-site (away from The Trailhead and Wirth Chalet) until the end of your group's practice or races.
Team Pickup: Buses may pick up groups in the Wirth Chalet parking lot. The Trailhead circle IS NOT available for team pickup after practices or races.
Please instruct buses to return at 12:30 (or time of your choice) to pick up kids.
Awards
Award categories will include:
Individual 5K skate and classic awards for the top three boys and girls
Top three sprint relay race teams for boys and girls
Overall boys and girls team winners with combined points from relay and individual races (team award)
Volunteer
Each team needs to donate an assistant coach or experienced parent to help run the sprint, classic, and skate individual races. Duties will include skier lineup, starters, course control, timing helpers, and stadium set up. Please have this individual report to Doug Boonstra at the stadium at 7:30am.
Volunteer Jobs
Course Marshals – to direct skiers
Relay Zone – Need additional helpers to monitor the relay zone and move skiers out of the way after they tag off.
Start Lineup – need 2-3 workers per lane for all races.
Finish Line: 3-4 people to make sure skiers clear the finish zone. Get skiers up and away if they fall.
Contact
Questions: Contact Meet Coordinators