Jim's Hill Journal – August 2020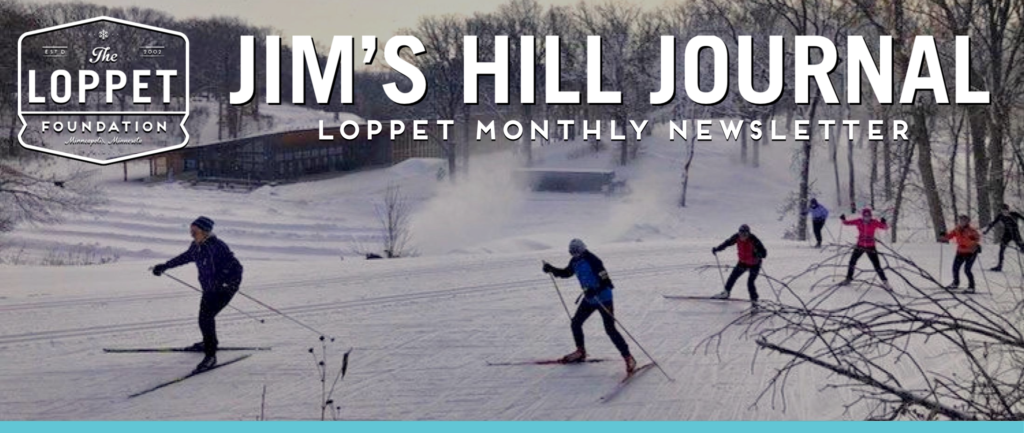 Welcome to the Jim's Hill Journal.
We are so excited to welcome you to the first edition of the Jim's Hill Journal, the Loppet's new email newsletter to keep you informed on all things Loppet! Our goal is to keep you up to date on the fun things you can get involved with, and keep you inspired to get outside. We'd love to hear from you, so please share your ideas with us at marketing@loppet.org.
The monthly newsletter has four sections:
"Community Round-Up & Reflections" highlights the latest happenings in the Loppet community.
"Accounts of Adventure" features stories written by those in our Loppet community.
"The Radar" connects you to the latest news articles, podcasts, and videos from the world of skiing, biking, running, paddling, etc.
"Upcoming Programs & Events" lists the running, biking, or skiing groups you and/or your family can join in the upcoming season. There are also links in this section to upcoming races and training camps.
Jim's Hill Journal is named for Jim's Hill — the ridge you can see right of the big wall of windows in The Trailhead. We picked the name because Jim's Hill is at the heart of so much of the Loppet world, and it's the jumping off point for so many of our trails. It's especially fitting because of the man it's named after, Jim Owens. Jim was an early volunteer who put in hundreds of hours into building the foundation of what has become the Loppet we know and love today. He was a dedicated cyclist, skier, and triathlete; a caring father and husband; and an example of how to step bravely into the unknown as he continued to live out his passions for years following the diagnosis of a brain tumor. He passed away too soon in 2009, but we are honored to be able to carry on his legacy in some small way with this newsletter.
Community Round-Up & Reflections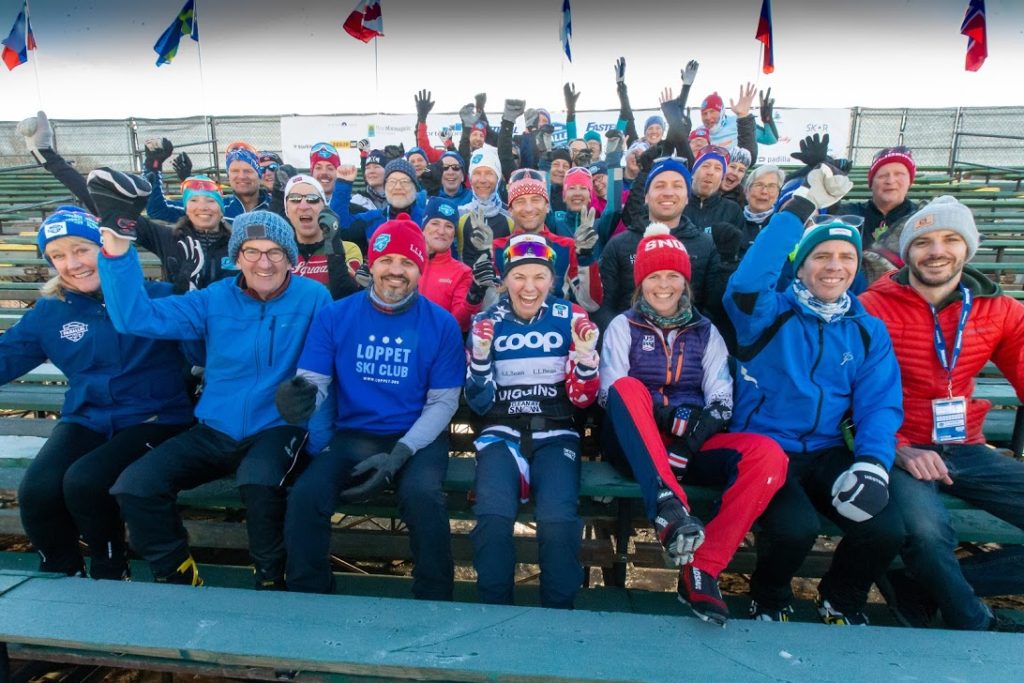 Accounts of Adventure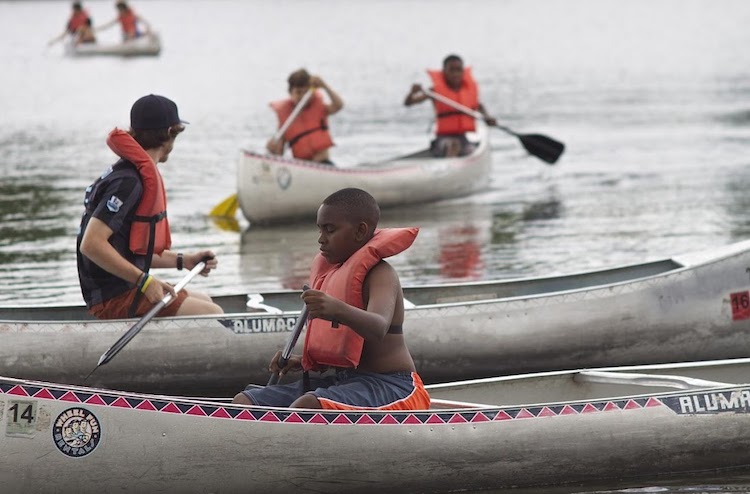 Engaging Kids through COVID-19 with Allie Rykken.
By Celia Boren.
Weekly Zoom workouts and check ins, bonus mileage challenges, and family creativity. These are a few of the things Junior Loppet coach Allie Rykken and her fellow coaches have relied on to keep Minneapolis middle schoolers active and engaged during COVID-19.
Allie is the Head Junior Loppet coach for 50 students at Anwatin Middle School on the south edge of Theodore Wirth Park. Anwatin is one of three partner Junior Loppet schools. The free, year-round, after school program empowers Minneapolis middle schoolers from local schools with a majority of the school population eligible for Free and Reduced Lunch through healthy outdoor activities like cross country skiing, mountain biking, trail running, orienteering and paddling.
"Our team was fully expecting to go to the Cross Country World Cup at Theodore Wirth Park in mid-March when everything changed so suddenly for everyone due to COVID-19," said Allie. "We had to skip all our normal final hoorahs like the MyXC Championships and end-of-season banquet. However, we've built a really strong partnership with the school and have great support from families, so despite the sudden changes, families wanted to stay engaged with the team and continue to seek outdoor activities for their kids."
To keep her Anwatin team of 50 middle schoolers engaged, Allie built on an idea she got from her Mom, Anne, who is also a ski coach. The "Spring Challenge" kicked off with four team captains drafting their teams of eight over Zoom. What ensued from there was a six week challenge of head-to-head matches, leaderboards, mileage conversions, flex points, and bonus challenges – all structured to keep the entire group connected. Mileage tracking forms completed by kids included the expected running and biking, but kids also got creative with playing games like frisbee and tag with their siblings.
"I think in a time like this it really helps to give kids a purpose and a goal to work towards, particularly when it can involve their friends," said Allie. "Kids are really social at this age, and they all just miss each other, so they really got into a group challenge."
Allie is glad that with some changes, students have still been able to safely participate in many of the summer programs they are used to with the Junior Loppet program like orienteering, hiking, mountain biking, etc. "We have been re-thinking the way kids interact to keep them distant, but our goal is to continue to allow kids to be outside together and give them a sense of purpose and progress." To find out more about the Junior Loppet program, click here.

Training with Minnesotan & World Cup Athlete Alayna Sonnesyn.
By Cynthia Osterling.
Alayna Sonnesyn has recently become well-known across the country for her skiing abilities, along with her regular appearances on Olympic Gold Medalist Jessie Diggins's Instagram. Alayna is a World Cup skier and 2019 American Birkebeiner Champion from Plymouth, Minnesota, who has been spending her summer in southern Vermont with the Stratton Mountain School (SMS) T2 Elite Team. Despite an unexpected and rapid end to the 2019-2020 season, Alayna has remained incredibly positive, motivated, and excited about training for the upcoming season.
Alayna spent some quality time with her family after the cancelled Minneapolis World Cup in March, but by May she was ready to start focusing on ski training again. She packed up her Subaru, headed east, and quarantined with her housemate and fellow Minnesotan Jessie Diggins. This summer has seen a record number of Minnesotans training with the SMS T2 team in addition to Alayna and Jessie, including Ian Torchia of Rochester, Ben Saxton of Lakeville, and former Loppet Nordic Racing skier Zak Ketterson of Bloomington.
Due to COVID-19, the SMS T2 team has been isolating together and trusting their fellow teammates to be smart and minimize their own exposure to others in the area to allow them all the ability to train hard without fear of contracting the disease. Alayna joked, "Nordic skiers tend to be somewhat socially distant by nature, so social distancing is not too noticeably different from normal life except during trips to the store." She also noted that finding motivation to train during this time has not been a problem because "there is more motivation to be outside and active since inside activities are so limited right now."
Alayna faced an added obstacle to her Spring/Summer training when she somersaulted into a ditch after hitting a pothole on a rollerski with her teammates. A golf ball sized hole was taken out of her knee, which required four stitches. However, Alayna reminded herself that "setbacks, like COVID or stitches, are good because they make you question how much you really want to chase your goals." While recovering and letting the injury heal, Alayna found it helpful to stay positive and focus on workouts she can do, such as double poling. Now her training is back to normal and she is keeping a better eye on the road.
Usually the team attends altitude training camps in places like Lake Placid, Park City, and New Zealand, but these camps – like most people's travel plans this year – have been cancelled due to the pandemic. After racing and training around the world this past winter, Alayna said being in one place for the entire summer is a big change in pace for the team. "By staying at Stratton for the summer, the team is able to settle in, get really creative with our training, explore the area around Stratton, and develop daily routines we would not have if we were traveling," said Alayna.
Alayna works to find a ski-life balance. In college, she majored in biochemistry and is eventually interested in using her degree post skiing, as well as pursuing a graduate degree in business. Outside of skiing, she works hard at her part time job for the start-up company Landtrust, which is an AirBNB type app for hunters and fishers to find land to rent for hunting and fishing vacations. She also likes to give back to the ski community by sharing her experiences to inspire others through interviews and coaching clinics for kids, juniors, and masters. She strives to maintain close relationships with family and friends, but extensive traveling often makes her miss summer days at her cabin in Wisconsin spent water skiing on the lake and the urban lifestyle, general friendliness, and winter ski community of the Twin Cities. Alayna loves to cook, bake bread, and read in her free time. One book Alayna recommends to athletes is Let Your Mind Run: A Memoir of Thinking My Way to Victory by Deena Castor. Deena won the United States' first marathon medal in 20 years at the 2004 Olympics.
To learn more about Alayna's professional skiing and follow her adventures in the pursuit of the World Cup and Olympics, you can follow her blog at www.asonnesyn.com.
Alayna's Favorite Things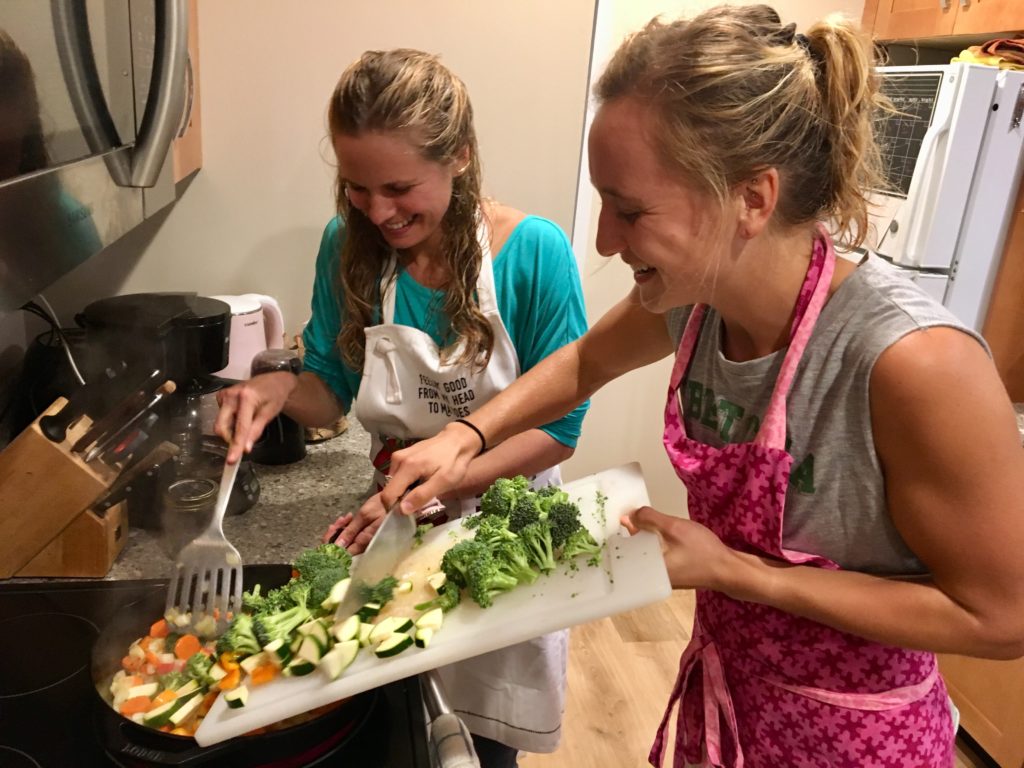 Favorite Hot Day Workout:
Long runs in New England in the mountains at higher elevations that are cooler and the breeze kicks in. For those in Minnesota, she recommends any workout that ends at lakes, pools, or other swimming holes to jump into the water and cool off.
Favorite summer activity when not training:
Being by water reminds Alayna of summers at home in Minnesota, so she enjoys the snowmaking pond at Stratton (which is pretty small compared to the lakes of MN), waterfalls, and swimming holes in Vermont.
Favorite Summer Food:
Post-workout smoothies with frozen bananas, protein powder/cocoa powder, other fruit, and either almond milk, orange juice, or coconut water.
Ice cream, specifically Ben & Jerry's Tonight Dough.
Favorite Ski Trails in the World:
American Birkebeiner trail – She has been skiing the trail and participating in Birkie events throughout her life. Her family has a cabin near the Birkie trail, and she has many fond memories of growing up skiing on the trail.
Seefeld, Austria – Last winter, Alayna spent time at a mid-season training camp in Seefeld. She loves the beauty of the Alps, the cultural experiences, and the ability to ski from town to town and stop in cafes in the middle of long skis.
Baker Park – If she is home (and there is snow) Baker is her go to place, though she said Wirth, Hyland, and Elm all have great snowmaking trails and are all great options when natural snow is not available.
Most Memorable Ski Race:
The 2019 American Birkebeiner, which she won, was extra special for her due to her fondness for the Birkie trail and the cheering crowds on Main Street that she believes are larger than any World Cup event.
Pre-Race Rituals:
Alayna is not at risk of losing any lucky charms, socks, or underwear! Her only pre-race rituals include braiding her hair for races, eating oatmeal for breakfast, and making sure she has a good pair of clean socks to race in.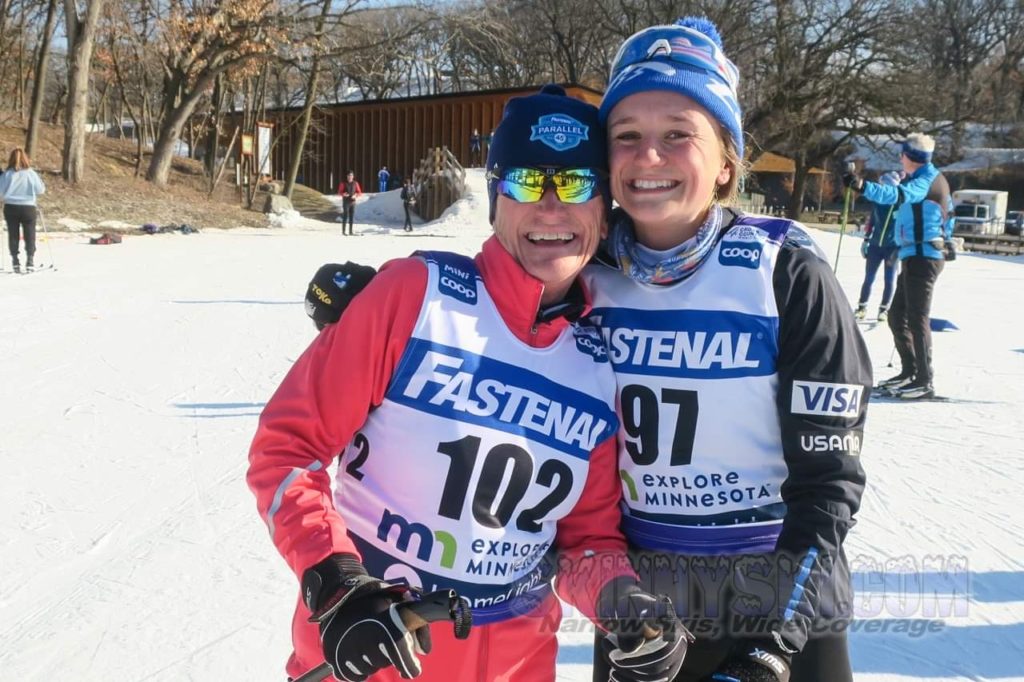 The Radar
Upcoming Programs & Events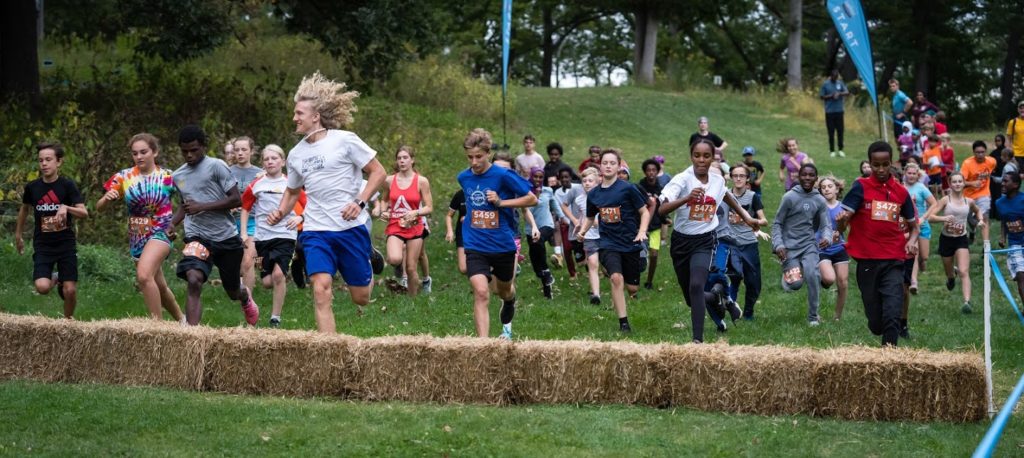 Events
Adventures
TRAIL KIDS
Loppet Cycle Works
Loppet Ski Club
Loppet Run 365