Southwest Journal Snow Sculpture Contest
Saturday, February 6, 10:00 am – 4:00 pm
The Trailhead, 1221 Theodore Wirth Parkway
Teams of up to four individuals will turn 4′ x 4′ x 8′ blocks of snow into magnificent works of art near the Loppet Village. Teams with more than four individual members will be disqualified. Each team has five hours to bring their block of snow to life, after which our judges will decide which team's sculpture is the best based on originality, creativity, aesthetic appeal, craftsmanship, and 360° appeal.
Detailed Schedule
Sculpting: 10:00 am
Judging: 3:15 pm
Awards: 4:00 pm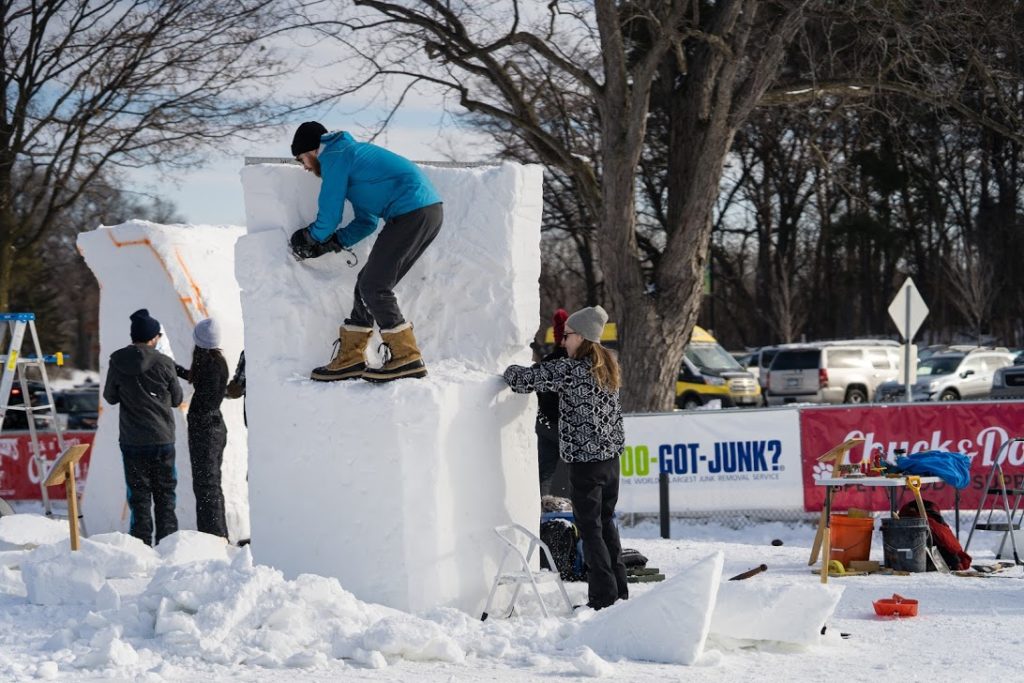 Registration
The competition is free to enter, but contributions are welcome to defray the costs of producing the blocks of snow and of cleanup, etc.
Note that teams will be accepted on a first-come, first-served basis as there a limited number of slots available. Reserve your block of snow now to guarantee a spot.
Register Now!
| | Status | Through 9/21/20 | Through 11/30/20 | Through 1/4/21 | Through 2/1/21 | Through 2/5/21 | Final Price | Registration Deadline |
| --- | --- | --- | --- | --- | --- | --- | --- | --- |
| SW Journal Snow Sculpture Contest | Open | $20 | $20 | $20 | $20 | N/A | $20 | 2/3/21 11:59pm |
Proceeds from the Snow Sculpture Contest benefit the Loppet Foundation. Learn more about the Foundation's mission, vision, and values.
Registration and transaction fees are non-refundable, including in the event of delay, rescheduling, or cancellation of an event or program. An event or program registration is not transferable to another person or another event for any reason, including injury. Participating under another person's name will result in disqualification.
Competition Regulations
Note: power tools are not allowed.
Race Day Information
Information on maps and logistics, parking and transportation, registration and packet pick-up, awards, and results can be found here.
Stay tuned to our Trail Conditions page to be the first to learn if conditions-based event adjustments must be made.