City of Lakes Loppet Winter Festival
Spectator Information



Part of the City of Lakes Loppet Winter Festival
For specific information regarding Festival events please visit the individual event pages.
---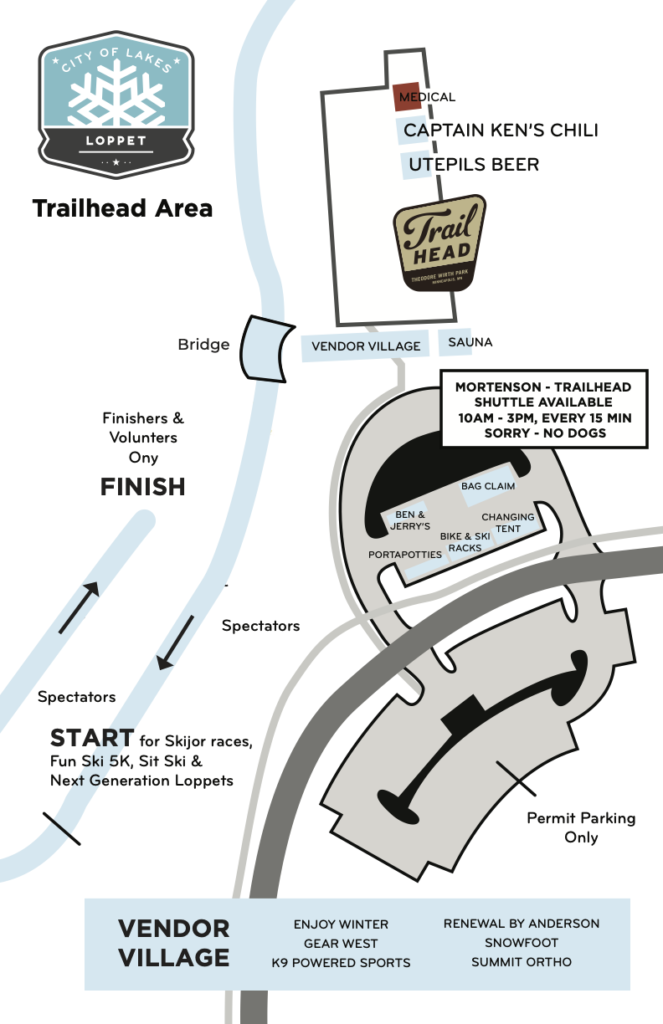 ---
Suggested Spectator Viewing Areas
Best Plan:
Park at Mortenson: 700 Meadow Ln N, Golden Valley, MN 55422
Take the shuttle (with your skier/snowshoer. Catch the start and then get back on the shuttle to Mortenson. Shuttle times 7:30am-11:00am
Walk to the Trailhead … or take the Mortenson-Trailhead shuttle (running every 15 minutes)
Start Area
Cedar Lake Beach, 2501 Cedar Lake Pkwy

Saturday: 9:00 am – 12:00 pm
Sunday: 8:30 am – 12:00 pm
Finish Area
The Trailhead (1221 Theodore Wirth Parkway)

Saturday: 8:30 am – 3:00 pm
Sunday: 9:00 am – 2:00 pm (the fast dogs will be in early, skiers about 10:30am)
Bike or bus service (Loppet or Metro Transit) advised as there will be no car parking available at the finish.
Note: You can walk across the street, through the south parking lot and down the little hill to see the action near the "Trestle" aid station.
Or hang out in Lower Stadium to see the skiers both "lap" through the stadium and finish.
Kenwood (Not for 2023 with new Cedar Lake start)
Kenilworth Channel – the bridges and narrow channel make this a great place to watch and cheer

Saturday: 9:15 am – 11:00am
Sunday: 8:30 am – 3:00 pm

Isles Skating Rink – Skate at the historic Isles skating rink while cheering on participants

Saturday: 9:00 am – 11:30 am
Sunday: 9:00 am – 12:00 pm