2021 Pre-Loppet Recap

The Loppet Foundation was excited to be able to offer one of the state's first in-person races of the season this past weekend! Full COVID-19 mitigation protocols and practices were put in place to keep participants and volunteers distanced and safe during the 2021 Pre-Loppet on Sunday, January 17. Some of the unique elements to keep everyone safe included masking in the start/finish areas, seeding racers to reduce passing on the trail, a clothing donation drop instead of a bag drop, drive through packet pickup, a hybrid (semi-virtual) event option, and social distancing in a double pod/corral system with pods leaving every three minutes and individuals starting every 10 seconds.
The entire process rolled out quite smoothly with the help of some amazing volunteers, and the event proved to be a terrific preview and test of the upcoming City of Lakes Loppet Winter Festival's preparedness plan. This weekend was also made possible with the cooperation of all the participants who abided by the safety measures, without which racing at this time would not be possible. For the City of Lakes Loppet Winter Festival, Pre-Loppet participants might notice some updates that will make the race experience even better!
What may have surprised participants the most was how well the Loppet Trails Crew was able to transform the trails late Saturday night and into the wee hours of Sunday morning. What was predicted to be a big snowstorm instead delivered rain and warm temperatures just a couple days before the event, leaving hard, icy patches on the trails once they froze. However, with a bit of Loppet magic, our groomers transformed the trails into a decent, though still very fast, point-to-point course.
Complete results and event photos are posted on our event webpage. Hybrid (semi-virtual) results are still trickling in, so please be sure to check our event webpage for the most up-to-date results in those categories.
It is important to note for this event and upcoming Loppet events this season that with the new interval start format, the first person to cross the finish line will not always be the winner of that event. We will work with our timing partner MTEC to finalize the results of each race as soon as possible, but please know that there may be some discrepancies until we publish the final results in the post-race email and event recap (what you are reading now).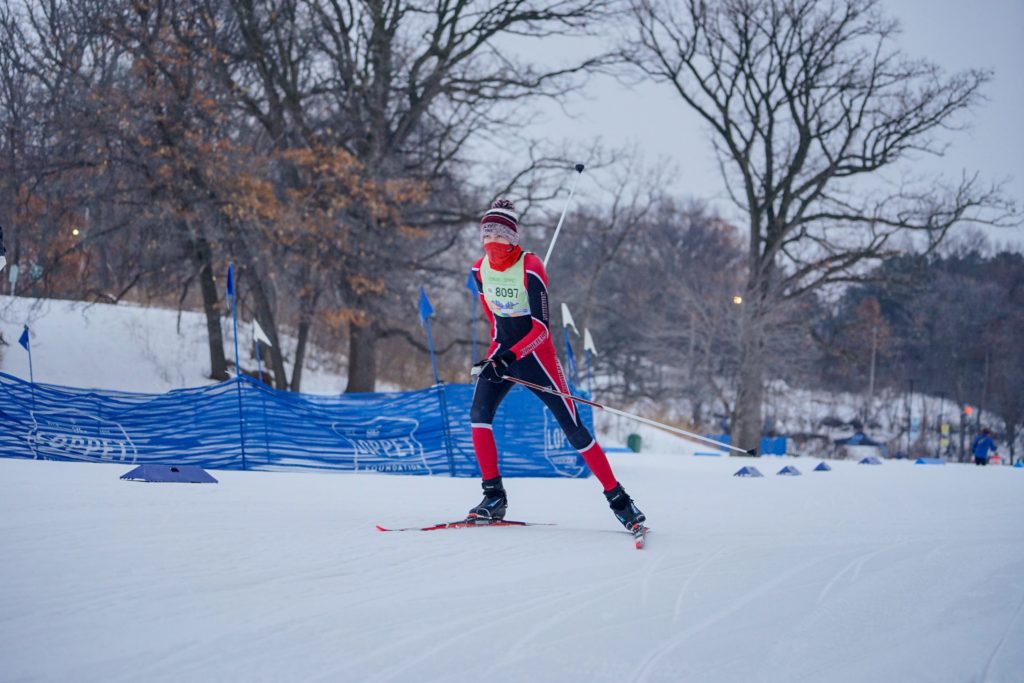 15K Freestyle Results
The in-person 15K freestyle ski event had 122 competitors with an average finishing time of 47:51. Leading the pack, Matt Liebsch of Long Lake stopped the clock at 33:35. Liebsch is also the co-owner of Pioneer Midwest, a sponsor of the event. Joel Lafrance of Minneapolis and Nathan Porath of Golden Valley finished second and third, respectively, in the men's category. On the women's side, Loppet TRAIL KIDS Director Kim Rudd of Minneapolis proved she is not just a good coach but also a fast racer, finishing with a time of 40:35 to win the women's division. Lisa Garretson of Minneapolis and Jan Guenther of Long Lake finished in second and third, respectively.
5K Freestyle Results
The in-person 5K freestyle ski event went quickly with 41 racers who showed up to race completing the course with a speedy average time of 20:08 overall. In the men's category, Loppet employee Michael Symanski, age 20, took first place by over a minute, clocking in at 11:59. Benjamin Martin, 16, and Nathan Mueggenberg, 23, followed in second, and third places, respectively. The women's side also featured some young talent, with only five participants over the age of 20 years old. Elsa Bergman, 16, completed the course with a time of 13:48, winning by over two minutes! Libby Roller and Miranda Lindaman, both age 14, rounded out the podium in second and third places, respectively.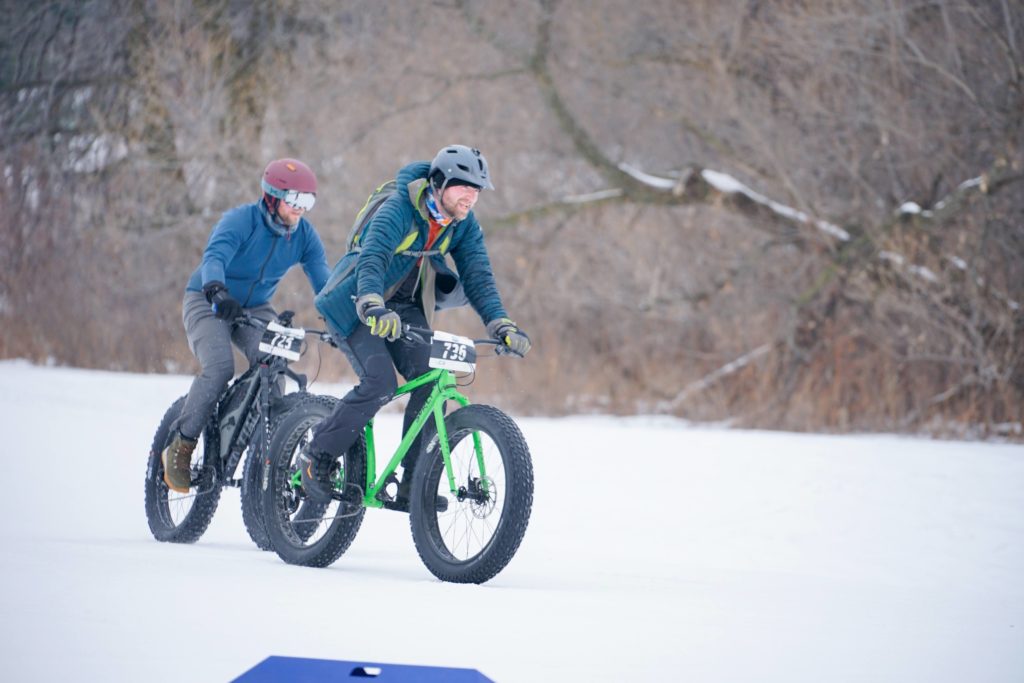 15K Fat-Tire Bike Results
There were 61 finishers in the in-person 15K fat-tire bike event with an average time of 50:44 overall. After earning a spot on the podium in the 15K freestyle event about an hour beforehand, Joel Lafrance of Minneapolis turned around and won the 15K fat bike event with a time of 32:45! Steve Marshall of Wayzata and William Kerns of Minneapolis second and third places, respectively. In the women's category, Leah Hiller of Osseo won by over 5 minutes with a time of 42:46*! She was followed by Michelle Lebow of St. Paul and Karen Aaron of Minneapolis in second and third, respectively. Jeff and Pam Colbert from Cambridge brought some uniqueness to the course with a tandem fat-tire bike, and finished with a time of 36:45, winning the tandem bike category.
*The results initially mistakenly showed Pam Colbert winning the Women's Category, instead of co-winning the Tandem Bike Category. The results were corrected immediately and are now accurate both here and on our timing partner MTEC's website to show Leah Hiller as the women's top biker.
Volunteer Highlights
We could not have run this race without the help of our amazing volunteers. Without the help of our course marshals, course markers, set-up and take-down crews, start/finish groups, groomers, packet pickup helpers, photographers, and medical team, this event would not have been possible. We are especially grateful to everyone for volunteering during this difficult time and supporting our goal to still provide people with fun outdoor experiences.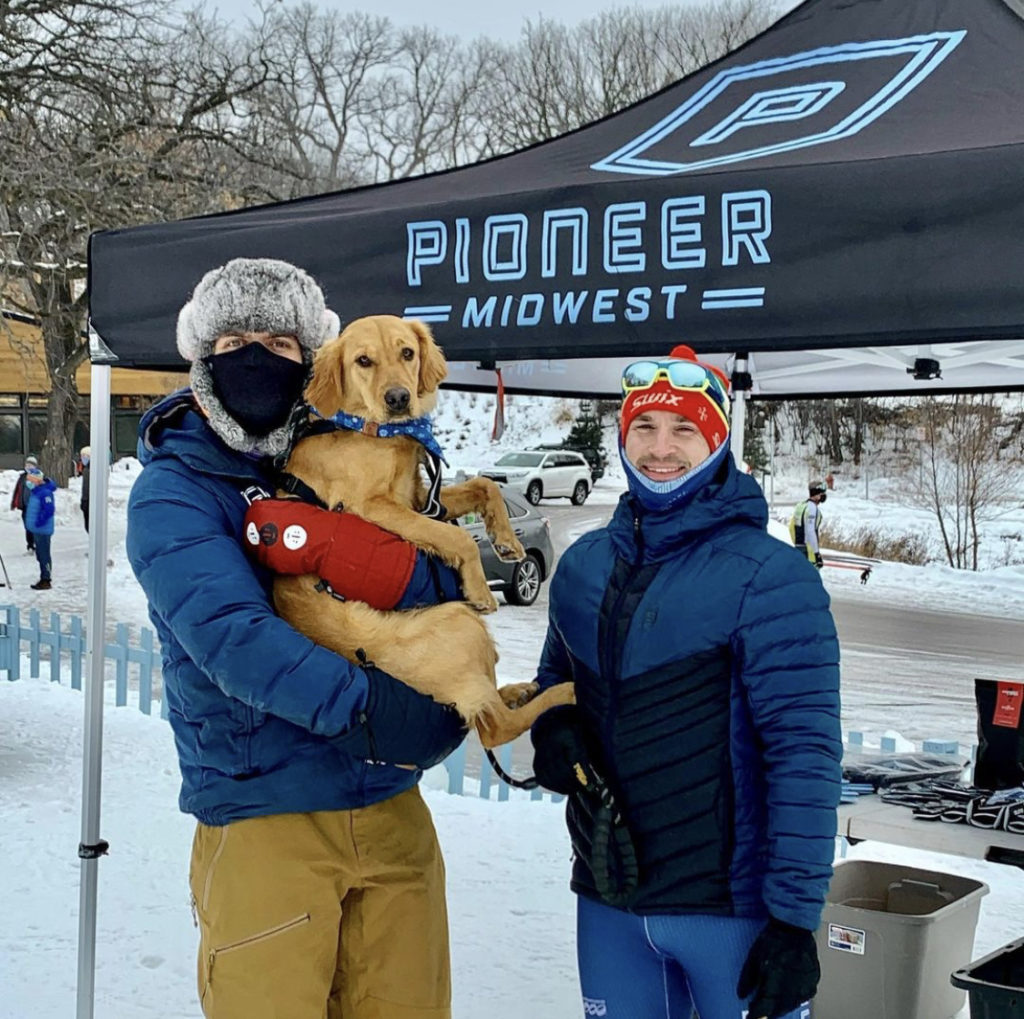 Thank You to our supporters!
We're so grateful to our wonderful Loppet sponsors who keep showing up in support of outdoor adventure. Big thank you to Pioneer Midwest for sponsoring the event and providing some great giveaways to our finishers after the event. Pioneer Midwest is an outdoor specialty store in the northwest metro area that provides expert service and Nordic ski equipment, apparel, wax and accessories. You can visit them at their store in Osseo or online at pioneermidwest.com.
Thanks to all of our participants who helped this event to run so smoothly. We greatly appreciate your willingness to adapt to our new event format and your kindness towards keeping our staff, volunteers, and other participants safe and healthy.
Full race results and photos from the 2021 Pre-Loppet can be found here.
For more action, be sure to check out the upcoming City of Lakes Loppet Winter Festival races, which include events spread over two weekends on Jan 30-31 and Feb 6-7!