Event Recap: Fastenal Parallel 45 Cup Rollerski Loppet

The temperature on Saturday was brisk, but that made the inaugural Fastenal Parallel 45 Cup Rollerski Loppet feel like a World Cup cross-country ski race — similar to the one we are preparing for this March! Plus, the extra clothing layers the junior skiers were wearing helped put their parents' fear of road rash at ease. Almost 100 cross-country skiers used a matched set of rollerskis provided by CXC to rollerski around one square city block for 8-15 minutes (depending on age class) before sprinting two final laps to determine the winner of each race.
The snow flurries flew around in the morning just long enough to remind the skiers of the upcoming season they are training for, and left in time for the roads to clear up before the races began. The uniquely flat course did not provide a chance for skiers to rest on the downhills, and the racers' technique strategies were more focused on how to avoid man-hole covers than on when to V2 versus V2-alternate. As the Open Women's race runner-up Caitlin Gregg said, "It was a leg-burner, and a lung-burner." However, the course provided great spectating for the more than 200 people who came out to watch!
Full results are listed below for each race. Click here to re-watch the live updates and video interviews with athletes throughout the day. Click here to watch the post-event video created by Steve Barone. Lastly, click here to see media coverage and photo albums from the event.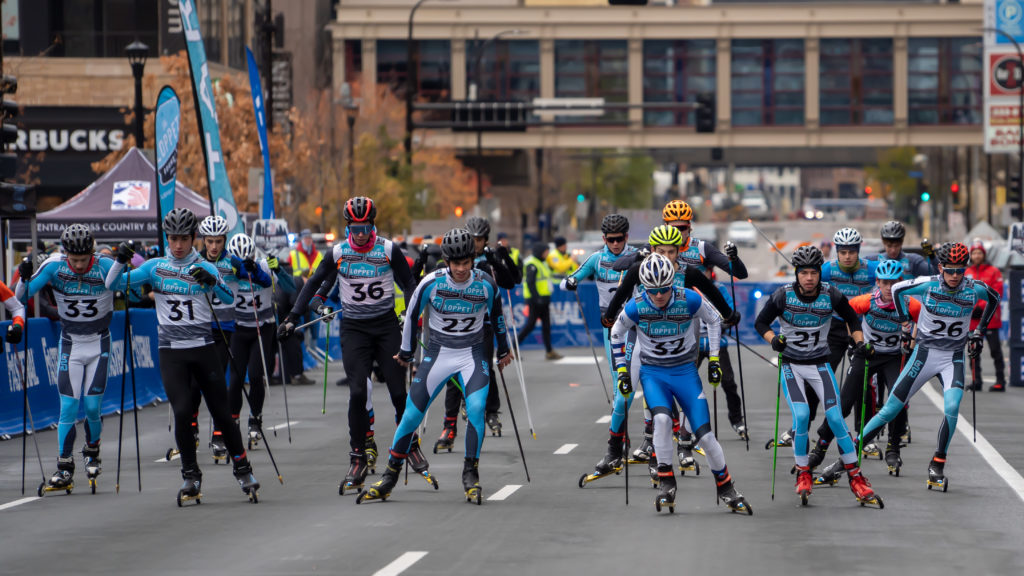 Junior's Races
The race event kicked off in the morning with a field of sixteen U14/U16 boys and girls racing together. Jonathan Clarke came from behind in a final sprint against Noah Straka to claim the boys U16 title, and Ethan Hebert followed them in third. The top three U16 girls — Lauren Munger, Sierra Larson, and Sophia Pung — stayed close by each other throughout the entire race, finishing one, two, and three, respectively, in a span of three seconds! Eli Andre, Soren Winikoff, and Theo Holdsworth rounded out the top three U14 boys, respectively. The youngest racer of the day, 12-year-old Inga Wing, rollerskied into first place for U14 girls. Olympia Sparks followed in second. Full U14/U16 girls and boys results can be found here.
The U18/U20 boys race was a quick one! James Schneider sped to the finish line taking first place in the U20 boys race and first overall out of the twenty racers. Jacob Rochell-Share and Charlie Grabow finished in second and third, respectively, for U20 boys. All three spots on the U18 boys podium were determined by three tenths of a second! Victor Sparks, Stanislaw Bednarski, and Isak Nightingale crossed the line at 12:20.1, 12:20.3, and 12:20.4, respectively. Full U18/U20 boys results can be found here.
The U18/U20 girls were also very close together. Libby Tuttle edged out Celeste Alden by one-tenth of a second for the U18 girls win and the overall win over the other 10 girls in the race. Abby Ellenbecker followed in third. Leah Baker from Armstrong took first for the U20 girls. Full U18/U20 girls results can be found here.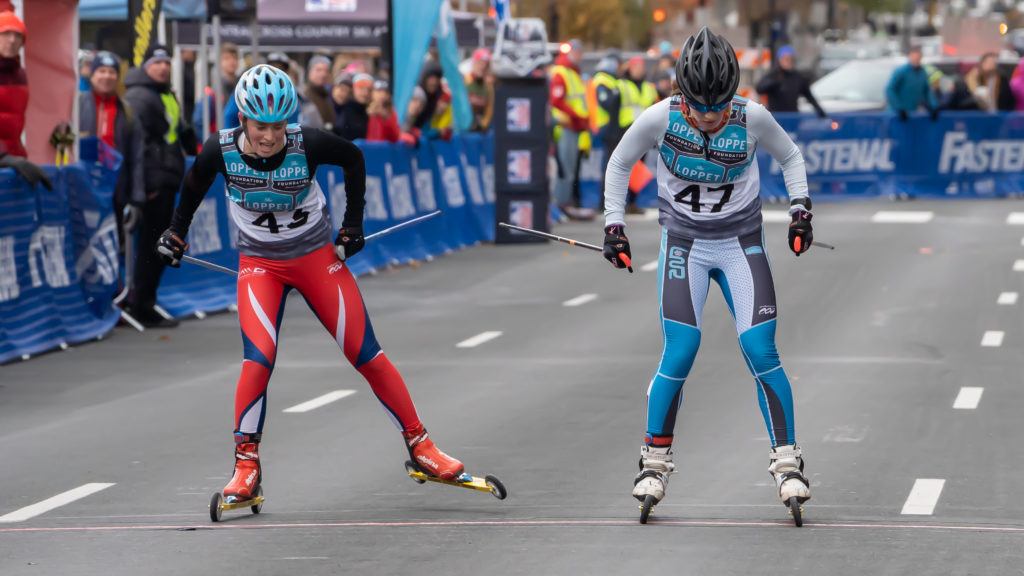 Master's Race
Thirteen Men's Master skiers toed the line on Saturday. They didn't let their age (36+ years) slow them down though. These master blasters could have given any of the young bucks in the earlier races a run for their money! The Loppet Foundation's Executive Director John Munger snapped on his rollerskis to race alongside his competitors. Andy Schakel from the Vakava racing program came in first place, followed by Loppet Nordic Racing's Piotr Bednarski and then Patrick Horst. The second and third place men were again only one-tenth of a second apart from one another! Full Master's results can be found here.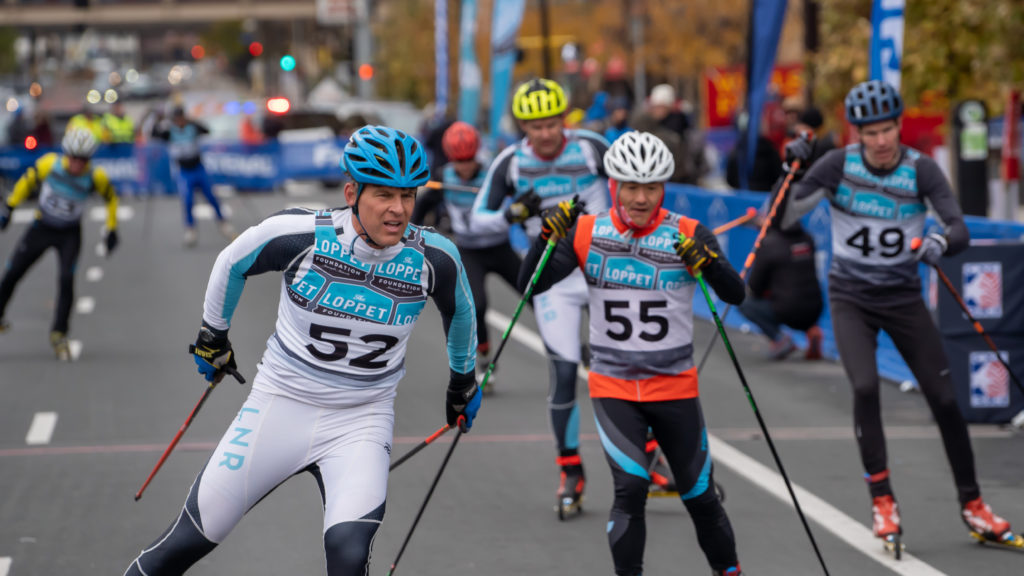 Open Men's Race
There were twenty-four racers in the Men's Open race, many of whom were incredibly experienced skiers, which led to a very exciting race. Some of the Midwestern colleges were represented in the mix with racers from St. Olaf College, St. John's University, Michigan Tech University, University of Wisconsin – Green Bay, and the University of Minnesota. There was also a good representation of skiers from Twin Cities club teams, including Loppet Nordic Racing and Vakava Racing. The men all stayed fairly close together for the first few laps, but by the end of the third lap the lead pack began their breakaway with the leaders rounding the city block in under one minute per lap! Four-time Olympian and America's best ever male ski sprinter Andy Newell, World Championships skier and 2019 US National Champion Kyle Bratrud, multi-time World Cup racer Matt Liebsch, and current US Biathlon team member Jakob Ellingson took turns in the lead, causing the crowd to wonder who would finish on top of the podium.
When the cowbell rang for the last lap, Andy Newell and Kyle Bratrud followed suit of the races earlier in the day and crossed the line together in a photo finish that was originally too close to call! After much deliberation by the race jurors, consultation from the timers, and analyzation of video footage and finish line photos, it was determined that Andy Newell just barely beat out Kyle Bratrud for the win and the $1,000 prize. However, Kyle didn't go home empty handed, as he received a $500 check for his valiant effort. Matt Liebsch rounded out the top three and snagged the last prize totaling $250. Full Men's Open results can be found here. Video of the Men's Open race can be found here.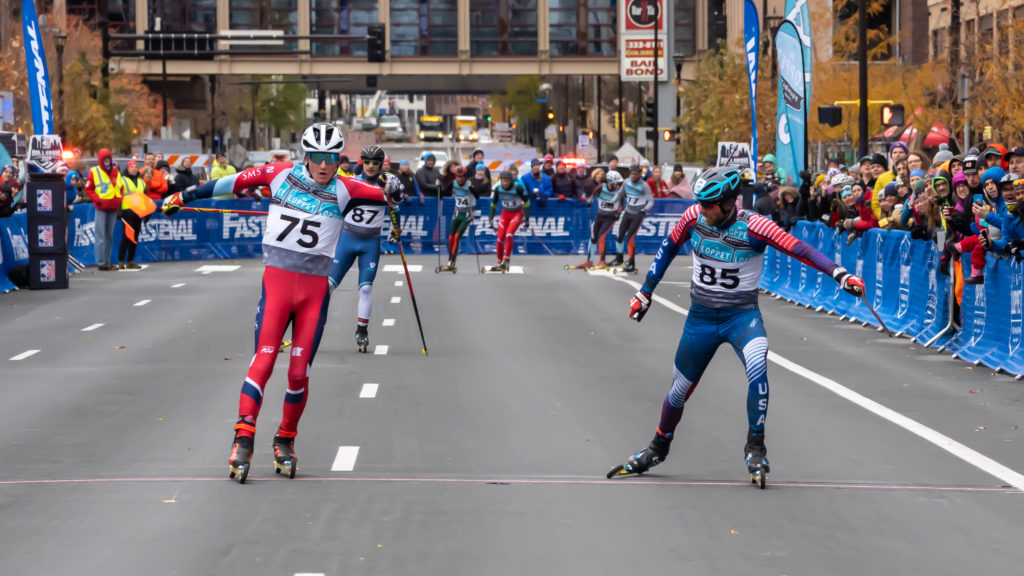 Open Women's Race
The crowds gathered and excitement grew as fans spotted Olympic gold medalist Jessie Diggins warming up with friend and former US Ski Team member Erika Flowers Newell for the Open Women's race. Ten women with impressive ski resumes rolled up to the starting line at 1pm. Alongside Jessie, racers included 2010 Olympian and 2015 World Championship bronze medalist Caitlin Gregg, 2006 Olympic Biathlete Carolyn Bramante, and eight Elite Wave Birkie skiers!
Spectators lined both the inside and outside of the course to watch these speedy women fly by. As expected, Jessie Diggins took off quickly from the start, but Caitlin Gregg kept on Jessie's heels as they rounded each corner, reminding Jessie that she would have to work for this win. Jessie eventually put some room between the two of them. Though never one to disappoint her fans, Jessie put on a show reminiscent of her final sprint at the 2018 Olympics by quickening her pace for the final laps before cruising into first place as the crowds roared around her. Much to the excitement of those along the fences, Jessie thanked everyone for their support by giving out hundreds of high fives along the finish line. Caitlin Gregg coasted into second place, distancing herself from the next racer by almost one minute. In an exciting finish between Carolyn Bramante and the University of Minnesota's Laura Cattaneo, Laura captured the third place spot. The top three women were also awarded $1000, $500, and $250, respectively. Full Women's Open results can be found here.
Final Thoughts
After the race, fans lined up to meet Jessie Diggins who was giving out posters, autographs, and hugs. Jessie concluded her busy day at the Crown Plaza for a live podcast event with The Emily Program called "Make Peace With You". Host Dr. Jillian Lampert and journalist Jana Shortal discussed topics of perfectionism, social media, and eating disorder recovery with Jessie. You can listen to the podcast here.
Thank you to our generous sponsors for your support of this inaugural event! Fastenal, Pioneer Midwest, and Rollerskishop.com all helped to make this great event possible. A huge thank you also goes out to the city of Minneapolis police who made sure that all of our competitors and spectators were safe while racing and cheering on the city streets. Last, but most certainly not least, a note of recognition needs to be made in honor of all of our amazing volunteers! We had just as many people sign up to volunteer for this event as we had racers. Thank you also to our medical volunteers who were there to assist us at a moment's notice and to our volunteer course marshals who kept a watchful eye on the racers at all times. This event truly would not have been possible without the help of all of you incredible people.
If you had fun volunteering at this event and want to help again soon, or you wish that could have helped, be sure to sign up here to put your name on the volunteer list for the FIS World Cup Sprint Finals and Fastenal Parallel 45 Winter Festival.