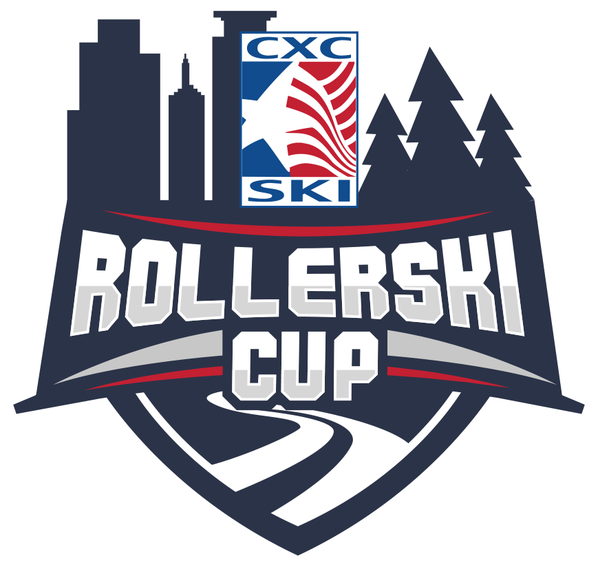 Thank you to everyone who joined us for the kick-off to the second-annual CXC Rollerski Cup! The series will also incorporate stops in Wausau, Wis. and Blue Mounds, Wis. The races are open to all with points being tallied towards the CXC Rollerski Cup title.
Rollerski with America's Best
Featuring multiple past and present U.S. Ski Team members, the inaugural Fastenal Parallel 45 Cup Rollerski Loppet was one to remember. Olympic Gold medalist Jessie Diggins was joined in the Women's Elite race by 2010 Olympian and World Championship Bronze medalist Caitlin Gregg. Notable names in the Men's Elite race included 4-time Olympian Andy Newell and 2019 U.S. National Champion Kyle Bratrud.
Alongside Commons Park and in the shadow of US Bank Stadium, participants raced laps in criterium style around the block formed by Park, Portland, 3rd and 4th in Downtown Minneapolis. A total purse of $3,500 was given out to the top three finishers of the elite race categories.
The race was open to all, with race categories of U14 on up to elite.
At the finish line following the race, racers and spectators had the opportunity to connect with the elite racers, including Minnesota's own Jessie Diggins, just weeks before she and some of the others leave town for the 2019/20 World Cup Season. That season, of course, will culminate in Minneapolis, Minnesota, on March 17 with the FIS Coop Cross Country World Cup Sprint Finals, which will be the cornerstone of the 2020 Fastenal Parallel 45 Winter Festival.
For those who wanted even more of Jessie, there was an opportunity to head down the block to the Crown Plaza where The Emily Program will facilitate an interview with Jessie and KARE 11's Jana Shortal from 3p – 5p.
Event Details
Event Updates
Format
Freestyle technique. Competitors ski laps for 8-15 minutes (depending on division). After the initial time elapses, a bell is rung as the leader crosses the lap line. Competitors then complete 2 more laps, and the first skier to complete those laps wins.
All racers are required to use the matched set of Swenor rollerskis (NNN and SNS compatible) provided by the Loppet Foundation. All racers are also required to wear their own helmet while on rollerskis.
Course Map
The race will take place in/around The Commons park (425 Portland Ave S, Minneapolis, MN 55415) near US Bank Stadium. Rollerskiing will not be allowed in The Commons, but participants can run through the park or rollerski on the race course to warm up before their race.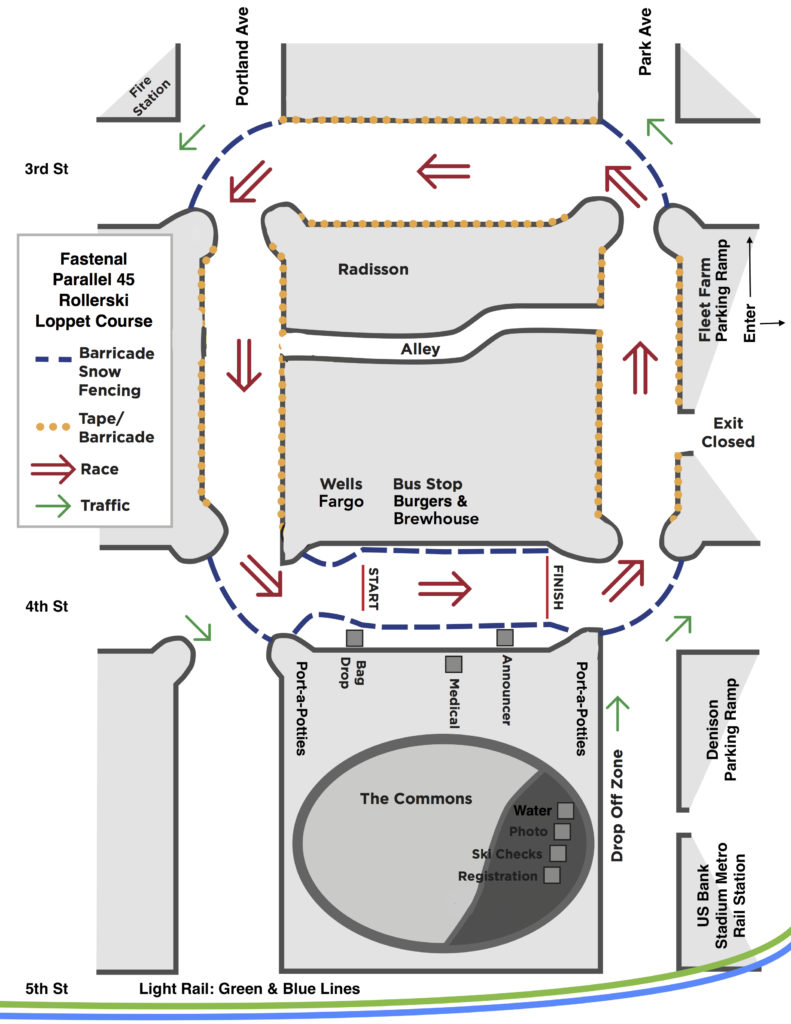 Parking & Transportation
Spectators and participants should park in the Fleet Farm parking ramp (740 S 4th St, Minneapolis, MN 55415) or the Denison Parking Ramp (425 Park Ave, Minneapolis, MN 55415), one block from the race.
Some side-street parking will be available. In addition, the Blue Line and Green Line Light Rail routes both stop at U.S. Bank Stadium, one block from the course. Biking is also encouraged, and there are many city bike racks located near the course.
Downtown parking costs money, so please come prepared.
Categories/Age Classes
Race categories may race together or be separated depending on the number of registrations.
Elite Division Men & Women (by invitation/placement)
Citizen (20-35) Men & Women
Masters (36+) Men & Women
U14, U16, U18, and U20 Boys & Girls
Awards
Awards for the top three males and females in each category.
Cash prizes for the top three men and women in the Elite Division – $1,000 for first, $500 for second, $250 for third.
Schedule
9:00 am: Packet pickup starts for racers
9:30 – 10:25 am: Course open for practice
10:30 am: U14/U16 Boys and Girls – 8 min plus 2 laps
11:00 am: U18/U20 Boys – 10 min plus 2 laps
11:30 am: U18/U20 Girls – 10 min plus 2 laps
12:00 pm: Masters Men (age 36+) – 10 min plus 2 laps
12:30 pm: Elite/Open Men (ages 20-35) – 15 min plus 2 laps
1:00 pm: Elite/Open/Masters Women (age 20+) – 15 min plus 2 laps
Awards will be given after the end of the women's race.
Elite athletes will provide autographs and photographs after the awards ceremony
Register
Registration is now closed
| | Registration Open | Starting Sept 17 | Starting Oct 22 |
| --- | --- | --- | --- |
| Rollerski Loppet | $20 | $25 | $30 |
Registration and transaction fees are non-refundable, including in the event of delay, rescheduling, or cancellation of an event or program. An event or program registration is not transferable to another person or another event for any reason, including injury. Participating under another person's name will result in disqualification.
A Note About the Data We Collect
Proceeds from the Parallel 45 Cup Rollerski Loppet benefit the Loppet Foundation. Learn more about the Foundation's mission, vision, and values.
Results, Photos & Media
Results
Video:
Race Photos:
Media Coverage:
Volunteer
Thank you to our incredible event volunteers. Contact volunteer@loppet.org to get involved in future events.