Official Statement as of March 12, 2020, at 2:30am (CST):
Due to ongoing and evolving concerns surrounding the novel coronavirus (COVID-19), the International Ski Federation, U.S. Ski & Snowboard and the local organizing committee, working in concert with local health officials, have made the difficult decision to cancel the Fastenal Parallel 45 Festival, the Coop FIS Cross Country World Cup race, and all associated events scheduled for March 14-17, 2020 in Minneapolis.
We are devastated to announce this cancelation. In keeping with updated information from the Minnesota Department of Health and after consulting with medical advisors, we are prioritizing the health and safety of our community, fans, athletes, staff and volunteers involved in these events.
We know this is not easy news for anyone – from volunteers and sponsors who have dedicated their time, talent and resources; to the athletes who have spent years training; to our staff who have poured heart and soul into preparations; to the thousands of folks who were excited about participating and spectating. Thank you for your understanding and support as we prioritize our collective well-being.
John Munger
Executive Director
The Loppet Foundation
Volunteering
Loppet Foundation volunteers have made two decades of outdoor active events, programs, and trails possible in the Twin Cities. Many of those volunteers now form the backbone of the Fastenal Parallel 45 Winter Festival and MN World Cup, the first Coop FIS Cross Country World Cup on American Snow in 20 years.
We invite you to join the crew who will make this historic event possible by signing up for a shift (or several!).
Values
Volunteers are a key communicators and enactors of the Loppet Foundation's Values, and we ask all volunteers to seek to embody them.
Adventure. We believe that living an inspired life requires taking paths with uncertain outcomes. We focus on the journey.
Excellence. We set the highest standards and strive for continuous improvement in everything we do.
Stewardship. We are committed to nurturing the resources – like youth, natural resources, and financial assets – entrusted to our care.
Integrity. We value honesty and high moral standards, but our definition of integrity also includes holding each other accountable for living the outdoor active life that we promote.
Inclusiveness. We believe that an outdoor active life is part of all cultures and we strive to share our passion for outdoor activity across individuals with differing abilities, as well as ethnic and economic lines.
The Basics
Shifts
Volunteers sign up for one or more shifts through our VolunteerHub, our volunteer management system. We hugely appreciate those who sign up for more than one as it takes many hands to make this event work, and developed expertise is hugely valuable.
Coordinators
Volunteers at the Fastenal Parallel 45 Winter Festival are managed by Raquel and Nancy. They can be reached a mnwc.volunteers@loppet.org.
Managers
Each volunteer shift is managed by an Organizing Committee member, and that manager, along with their email address, is listed on each shift description on VolunteerHub. Volunteers can feel free to contact their shift manager directly with questions, though they will also be receiving instructions from those managers.
Volunteer Central
The Theodore Wirth Park Chalet lower level will serve as Volunteer Central, with food, drink, warmth, and a place to leave belongings while out volunteering.
The Volunteer Center at The Chalet will be open:
Saturday March 14th, 7:00 am – 6:30 pm
Sunday March 15th, 7:00 am – 6:00 pm
Monday March 16th, 7:00 am – 6:30 pm
Tuesday March 17th, 7:00 am – 10:00 pm
Locations
Most shifts take place at Theodore Wirth Park, though a few take place elsewhere (e.g. hotel or airport). Please be sure to read the opportunity carefully there.
Acknowledgement
Parallel 45 volunteers will be given a thank you gift to commemorate the event.
Tickets
Volunteers and staff members will not be given tickets to view the World Cup race itself, with qualifiers running from 2:15 – 3:15 and finals from 4:45 – 6:30. Only a small number of volunteer shifts will be within view of the race, so if you would like to watch part of the World Cup before or after your shift, please purchase your ticket here now.
Check-In
Overview
Volunteers check-in at the beginning of their shifts and check-out at the end.
Volunteers should bring their ID with them when they check-in.
Volunteers should arrive 15 minutes prior to their shift start time.
Most Volunteers will be given a credential to wear around their neck while volunteering. Please return them to Volunteer Central, or to your shift manager, after your shift.
Monday, March 6th – Friday, March 13th
Volunteers communicate directly with their shift manager regarding meeting location and check-in and out process.
Saturday, March 14th – Tuesday, March 17th
Theodore Wirth Park-based volunteers (nearly everyone) check-in at the Theodore Wirth Park Chalet at 1301 Theodore Wirth Parkway, Minneapolis, 55422
Airport Volunteers, Hotel Volunteers and Shuttle Assist + Remote Location Volunteers, communicate directly with their shift manager regarding meeting location and check-in and out process.
Hotel Volunteers will check-in at Double Tree Hotel Minneapolis, Park Place, 1500 Park Place Blvd., St Louis Park, MN 55416. Volunteer Headquarters will be in the "Spring Conference Room" in the Hotel Lobby.

Monday, March 16th 8am – 8 pm.
Tuesday, March 17th 8am – 8 pm.
Tips & Guidelines
Event FAQs
Apparel
Please come dressed to do the task described in your VolunteerHub shift description. But also bring apparel to wear outside as well, as even predominantly indoor jobs sometimes require being active outside.
Bags
Larger bags may be left at Volunteer Central.
Volunteers will be provided with a Fastenal drawstring bag
Food & Beverage
Heavy snacks and beverages to keep volunteers powered throughout the festival will be available at Volunteer Central.
Children
Cancellation
If you need to cancel, log into your loppet.volunteerhub account, select "My Schedule", and select your shift "Cancel participation".
Abbreviated and Adjusted Shifts
Please plan to assist for the full duration of your assigned assignment. If you end up finishing a task early, or are surplus to requirements, please connect with your shift manager and consider returning to Volunteer Central to be reassigned (we guarantee there is a need somewhere).
There may be situations where a need develops to reassign a volunteer, we needed to do this with about 5% of volunteers during the City of Lakes Loppet Festival this February. Please come mentally prepared for that, and ready dressed to be flexible.
Code of Conduct
Our volunteers are typically incredible people and a code of conduct seems like it need not be expressed. Nonetheless, we ask the following:
To conduct oneself as a friendly, responsible, informative and respectful representative of The Loppet Foundation.
Treat everyone with respect and courtesy.
Refrain from the consumption of alcohol during your shift.
Refrain from public criticism of participants and other staff or volunteers.
Refrain from the use of profane, insulting, harassing, or otherwise offensive language in person or and otherwise (e.g. social media).
Follow direction of your volunteer shift leader.
Transportation & Parking
Throughout Fastenal Parallel 45, from Saturday the 14th through Tuesday the 17th, Theodore Wirth Park between Olson Memorial Highway (MN 55) and Plymouth Avenue will be closed and there will be no spectator and volunteer or participant parking at Theodore Wirth Park
Volunteer (and spectators and participants) are encouraged to walk, bike, use rideshare/dropoffs, park+ walk, take public transportation, or take our spectator shuttles (starting at 11am on Tue) to the venue. Bike racks will be available and a ride service drop-off point has been designated.
Park in the surrounding neighborhoods and walk to the venue.
On Tuesday, park in the Thor Parking Lot at Penn/Plymouth (entrance from Plymouth), 0.7 mile to the venue. Address is 1256 Penn Ave N. This is for volunteers only.
Map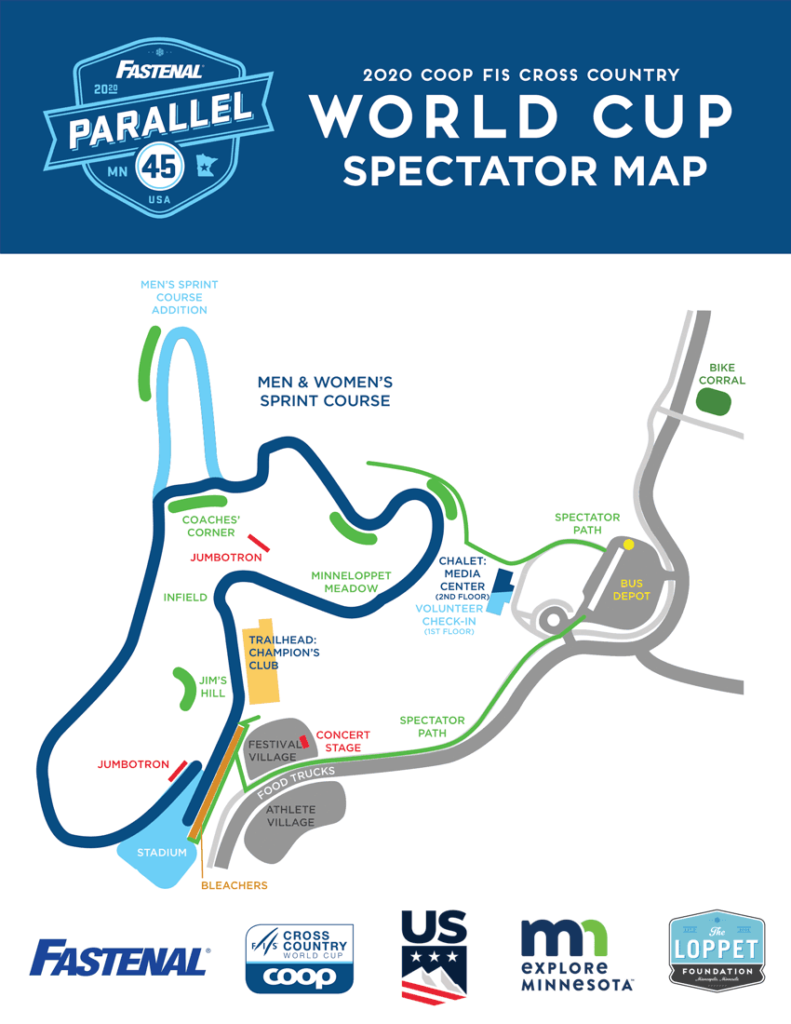 Safety Protocol
In Case of an Emergency
Call 911 (immediate safety hazard or threat to life or limb).
Notify medical team & medical director/lead.
Inform Event Operation Center of incident and if 911 was called.
Document. Take a photo if your task/time/safety permits.
Media: DO NOT talk to media, DO NOT post to social media.

Contact Jon Friedell (952-232-9747) or Heidi Ledermann (651-354-7315) if media personnel are in the area. If asked for information, say, "I'm not the appropriate person to provide information but I can find the right person for you to talk to."
See Something, Say Something
Learn the normal flow and activity of your area. If something is suspicious, contact a nearby police officer or call 911. And follow emergency protocol above.
Suspicious package – Do Not Touch the item. Stay safe distance away. Ask those present if it belongs to them. Get help.
Report item or activity to Event Operation Center providing detailed description of item or behavior, including exact location.