2017 Salomon City Trails Loppet Recap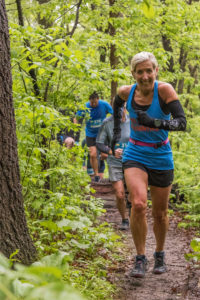 A light drizzle fell as racers huddled together at the startline of the 4th annual City Trails Loppet in Robbinsdale, Minnesota. Despite the grey sky and 40-degree-temps, the spirits were high and you could feel the buzz building as the start time drew near. Many of the racers were even excited about the wet and cooler weather, saying that it was perfect for running.
The consistent rain we got the week leading up to the race was a pretty good indicator that the trails were going to be muddy, but that didn't scare the 740 racers who ran the 10 mile and 10K point-to-point courses.
The Salomon City Trails Loppet course crosses meadows, wooded trails, paved paths, bridges, railroad tracks and wooden stairs. This year, the race had the added element of mud and puddles which produced a little extra challenge to the technical sections of the course.
As the racers crossed the finish line at Parade Stadium, they were surprisingly clean! Though, it was easy to identify that handful of people who slipped and fell in the mud. "The course was a lot dryer than I was expecting," said one finisher who also ran the 2016 Surly Trail Loppet (which was very muddy). And another runner commented that even though it rained the whole time, "in the woods the weather was perfect!"
Race Results: 10 Mile
Adrian Swanson, 27, of Minneapolis, won the 10 mile race with a time of at 58:06. Neck and neck with Swanson, was Cory Baumann, 31, of Minneapolis, who finished in second place with a time of 58:12. In third place, with a time of 59:29 was veteran City Trails Loppet racer Brian Gregg, 32, of Minneapolis. This was the first time Swanson and Baumann had raced the City Trail Loppet. It was Baumann's first trail race and second time ever running at Theodore Wirth Park.
First place in the women's 10 mile was Loppet's own Caitlin Gregg, 36, of Minneapolis, who won with a time of 1:11:42. Sprinting it out for the second spot on the podium was Junior Loppet Coach, Mollie Gillberg, 24, of Coon Rapids, who finished with a time of 1:11:58. Just a tenth of a second behind Gillberg was the 2016 Hoigaard's Challenge Winner, Josie Nelson, 38 of Medicine Lake, who finished with a time of 1:11:59. Gillberg commented after the race that she was feeling pretty good about her pace going into the finish line stretch but then, "Josie came out of nowhere and with a smile on her face said, 'Let's go for it!' So we sprinted it out to the finish. It was a blast!"
For a full listing of the 10 Mile Results, click here.
Race Results: 10K
In the 10K race, Jordan Roby, 26, of St. Louis Park took the top spot with a time of 39:06. Roby took 3rd place in the 2016 City Trail Loppet and he shaved off nearly four minutes from his result last year. Dennis Curran, 35, of Plymouth finished in second with a time of 41:04, and Dave Schuneman, 29 of Duluth, rounded out the top three at 43:17.
For the ladies' 10K, Christina Roberts, 31, of St. Louis Park finished in first place for the fourth straight year in a row with a time of 45:36. Danielle Lebreck, 27, of Minneapolis crossed the finish line with a time of 50:17 for second place, and Maggie Bollig, 26, of Minneapolis finished in third with a time of 50:18.
For a full list of the 10K results, click here.
Great Beer, Great Food and Great Company at the Post-Race Party
After the race, participants, spectators, volunteers and Loppet staff gathered in their rain gear to celebrate and share stories from the day's race while listening to live music. A dance party even broke broke out while a steady mist continued to fall. Thanks to Surly Brewing Co. all race participants received a beer (provided they were over 21). Those who biked to the race start got an additional free beer token!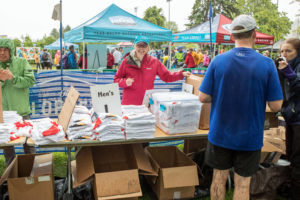 Thank Yous
The Loppet Foundation is especially thankful for the volunteers behind our events. Volunteer Coordinator, Nancy Nelson noted that over 75 volunteers came out to make the 2017 Salomon City Trails Loppet a success.
Thank you to all our participants and spectators. Your support at this year's Salomon City Trails Loppet was fantastic. And thank you to all of our sponsors for their continued support – Salomon, North Memorial Health Care, Surly Brewing Co., Hoigaard's, Gear West, Penn Cycle & Fitness, Bachman's, Bearskin Lodge, f/go, Great Harvest Bread Co., and CHUX Print.
Photos
See photos from the event from f/go photography, here.