Loppet Foundation Adds Mountain Bike/Event Trails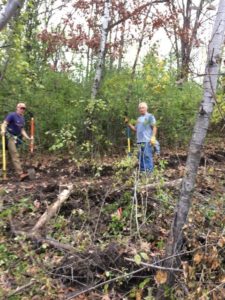 Thanks to a generous grant from
QBP
, as part of The Trailhead project, the Loppet Foundation is adding new mountain bike/event trails to Wirth Park.
Read more about the grant
. These new trails align with the Master Plan for Theodore Wirth Park and are part of The Trailhead project.
Work started this fall on 4.5 miles of new trail. The new trails are designed for beginner level technical riding, but with significant climbing and physical challenge, with the idea that the trails can be used for NICA high school mountain bike events, as well as for events like the UCare Tri-Loppet, the Surly Brewing Co. Trail Loppet, running events, cyclocross events, and everyday riding, running and hiking.
In addition to the trails the mountain biking infrastructure will include a learning area and a staging for mountain biking and other trail-based events. These trails will weave in and out of the area surrounding the new Trailhead building – roughly between the Par-3 golf course and the Chalet – with great viewing from The Trailhead area.
Trail work has begun this fall, with completion expected next spring. Click here for a schematic map showing the approximate location of the trails.