Nellie Stone Ski Team- back on trail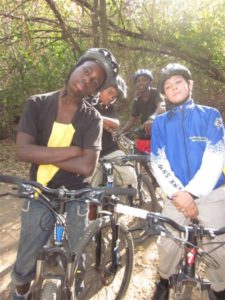 Back to school means back to nature, and the students on the Nellie Stone Johnson Ski Team have returned to Wirth once again for their second season on the trails. You may be confused; a ski team practicing without snow? Yes. "We want the kids to be confident on the trails, and teach them how to be year-round users of the park," said Nellie Stone Coach Jon Miller.
So while the ski team identifies itself with snow, they buffer their winter season with mountain biking, a sport the youth have fearlessly embraced. The team meets bi-weekly in the fall for mountain biking practices at Wirth, and will expand to four practices a week once the snow falls.
Having just begun the season, the team has a robust roster with six new faces joining seven returning members. "I joined because I like sports and I like exercise," said new team member Rosario Kantar, who said she had never skied before but it "sounded like fun." She, along with India Young-Fraser, are the first girls to join the Nellie Stone Johnson Ski Team. India spent part of her second practice learning how to fix a flat tire, something she had never done before.
The team begins practice by warming up on a mountain bike skills course which includes cinderblocks, log jams and tight turns, before hitting the trails. "At first the new kids were a little hesitant," said Coach Jon who is returning for his second season along with Coach Andrew Magill. But after just one practice, the new athletes were getting the hang of the bikes and the trails.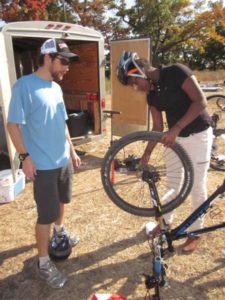 "The rocks were easier this time," said Rosario. "I paid more attention to looking forward, where I was going… not just looking down." Her teammate Ronaldo Gabino chimed in, "If you look down you just see what's passed, if you look ahead you see what you have to ride over." The kids came to both those conclusions independently, which have there coaches pleased. "So many people over instruct this age category," said Miller. "All you need to do is get these kids on a bike or on a pair of skis. They figure out the rest."
Ronaldo, a sixth grader, said he was excited to sign up because he wanted to ski again. "I did the (Minne-Loppet) and I want to race again," he said with a shy smile. Each kid out here is different," commented Coach Jon after returning the kids to school . "No one here is coming from the same place… and that makes the kids really unique and a lot of fun." With both coaches and kids looking forward to the season, the Nellie Stone Johnson Ski Team will be adding their own adventure stories to the trails.