Hang on to your handle bars- Adventure Camp is on!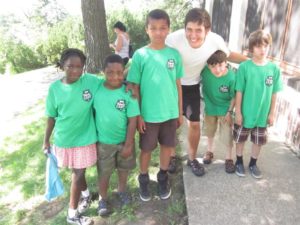 Things are cooking at Loppet Adventure Camp – giving kids a true taste of all the adventures one can experience in Theodore Wirth Park. "You'd be hard pressed to find another spot in a city where you can mountain bike, canoe, orienteer, play ultimate frisbee, hike and roller ski all in the same day," said Foundation Director John Munger who began offering the camps three years ago when he realized youth were traveling far and wide to do the activities that could be done at home in Minneaoplis.   "Adventure Camp teaches youth not only how to do these activities, but that they can do them in your own back yard."
 HeavenLee Anderson, who is attending camp for the first time, has never skied on snow before but said roller skiing was her favorite activity. "It was hard and fun and very interesting," she giggled. "But I'm excited for winter because I think skiing on real snow is going to be more fun." Other kids found themselves challenged to pedal over new obstacles on their bikes. "Most kids are attracted to mountain biking," said Camp Director Allie Rykken who set up a skills course with obstacles for the campers to try before heading out onto the single track trails.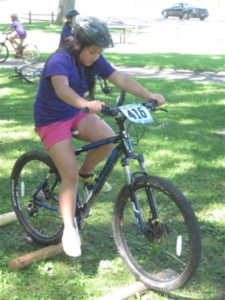 But camp is also about bringing kids together from different backgrounds to experience the world of adventure sports.  Kids who grew up on mountain bikes meet kids who are just learning to ride.  "I'd have to say that my favorite part of camp is meeting all the new people," said Jacoby Andrew with a shy smile. "It's always good to make new friends."
 Nicole Randolph is the mother of two young campers at Adventure Camp, and said she wished there was an Adventure Camp for adults as well.  In a thank you note to the Loppet Foundation she wrote, "Each day truly became an adventure for them, learning new things about themselves and developing new skills. My son Malcolm would wake up extra early telling me to "Get ready! It is time for camp." I would smile and say, "it is only 6:30 am son."  Malcolm and Justice have gone to Boston for three weeks, but Malcolm was concerned that he would miss camp. He was sure it would be over before he returned…Summer is about having new adventures and you provided my children with several….Thanks."
There is still time to send your kid to camp. Contact Camp Director Allie Rykken at rykken@cityoflakesloppet.com or call 612-604-5333. You can register online.  Scholarships are available.