Loppet Ski Camp – All Fun and Games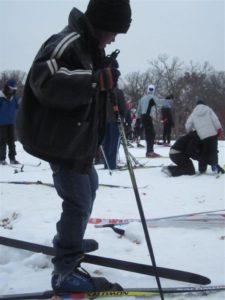 The Minneapolis Public schools are back in session, meaning Loppet Ski Camp has come to a close. But if you had skied at Wirth at some point over the past two weeks, it would have been difficult to miss the kid tracks, beaming smiles, and the ever present "whooaahh!" on the trail.
Despite the warm weather and slim amount of snow- Loppet Ski Camp ran as scheduled. About 80 youth suited up in skis and snow pants over the past two weeks joined by 8 counselors who guided, coaxed and instructed hour after hour of ski instruction, fun and games. For many of the counselors, coaching at Loppet Ski Camp was an opportunity for them to return to the basics and share sport they love. "I was surprised how well the kids picked up everything," said Linnea Champ- a captain on the Edina Ski Team and Loppet Adventure Camp counselor in the summer. "Kids are amazing."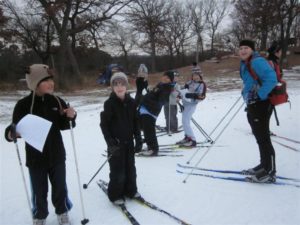 While several of the youth had previous skiing experience, about 50% were going to glide for the first time. "I love the hills!" remarked returning Loppet Ski Camp participant Wauneen Nieves who participates in the Foundation run Farview Ski Team. The "hill talk" caught first time skier Serenity Hays, 9 years old, by surprise. "That sounds scary. Do you get to hold someone's hand when you go down a hill?" By the end of camp she was zooming like a kid-pro.
The youth attending Loppet Ski Camp represented a variety of backgrounds. Some are from experienced skiing families and some are completely new to the sport. There are kids from South Minneapolis, North Minneapolis, as well as the suburbs. The beauty of these camps is that they bring kids together on an equal playing field. Regardless of your background, everyone's first steps on skis are a bit awkward. These camps provide a forum in which young people, who may otherwise be isolated from one another, can learn, grow and have fun together in the snow.
And fun they did have. "At the beginning when I was asking them if they were excited to ski they responded with a half hearted "yeah." By the end of camp- everyone was whining that they had to go home," said Camp Director Allie Rykken. "The most important thing is that they came away excited to do more skiing."
Loppet Ski Camp was featured on Channel 4 News! Watch it here