Anwatin Ski Team – Summer Training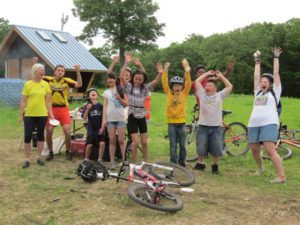 Ever since the wintry rolling hills of Wirth have given way to summer greens, the Anwatin Ski Team has been sweating it out in summer training mode. Beginning with a season kick-off barbeque in April, the Anwatin skiers have been out exploring Wirth…on wheels. "Summer is not the most exciting time for a cross-country skier," said John Swain. "But four months on snow just really isn't enough time to get good at skiing." Swain has crafted a summer work-out plan that involves running, mountain biking and roller skiing to complement the winter program.
Thanks to a grant from the Medica Foundation, the Anwatin Ski Team has been able to push the ski season into the summer meeting twice a week for regular practices at Theodore Wirth Park. In addition to regular practices, the schedule with be infused with Loppet-run Adventure Camps as well as several mountain bike races at Buck Hill. The team members will be competing in the City of Lakes Tri-Loppet and Trail Loppet and will top off the summer with a self contained overnight bicycle tour.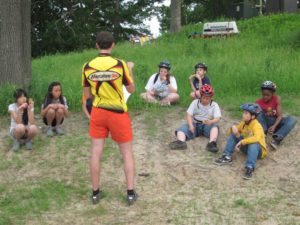 "It's important to keep it fun while including some real ski training," stated Swain as he mused over his coaching philosophy. "While we use these activities as supplemental to the ski season, part of our mission is to give kids the opportunity to get hooked on lifetime sports. Summer training is composed in a way that supports the athletes' physical development, as well as fulfills their need for fun."
"I like it," stated 11 year old ski team member Muaj Xiong. "I love it!" spouted Glory Duda whose enthusiasm for the team is as bright as her name. The kids did not hover around the food table for long and after a quick hot dog were off on their bikes enjoying the freedom of the hills. Between the likes and the loves, the Anwatin Ski team will be hitting the trails hard this summer and unless you have your own summer training program lined up, they may be you biggest competition on the trails in years to come…