Program Overview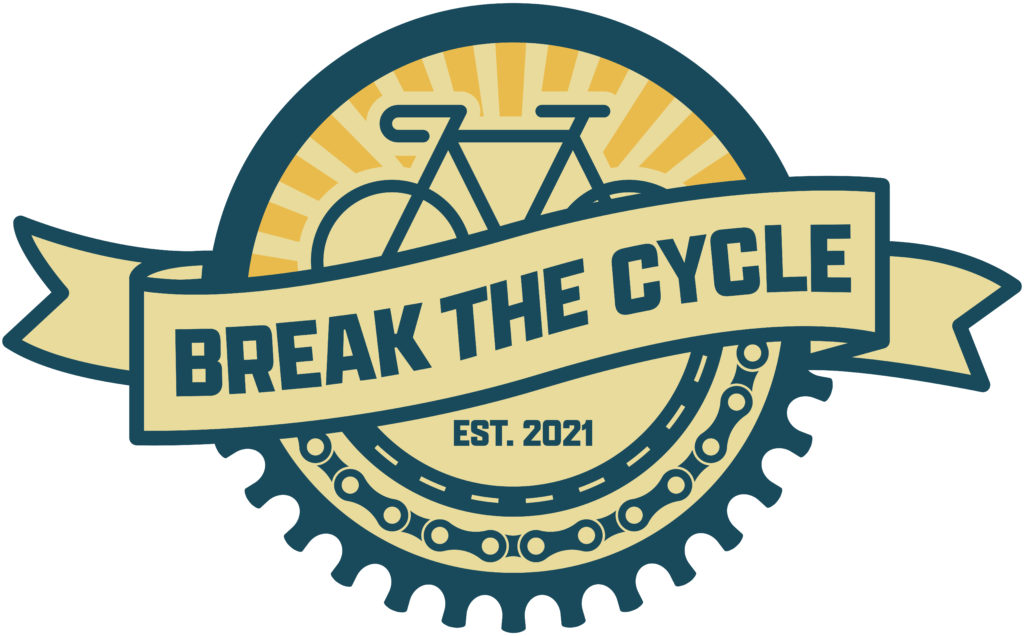 Break the Cycle's mission is twofold; To expand opportunities and experiences for Black, Indigenous, People Of Color (BIPOC) living in underrepresented communities within the Twin Cities cycling world, and to diversify the bicycle industry by providing educational opportunities and experiences for BIPOC individuals starting with Twin Cities communities.
Break the Cycle builds community using cycling as the connecting force!
Break the Cycle looks to equip BIPOC community members with the tools to enter the cycling industry, as well as use this programming as a springboard for employment opportunities.
More information and upcoming events can also be found on Break the Cycle's Facebook Page.
Upcoming Events
QBP's Break the Cycle Career Expo: Saturday, March 25, 11 a.m. – 5 p.m. The Trailhead (1221 Theo Wirth Parkway, Minneapolis, MN)
Join us for the first annual Break The Cycle Career Expo taking place on Saturday, March 25th, 2023 from 11AM to 5PM at The Loppet Foundation Trailhead, located at 1221 Theo Wirth Parkway, Minneapolis, MN 55422. This event is for anyone interested in a career in the bicycle and outdoor industry. We are connecting qualified job applicants with outdoor industry leaders and opportunities. Join us and bring a friend!
Free food for participants, while supplies last!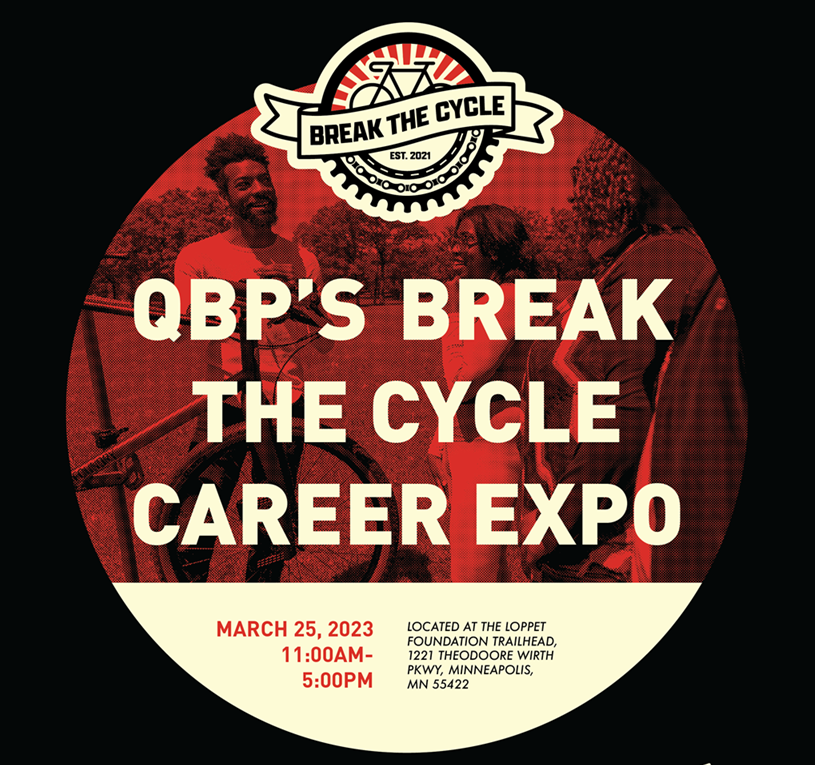 Partners in attendance
QBP
REI
Wolf Tooth Components / Otso Cycles
Full Cycle Bicycle Shop
The Hub Bike Coop
Conservation Corps
The Loppet Foundation
Project Success
BTC P3 Ride with Cycle Sisters!
Join a community bike ride to the career expo! More can info can be found on www.breakthecyclemn.com/events
Free bike demo from Otso Cycles/Wolf Tooth Components
Enjoy your local trails and bike parks with a free bike demo from Otso Cycles!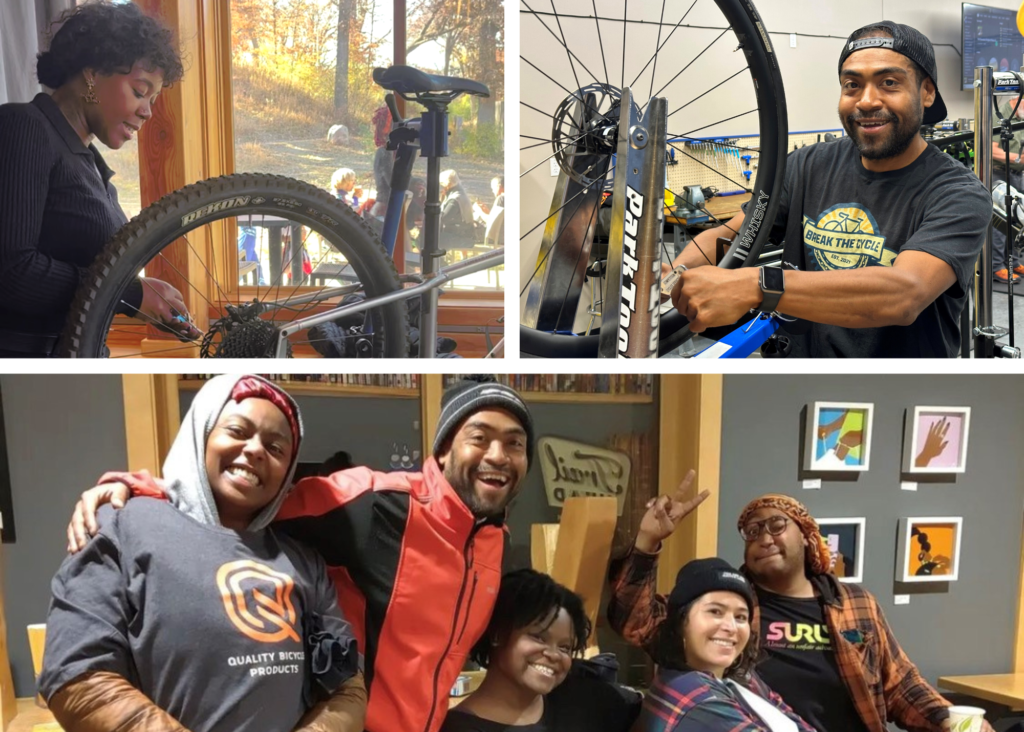 P3 Community Ride
Pizza, pedal, professors is designed to empower the Twin Cities communities we serve to engage with bicycles at a level the neighborhoods want. To achieve this, we are offer a tiered educational approach. Our first tier of this approach is our P3 Ride.
Come Ride with Us!
We seek to increase consistency and quality in the knowledge learned in programs that offer free bicycle mechanic classes to the community by creating a model that not only boost knowledge but equips them with the tools to enter the industry.
During these classes, we will listen to other needs around bicycle education, or interest among the participants to learn more in depth mechanic skills and offer continued education to those interested.
These classes will offer general safety and mechanic information with the goal of empowering the folks that participate to feel confident fixing minor things on their bicycles, as well as feeling more confident while riding.
What This Activity Includes
Road Safety Clinic: Every ride starts out with a general road safety workshop to go over basic rules of the road for bicycles.
Free Food: Food is provided at every Break the Cycle P3 ride. Our favorite food is Pizza, yummy 🙂 Come hungry!
Childcare: Childcare is provided to families that need that in order to join the ride! The Loppet Foundation offers ages 6+, Project Success offers ages 1+
Nice Ride Membership: Every person age 18 and older that is in need of a bike to join us on the ride will get a 1 year membership to Nice Ride bicycle share.
Multi-Tool: Every community member that joins us on the ride will receive a free Crank Brothers m17 multi-tool in order to apply skills learned during the ride to their own bike!
Community Ride: 1 hour bike ride around the neighborhood lead by a community Bike Professor. 1 hour going over the bicycle fit, components , and Q&A
Bicycle Lab
Bike Tech lab (B.T.L) is designed to offer bicycle maintenance educational courses to BIPOC community members interested in learning how to take care of their bicycle. Curriculum for B.T.L has been developed in partnership with QBP's Break the Cycle curriculum and Barnetts Bicycle Institute's B.A.M materials.
Learn to Tune Up Your Bicycle
During each two hour B.T.L community members will go over specific topics of the bicycle maintenance. The goal is to empower those that attend the class to be able to preform basic repairs on their own bicycle
Attending all six of the B.T.L courses will allow community member to become eligible to qualify for the Quality Bicycle Products Mechanics Scholarship
These courses will be an ideal entry point into bicycle maintenance. The skills and resources will prepare those interested, in joining the cycling industry.
What this Activity Includes:
Flat Fix Class: One thing all cyclist have in common is that we all at one point get a flat while out riding. This class will help prepare for that moment, so that you have the knowledge to be able to continue the ride.
Brake Adjustment Class: This class will go over disc brake systems as well as cover topics around rim brake systems.
Derailleur Adjustment Class: This will cover the topics of the rear gear cluster of the bicycle, also referred to as the cassette and derailleur.
Bicycle Fit Class: During these classes community members will be taught how to identify how their bicycle's size contributes to the overall comfort of the experience.
Wheel Alignment Class: This will cover topics of "truing" a wheel, and what it means for a wheel to be out of "dish" as well as how that can affect the entire bicycle.
Bearing Adjustment Class: This class will go over all bearing systems of the bicycle.
Partners