Beginner Cross Country Ski Trails
Wirth All-Access Trails:
Green Meadow Loop:
Our new loop includes 2.1 kilometers of snowmaking trails with two easier climbs and descents to practice your skills.
---
Wirth Natural Snow Trails:
Bridge Trail:
1.1 kilometers
Skyline Trail:
2.3 kilometers of easier skiing with a view of downtown Minneapolis
Tornado Alley Trail:
1.1 kilometer of easy/flat trail connecting to the South Wirth Trails
JD Rivers Trail:
1.75 kilometers of gently rolling terrain near Bassett Creek and Wirth Lake
Wirth Lake Trail:
2.2 kilometers of generally flat/beginner trails that circumnavigate Wirth Lake and Jar Hill on the west side of the lake.
---
Brownie Lake Trail: This 1 kilometer trail circumnavigates Brownie Lake and connects to Cedar Lake through the Brownie Tunnel
Cedar Lake and Cedar Lake Park Trails: These 3.2 kilometer and 1.9 kilometer trails are generally flat/beginner level, with great views of the downtown skyline and the neighborhoods around the lake.
Kenilworth Trail: This 0.7 kilometer long man made channel connects Cedar Lake and Lake of the Isles with views of historic homes along the way.
Lake of the Isles/Luminary Trail: This trail follows the same path as the famous Luminary Loppet. It is about 3.5 kilometers in length and completely flat.
---
The Columbia Golf Course trail winds around the golf course for 3.5 kilometers and is generally beginner to intermediate in difficulty.
---
The Hiawatha Trail runs 4.1 kilometers with rolling hills and is generally beginner to intermediate.
---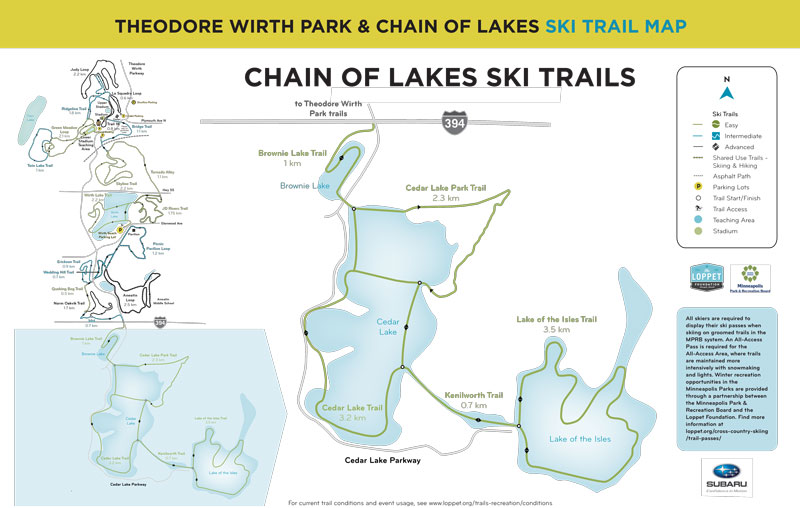 Chain of Lakes Regional Park Ski Trail Map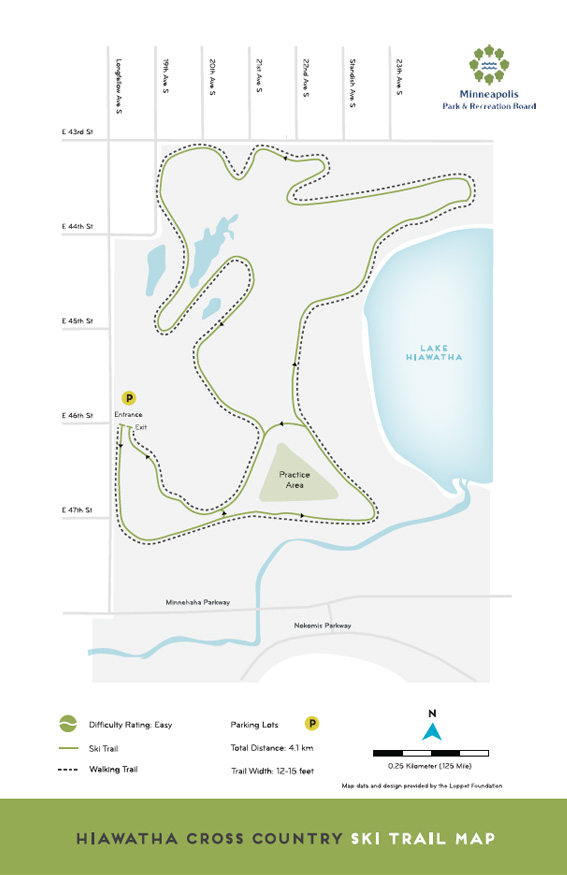 Hiawatha Regional Park Trail Map PDF