Celebrating Ten Years of TRAIL KIDS!

A reflection on her time at the Loppet Foundation by Loppet TRAIL KIDS Program Director Kim Rudd
It has been said that it takes ten years of consistent hard work to make an Olympian, and I believe this is true – as well for any successful youth sport program. This summer marks the ten year anniversary of the Loppet TRAIL KIDS Program. When I started working at the Loppet Foundation as the Director of the Fast Kids Program I had no idea that ten years later it would have evolved into a successful year-round program serving hundreds of youth every year.
Over the last ten years, the TRAIL KIDS program has evolved from a small group of ten kids and a few coaches to its current state of serving hundreds of youth on a daily basis with over two hundred coaches. The program had a slow and humble start back in 2011 with only a handful of youth. The program was mainly focused on the sport of Nordic skiing so our audience was very narrow. We tried to develop summer rollerski and running programs but struggled to draw kids who did not have a Nordic ski background. Added to the struggle, the program was competing with popular youth team sports like soccer, basketball, hockey, baseball, lacrosse and football.
From the leadership direction of John Munger, Piotr Bednarksi, and myself we decided to change the focus of the program from a one-sport focus to multiple year-round outdoor adventure endurance sports. We launched our run/orienteering program in the fall along with mountain biking programs and summer half day camps which included multiple sports like canoeing, mountain biking, orienteering, and swimming. Soon the word spread about the Fast Kids programs and we continued to grow in numbers at Theodore Wirth Park.
The goal was to get youth hooked on mountain biking and then introduce them to the sport of Nordic skiing and orienteering. The idea began to flesh out through an incredible amount of marketing through elementary school flyers and mass mailings. It did not take long for the word to get out about our new youth mountain bike programs and over the years we witnessed a steady increase in participation in all of our year-round programs.
The program changed names from Fast Kids to TRAIL KIDS which described more of what the program was about – getting kids into the woods and on the trails biking, running, and skiing year-round. We also partnered with other Midwest ski clubs to grow the brand of TRAIL KIDS endurance sports. In the past three years, we have seen a huge growth in our program due to our new addition of The Trailhead building along with the newly developed single track mountain bike trail system. Theodore Wirth Park became the destination for youth and families looking for year-round adventures.
Over the years, we have also expanded to Elm Creek, Lebanon, Hyland, and in June of 2021, we launched our fourth mountain bike program at Monarch Single Track in Carver Park. TRAIL KIDS has around five hundred youth participating in our various run/orienteering and mountain bike programs every six weeks along with nine weeks of half day mountain bike camps that serve sixty youth each week of the summer.
The focus of each TRAIL KIDS session is on fun, making friends, and gaining confidence in each sport. Some youth participate in one sport while other families join in programs all year long. Learn more about some of the TRAIL KIDS Families here.
Many friendships have developed and grown over the years and continue on as youth progress into the Junior development programs offered through the three different Loppet sport tracks of Loppet Nordic Racing (LNR), Loppet Cycle Works (LCW) and Loppet Run 365 (LR365). The Loppet TRAIL KIDS Program has over two hundred coaches staff who are trained in sport-specific curriculum developed over the last ten years. Coaches include TRAIL KIDS alumni, parents, adult volunteers, college students, and local high school athletes.
It has been an honor to serve the Loppet Foundation in this position as Director of TRAIL KIDS over the last ten years. I have decided to step down from my position and let some new energy and talent take over the growing program. I am excited to see how the program expands and grows under the leadership of the new TRAIL KIDS Director Katie Heimer.
I want to thank all the coaches who have invested their time into the lives of TRAIL KIDS participants. Being a coach is one of the most influential and rewarding jobs around! I am excited to focus my talent and energy on coaching in the coming years and will continue to serve youth, teens, and adults in this capacity at the Loppet Foundation.
TRAIL KIDS is currently hiring a TRAIL KIDS Program Manager. Please view the posting and email katie@loppet.org to apply or with any questions.
---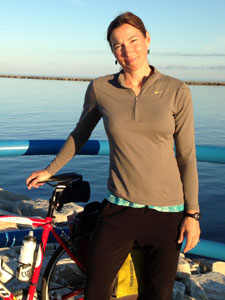 Kim Rudd
Kim has been skiing since she was five years old when her family purchased her fish scale skis with three pin bindings! Her passion for skiing took her to Bemidji State University where she competed on the Nordic Ski Team from 1989 – 1992. She has also enjoyed racing on Team Rossignol for the last twenty years and continues to compete in local marathons. Her second passion is mountain biking the many single track trails around the Midwest area! Kim has enjoyed sharing both these passions of cycling and Nordic skiing through coaching the youth at TRAIL KIDS. In her spare time she enjoys biking, canoeing, and ski adventures up at their cabin in Hayward with her husband Craig and daughters Leah and Hannah Rudd. Her hobbies include cooking, gardening, and traveling to far off places. Life long goal is to complete all of the World Loppet ski race events!