2020 Surly Brewing Co. Trail Loppet Recap

The weather on Saturday morning was perfect, hovering in the high 50s/low 60s, and the sun was shining through the changing leaves, making for the perfect fall morning. The 2020 Surly Brewing Co. Trail Loppet was a new challenge in the age of COVID-19, blanketed by uncertainty and constant changes to plans with the evolution of local guidelines. However, through the understanding and cooperation of our participants, we were able to provide everyone with a fun and safe trail run that we hope you all enjoyed.
For full event photos and results, click here.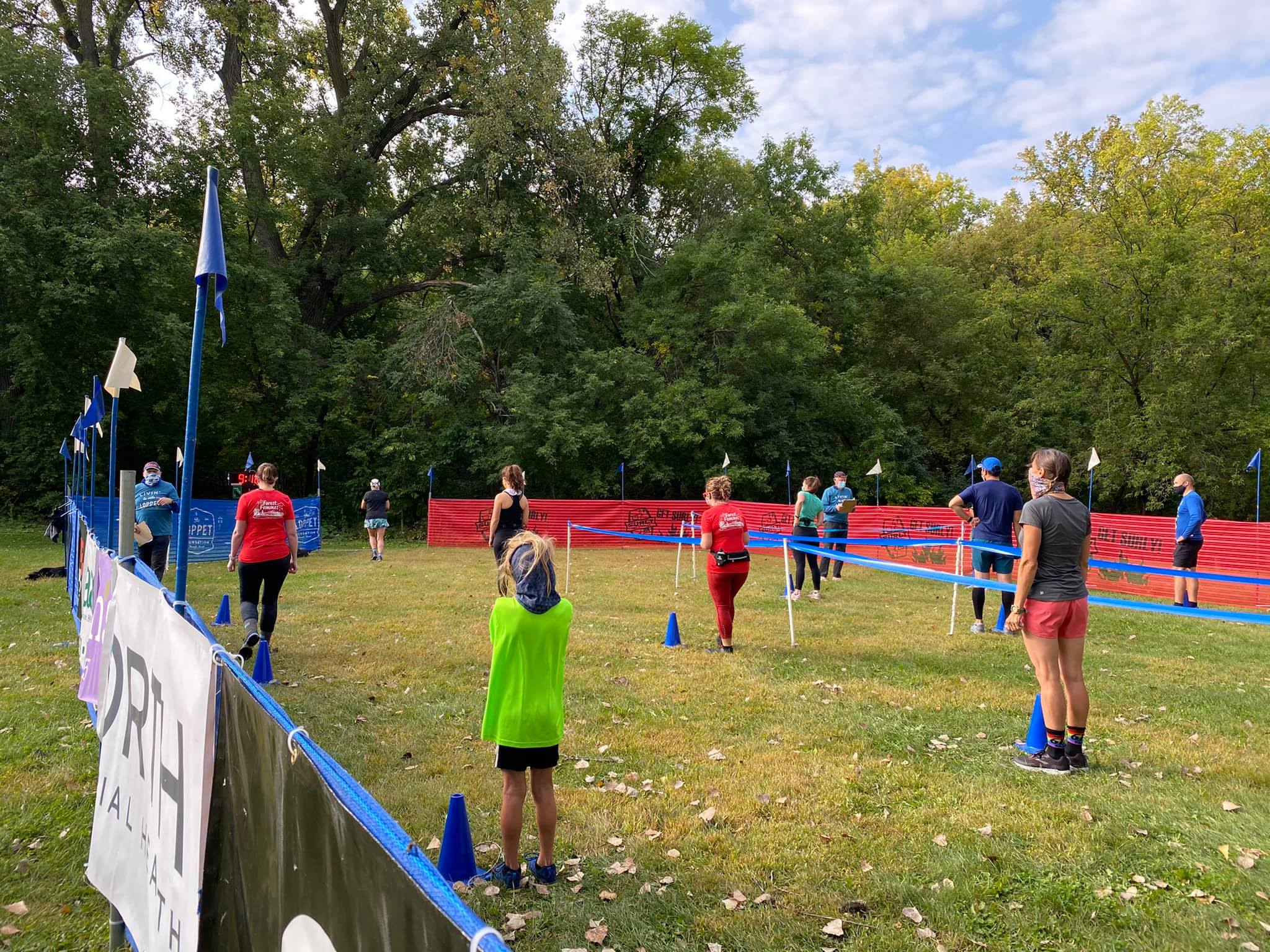 COVID-19 Safety Measures
Thank you to everyone for following our COVID-19 rules! Your respect for both our volunteers and each other was evident and contributed greatly to making this event safe for everyone.
We assigned each runner to a specific start time based on their self-reported pace. Once the runners' start times neared, they were placed into two separate start corrals (from fastest to slowest) which had socially-distant cones for everyone to stand at. Ten runners were released one at a time from the first start corral every 10 seconds. Once the first corral was cleared, there would be a three minute break before doing the same with the next corral. Participants were required to wear their masks while in the start corral, removing it and carrying it with them after they left the snow fencing that bordered the start area. Masks were required again in the finish area.
10K Results
230 runners (117 men, 113 women) finished the 6.2 mile course, with an average overall time of 57:17. There must be some truth in the term "home trail advantage" because the top three men and women were all from Minneapolis/Golden Valley.
2014 Olympian Brian Gregg (36) was one of the first runners to leave the starting gate and held his lead throughout the day. He finished with a time of 36:50, averaging an astonishing 5:57 per mile! Youngster Sam Scott (only 14 years old!) surprised the older folks with a time of 37:52, while Eric Sumner (48) took third with a time of 39:05.
In the women's category, the Loppet's newest staff member Renae Anderson (22) proved her athletic prowess by taking home the title with a time of 41:41, averaging 6:44 per mile. Colette Celichowski (27) finished second with a time of 43:47, followed closely by 2012 Olympian Caitlin Gregg (39) with a time of 44:04.
For full results, click here.
5K Results
100 participants (49 men and 51 women) completed the 3.1 mile course, with an average completion time of 32:59.
Topping the leaderboard was Wisconsinite Joe Gaetz (37) with a time of 20:04, averaging 6:28 per mile. Jason Larson (37) of Golden Valley finished second with a time of 21:03, closely followed by Minneapolis's Frank Bures (48) who stopped the clock at 21:26.
Dexi Maxa (35) made her 4-hour long commute from Big Fork, MN, worth it by capturing the Overall Women's 5K title with a time of 23:36, averaging 7:36 per mile. Deephaven's Jordan Schuster (21) was right on Maxa's heels though finishing 12 seconds behind with a time of 23:48. Rhianon Sargent of Apple Valley (41) of Apple Valley rounded out the women's top three with a time of 25:49.
For full results, click here.
Social Media Awards
Thank you to everyone who submitted photos on Facebook, Instagram, and Twitter with #TrailLoppet and #SurlyBrewingCo for our award categories: best photo on course (5K and 10K), best face mask photo, and best photo with a Surly in hand. Congrats to out winners, pictured below. Other photos from the event can be found here.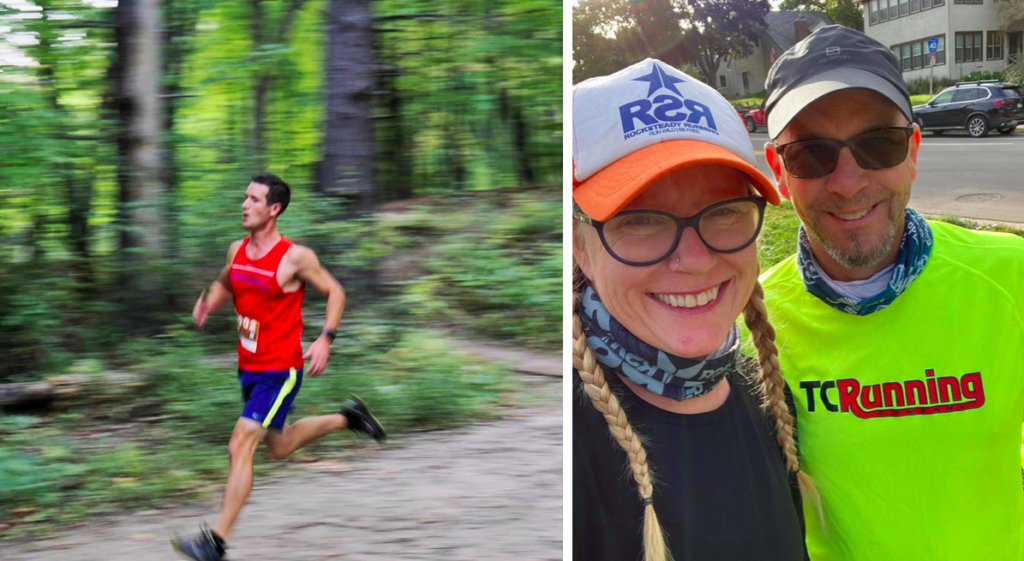 Our best on course photos from the 5K and 10K go to Jason Larson (pictured above left) and Christina Williams (pictured above right), respectively.
Jason said about his run, "Surly Trail Loppet 5k today! Some great scenes at Theo Wirth Park. It's great to be racing again. I had a great time out there Loppet crew! Thanks for letting us race while still keeping us safe."
Christina said, "We got to do an actual trail race today! The Surly Brewing Co Loppet was awesome… Safe for COVID and an absolutely beautiful course at Theodore Wirth. 6.2 miles and only one digger, that's a win for me."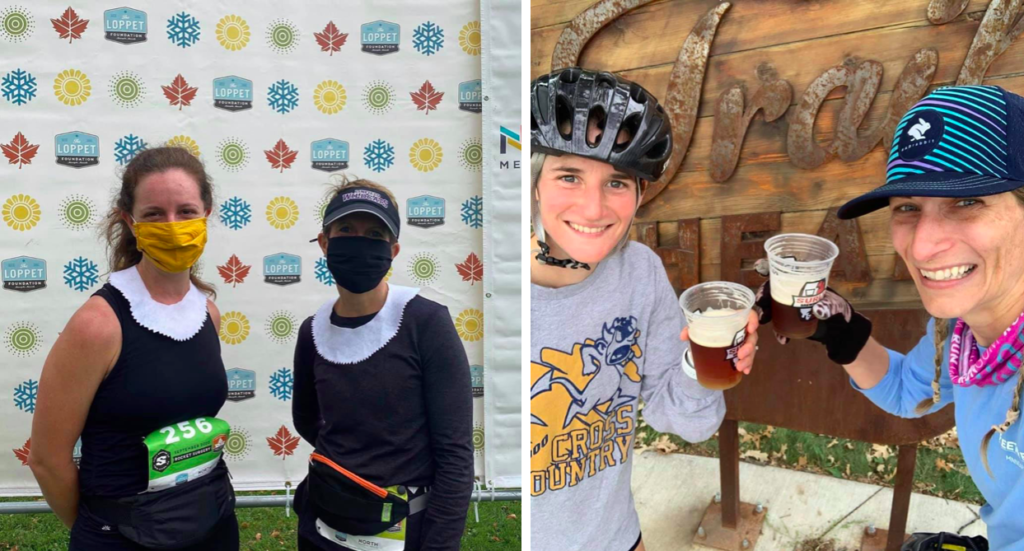 Our best face mask photo award goes to Heather Hunt, with an added bonus for her and her race buddy's tribute to the late U.S. Supreme Court Justice Ruth Bader Ginsberg (pictured above left). Our best photo with a Surly beer in hand award goes to Wendy Krause and her friend who celebrated the end of their race in front of The Trailhead sign (pictured above right).
Surly-est Runner

Maybe it is thanks to all the practice from dodging everything 2020 has thrown at them, but our runners this year were all pretty agile on their feet, escaping with only a few minor scrapes from the trail. However, the "Surly-est Runner" award goes to our bloodiest participant of the day, Sara Martin (pictured on the left).
Volunteer Highlights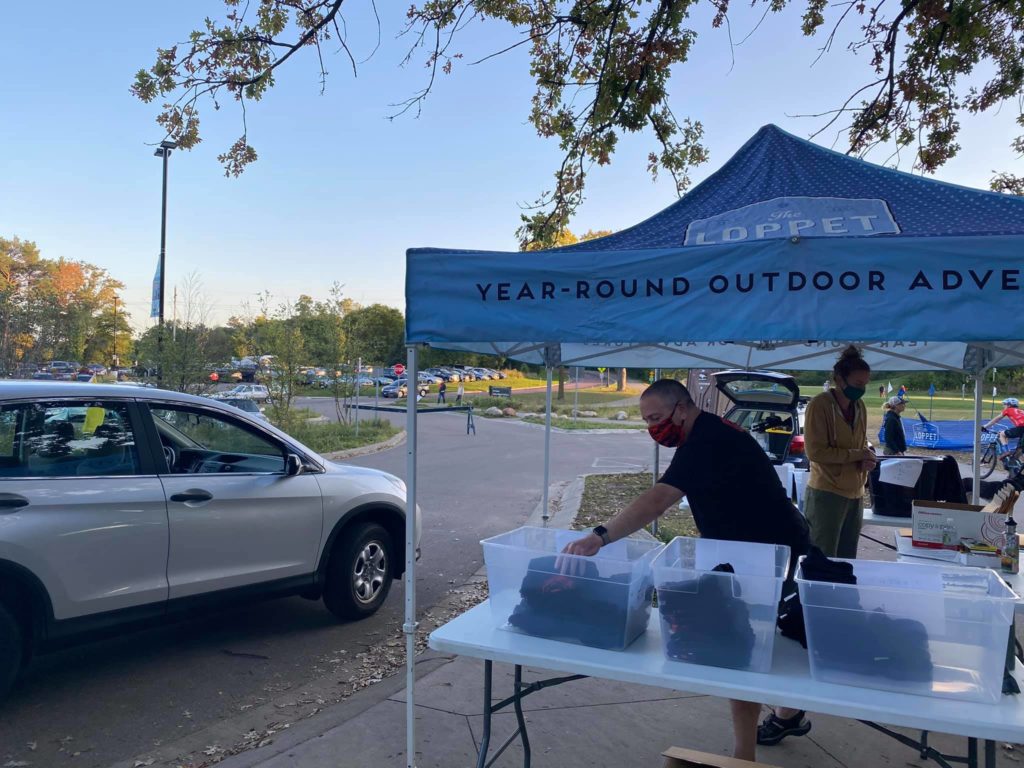 As with any event, there is so much work and so many people that go into making it a success. With the creation of this year's new race format, we needed even more minds and hands at work. Thank you so much to our start and finish crews, course marshals, course markers, set-up and take-down crews, medical team, packet pickup distributers, beer pourers, and everyone else who helped behind the scenes to make this event run so smoothly. We're just so thrilled to have the support of our amazing community behind us, stepping up to make events this summer possible.
Thank You to Our Partners!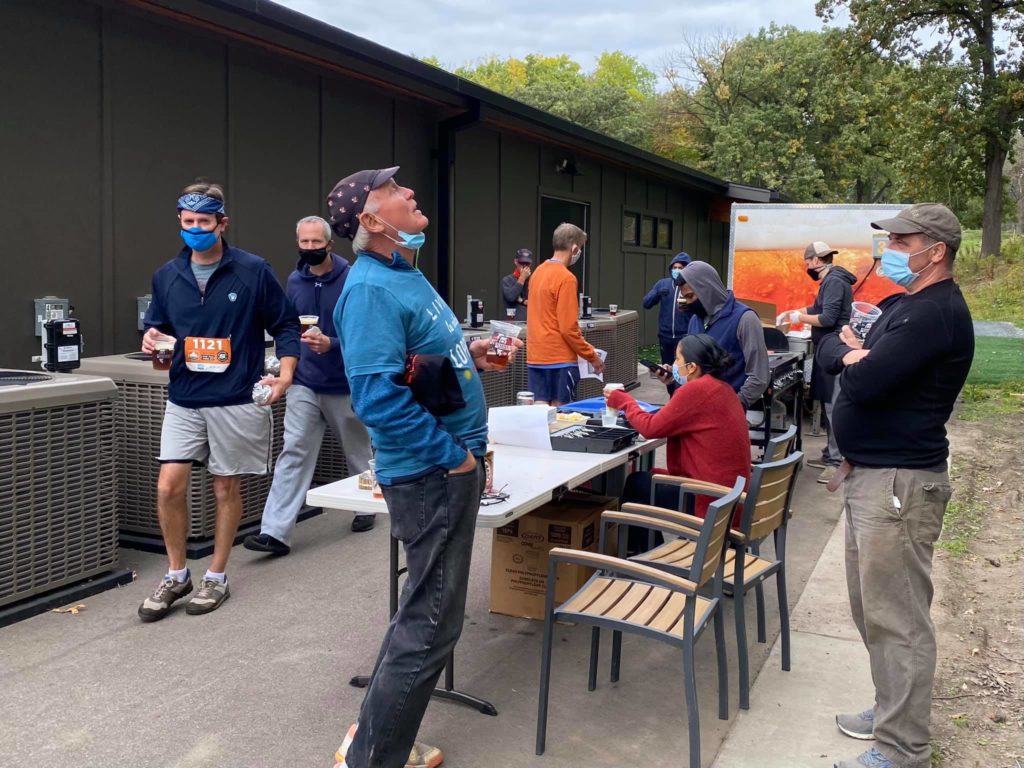 We're so grateful to our wonderful sponsors who keep showing up in support of outdoor adventures. Thank you to Surly Brewing Co. and Mill Valley Market for refueling our participants with hot dogs and beer at The Trailhead. Thank you to North Memorial Health for sponsoring the Loppet medical team, especially in a year where health and safety are so important. And of course, a big shout out to Go Radio for spreading the word about our good work in Minneapolis.
To see more of our sponsors, click here.