Minnesotan, Olympian Rosie Frankowski: World Cup Starts 101

by Rosie Frankowski, 2018 Olympian from Minneapolis
With the Fastenal Parallel 45 Winter Festival and Coop FIS Cross Country World Cup Sprint Finals coming to Theodore Wirth Park this March, many people are interested in knowing who will make the U.S. Team and which of the top skiers will not be so lucky. Have you ever been confused when your local athlete always seems to be racing well on the U.S. SuperTour when conversely another athlete struggling on the World Cup continues to race on the highest international circuit? Well you're not alone: World Cup qualification is a confounding process.
And it's gotten even more complex in the past year — thanks to a key change.
During the 2018-2019 season, U.S. Ski and Snowboard, the national governing body of cross country skiing, started using a new system involving a discretionary committee. The discretionary committee is made up of 15 top level ski coaches from around the United States. First, World Cup starts are given to those athletes who have qualified based on previously published objective criteria. For any remaining start positions, the discretionary committee decides which athletes will be invited to race based on recent results in Supertours, US Nationals and World Cups.
The goal of the new system is to fill the available start positions, offering American athletes more opportunities to race at the top level. The push to fill start spots reflects the rising success of American skiing on the international stage. This season we have seen multiple athletes bounce back and forth between the World Cup and US Supertour/Nationals, and the majority have scored World Cup points, or are on the cusp of scoring points.
This makes it feasible and realistic to fill World Cup start opportunities since athletes are performing at a World Cup level. But how do athletes receive these starts? What is the process and where do you look to find out who is racing the next World Cup and why?
Why the World Cup?
First off, why would you want to race on the World Cup (besides the obvious immense amounts of fame, glory and riches you receive should you win)? Racing on the World Cup, and all of the lessons that come along with the experience, can greatly help a skier reach the next level. Oftentimes, the opportunity allows an athlete to see with their own eyes where the next level is—whether they need to improve in technique, coordination, agility, sprint ability, strength, fitness, etc.
Additionally, the confidence an athlete can foster through the recognition from the US Ski Team coaches and US domestic coaches that they belong on a top international stage can help elevate the athlete's performance. Finally, the athletes learn the iconic World Cup courses, venues and atmospheres, which allow them to be more confident, comfortable and prepared for future success.
How do you get a start on the World Cup?
The U.S. is allotted a fixed number of start spots for each World Cup race, based on previous season results and current athlete rankings. The US has typically had 7 women's spots for each sprint and distance, and 6 men's spots for sprint and distance, including the Supertour leader's spot. Start quotas are based off of a country's team ranking internationally in the previous season. If a country is ranked 1st-8th, they receive 6 start spots; if a country is ranked 9th-12th, they receive 5. The US Women's team finished 4th in 2018-2019, and the US Men's team finished 11th, allowing for 7 and 6 start positions respectively (including current Supertour leaders). FIS publishes all the quotas of each country in their annual World Cup Rules. There are World Cup races that have additional start rights per gender (mini-tours, Tour de ski, Nations Group–for host countries, and if athletes are ranked in the top 20 of the sprint points list during a tour), but in general, the U.S. will have 7 start spots for women, and 6 for men. It is the goal of U.S. Ski and Snowboard coaches to fill those spots whenever possible. That means there is a tiered system, where coaches first look at the top objective qualification criteria, and if start spots aren't filled, they will work their way to the next level of qualification.
At the top level, World Cup starts first go to any athlete who has a top-30 (women) or top-40 (men) ranking on the FIS (International Ski Federation) Distance or Sprint points list at the beginning of each World Cup period. There are seven World Cup periods throughout the 2019-2020 season, dividing the season into roughly seven equal amounts of time , and so objective start rights are divvied up before each period. (Though the calendar does just list 5 periods, the North American sprint tour and Canmore World Cup Finals are effectively each a period when discussing qualification.)
The next objective criterion is top 50 (women or men) on the FIS Overall World Cup points list (which is separate from the Sprint and Distance lists). These FIS World Cup point lists are based off of points earned in each World Cup race for the top 30 finishers (1st place gets 100 points while 30th gets 1 point).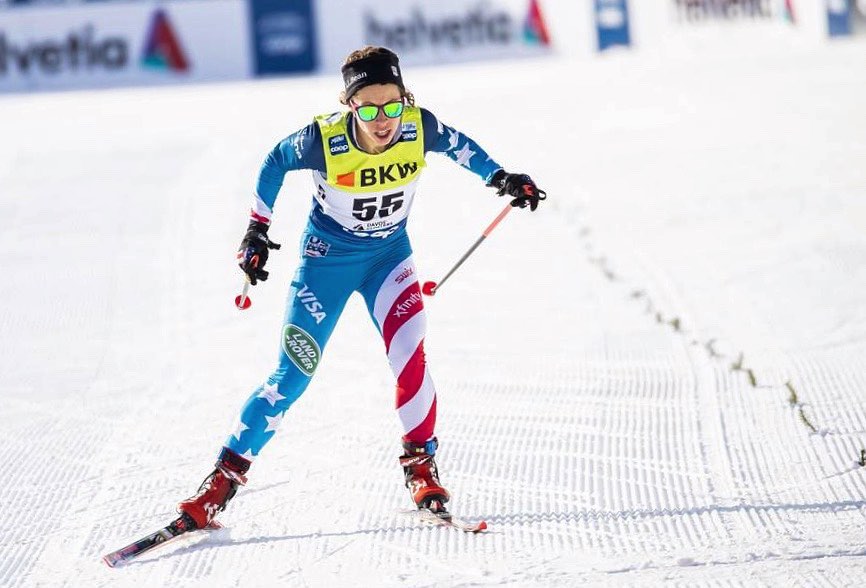 The final objective criterion distributes starts for an entire World Cup period to the overall Supertour leader, the athlete of each gender who has earned the most points at Supertour races up to that point in the season. The Supertour leader can change often throughout the year, or an individual can manage to hold the lead for much of the season; it all depends on the races attended and the points breakdown US Nationals is worth double Supertour points, so it is particularly advantageous to perform well at US Nationals in early January.
Any remaining start spots are open to discretionary naming for most normal World Cup periods. The US Ski Team coaches normally propose a start list, and include reasons why they believe each athlete has earned a start position. This proposed list is then distributed to the discretionary committee, who discuss and approve or suggest changes to it. A review committee, made up of a U.S. Ski and Snowboard athlete representative, the U.S. Ski and Snowboard CEO, and the U.S. Ski and Snowboard Sport Development Manager, completes the final approval. At this point, the proposed start list is published on the U.S. Ski and Snowboard website and athletes are notified, whereby the athletes must decide if they will accept or decline the invitation to start the World Cup.
Other Factors to Consider
However, before any athlete jumps on a discretionary start, there are some significant factors that have to be considered.
Discretionary start spots do not include funding for an athlete's lodging, travel, race wax and ski service if the athlete is not on the US Ski A or B Team, or Supertour leader. Until this season, even the US Ski B Team members funded their entire season.
To give an estimate of what this means, an athlete that heads over for a start spot will pay approximately $125 in room and board each day for themselves and their wax tech (FIS controls the rate that hotels can charge World Cup crews). They will also pay a $75 wax fee per race, and about $150 in daily wages for their tech. So a race day will cost $475, and the days leading up to a race are about $400 each.
Multiply that cost over a week (about the time you need to fly from the US and be ready to race on the weekend) and the cost is $2,875 per week, not including plane tickets .
Depending on how many athletes are racing on a weekend, the US Ski Team might be able to provide ski service, which eliminates a huge chunk of that cost, but that varies week to week. American club teams also try to help by providing tech staff if possible as well, and sometimes you can "split" the costs of a wax tech with a teammate.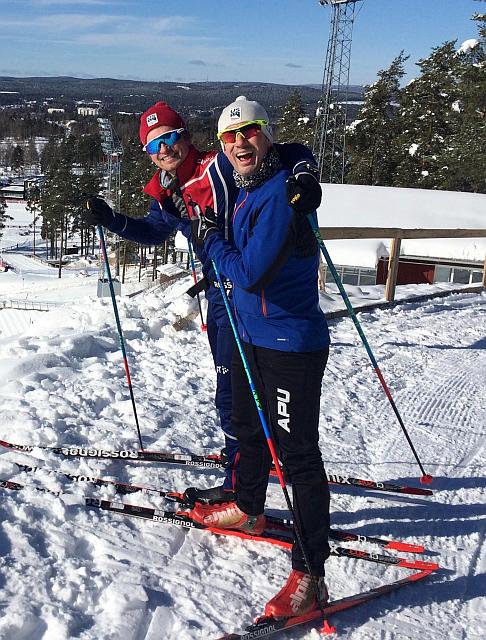 Everyone's goal is the same: get U.S. athletes on the World Cup and support them to ski as fast as possible; but ultimately, the financial cost is a huge factor in an athlete's decision to take the start spots, which is why you'll see athletes pass up on World Cup starts.
For example, this season, one factor in my decision to give up my Tour de Ski start right was the high cost of staying in Europe over Christmas and then also funding the Tour de Ski (a three week period I estimated at about $5000 if I paid all expenses for myself and my wax tech during the Tour). Due to the nature of athletics and ever changing results in performance, World Cup start rights are often announced at the last minute, and so it is really hard to plan ahead and save money on plane tickets, lodging during breaks in the racing schedule, and finding and hiring an available wax tech. When I wasn't racing at a level I thought worthy of a Tour de Ski start in the Ruka World Cup races, I booked a plane ticket back to the U.S. at the end of Period 1. I had chosen to compete on the World Cup in Period 1 which financially was a strain on my season budget, and so I felt I needed to be realistic and not throw myself under the bus booking a plane ticket back to the U.S. at the last minute during the holiday season.
Once I received the start spot for the Tour, I was already in the US, not ready to fly back to Europe in one week and find and fund waxing service. Typically, my APUNSC club wax techs would possibly be available for hire, but since the Tour overlapped with US Nationals, it was all hands on deck for the domestic races. As you can see, there are a lot of factors that an athlete must weigh when deciding to head over to the World Cup.
Finally, one last factor is that often athletes must think about their goals for the entire season. With the Minnesota World Cup this year, many American athletes are very focused on qualifying for a start position at that race. Since it is on US soil, the US receives additional start spots, known as Nations Group. This increases our quota and provides the host country with a great development opportunity. However, to qualify for the MN World Cup, you need to figure out where your best chances for great performances are–whether that is at a World Cup, or by getting the most points domestically through US Nationals and Supertour races. If you can't score a point on the World Cup (top 30 finishers), it might be advantageous to stay in the US, especially for a series like US Nationals which has 2 sprints and double Supertour points per race. The criteria to qualify for the MN World Cup is a different process than the discretionary committee; I will share more information on how to qualify for the MN World Cup in a later article.
The same strategy plan played out last year when many athletes wanted to qualify for the Quebec World Cup Finals races (the US and Canada both get Nations Group quotas whenever there is a World Cup in North America). Some athletes chose to head to Europe and in particular, World Championships, while other athletes stayed in the US to collect points. I qualified by getting a top 30 finish at the Seefeld World Championships in the skiathlon, but before that, I knew that by racing the World Cup I could threaten my chance at racing in Quebec.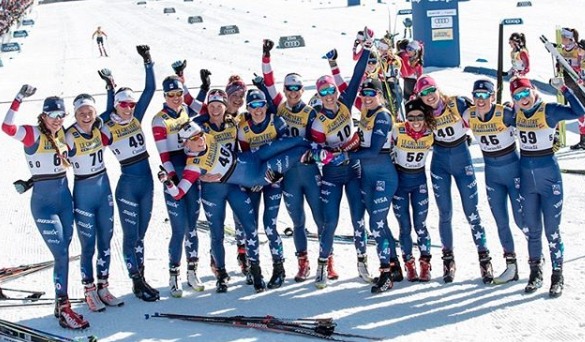 At the end of the day….
World Cup starts are confusing, both to racing athletes, coaching and ski enthusiasts. The biggest thing to take away from understanding the process, and particularly the discretionary system used currently, is that American skiing is operating this way because of its rising strength and success. This is something to be celebrated. No matter who is racing the on World Cup weekend to weekend, they are wearing the stars and stripes and representing our country, so they deserve all the cheers and support we can give them.
Learn More
To learn more about who makes up the discretionary committee, head to U.S. Cross Country World Cup Criteria. You can also see which athletes have start rights for each World Cup period, and the reasoning why they received those starts. If you are interested in the nitty-gritty of World Cup Criteria, check out the detailed 2019-20 Cross Country World Cup Team Selection Criteria.
---
About the author…
Rosie Frankowski learned to ski on the trails of Wirth Park with the Southwest High School Nordic team, and now races for APU Nordic Ski Center and will represent the U.S.A. on the World Cup this season.
Support
As a non-National team member, Frankowski financially supports her own racing, including all travel, room and board, and wax support, by working throughout the year. That alone is not enough to cover racing expenses. She would be grateful for any contributions or support to help cover racing costs. Please reach out through her website.
Website: https://rosiefrankowski.wordpress.com/
Instagram: @frankowitz
Facebook: https://www.facebook.com/RosieFrankk/