From TRAIL KIDS to the Minnesota State Meet!

by Nikki Miller
Two of our former TRAIL KIDS athletes competed in the 2019 MN Cross Country Class AA State Championship in November. This was the first (but certainly not the last!) state meet for middle-schoolers Sydney Drevlow (7th grade) and Sam Scott (8th grade).

Sydney Drevlow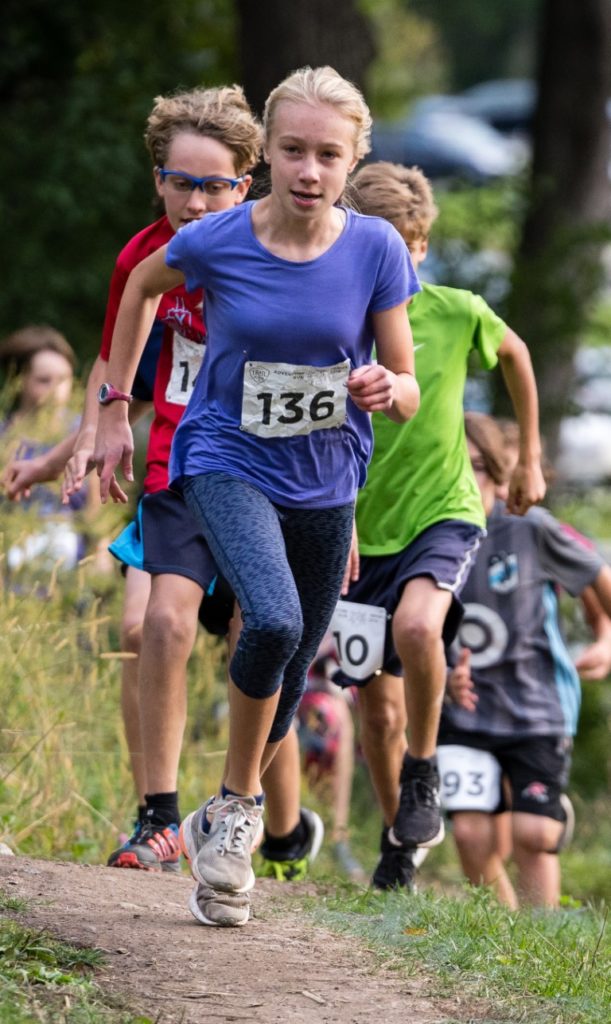 Sydney, age 13, trains with the varsity team at Hopkins High School and was the only girl from her team to qualify for the state championship. She recalls feeling a bit nervous approaching the largest race of her running career, but several teammates joined her for a warm-up run and stayed to cheer her on. "I wanted to do it for the team," she says, "because I really felt close to them and wanted to do anything for them, and knew that this was my talent and that I needed to shine."
Sydney placed 5th (18:10.5) at the state meet. Earlier in the season she placed 2nd at sections, set a record for Hopkins High School at Nike Cross Regionals (NXR), and won a varsity race in Willmar.
Sydney ran her first race at age six and participated in TRAIL KIDS for four years—early experiences that prepared her for the leap to Varsity. She appreciates how TRAIL KIDS made running fun with games like scavenger hunts and obstacle courses, and feels that being part of a cohort helped everyone bond as a team. "What I liked about TRAIL KIDS," Sydney says, "was that everybody would cheer for every little kid and make sure they would finish."
Sydney now has her sights set on Nike Cross Nationals (NXN). In the meantime, she will continue nordic skiing, with the goal of her team reaching the state championship. She also mountain bikes and last year placed 3rd in the freshman girl's division.
Sam Scott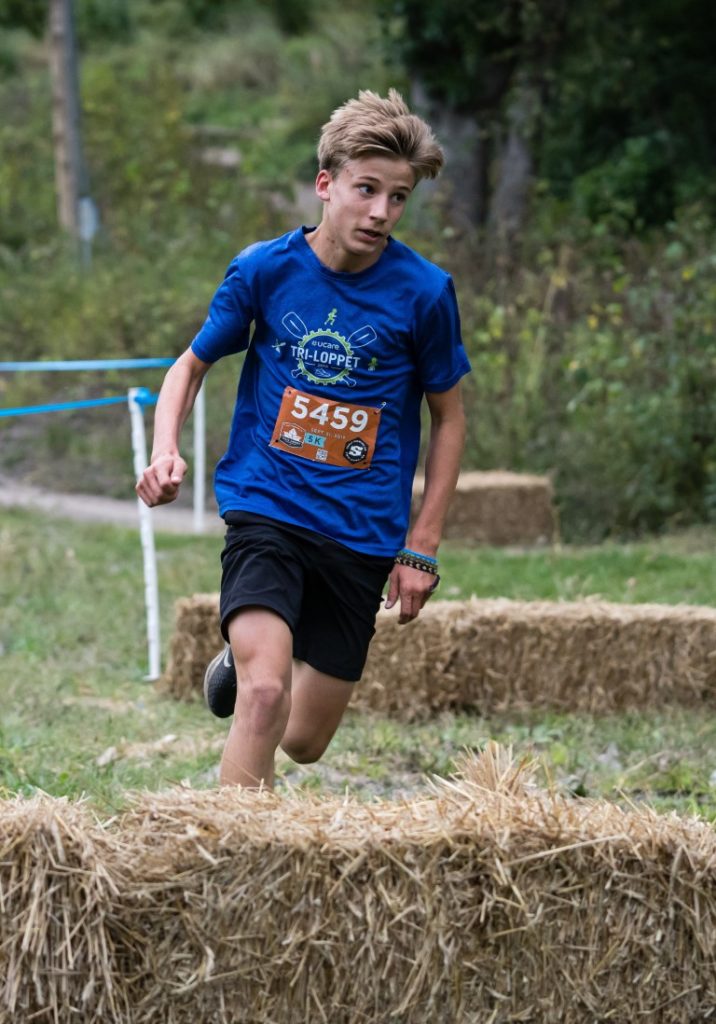 Sam Scott is a TRAIL KIDS alum and middle schooler who competed at the state championship meet representing Minneapolis Southwest High School. He admits feeling nervous before the meet but describes the event as "fun and exciting, and a great experience."
Sam PR'd at sections, finishing in 7th place (16:26.6), went on to place 37th at the state championship race (16:18.2), and a few days later placed 2nd in the Nike Cross Regionals (NXR) Rising Stars race in South Dakota.
Racing since age six, Sam—who is now 13—participated in TRAIL KIDS for four years and completed seven Loppet and City Trail races. Not only did the program teach him about race preparation and pacing, but it helped him discover the joy of being in the woods. Sam recalls that the coaches and kids were inclusive and welcoming, and he especially enjoyed the river crossings and obstacles— as well as the candy treasure hunts!
Sam offers advice for young runners who might feel nervous before a race: It's okay to be nervous, and it can actually help a runner go faster. "I still get nervous going in to races," Sam says, "but I've learned that I like racing a lot and that the atmosphere at big events is really fun."
His teammates, love for the sport, and running alongside his greyhound dog keep Sam motivated. When the snow falls you will find him nordic skiing in his third year with the Anwatin Junior Loppet Team.
Please join us in congratulating our former TRAIL KIDS athletes on their recent performances. We are so proud of them and look forward to following their promising running careers!
TRAIL KIDS is a year-round outdoor adventure sport program for youth ages seven to thirteen years old. Youth enjoy a variety of endurance sports including trail running, orienteering, mountain biking and Nordic skiing. The program is in its ninth year and has seen tremendous growth especially in the area of mountain biking. New this spring we are launching a trail running and orienteering program based out of Wirth Trailhead. The fall TRAIL KIDS program includes an adventure trail running race series held on the single track trails near the Trailhead. Youth enjoy jumping hay bales and counting orienteering flags throughout the event!
When TRAIL KIDS reach the age of twelve or thirteen, many of them grow into the Loppet Foundation's Junior club based programs such as LNR (Loppet Nordic Racing), LCW ( Loppet Cycle Works) and new this past year Loppet Run 365 program. Many of these juniors go on to participate in regional and national competitions. TRAIL KIDS also offers ski and bike lessons for parents while their kids are in session—including the whole family in adventure sports! For more information on Loppet TRAIL KIDS programs visit the website here!