2018 Surly Brewing Co. Trail Loppet Recap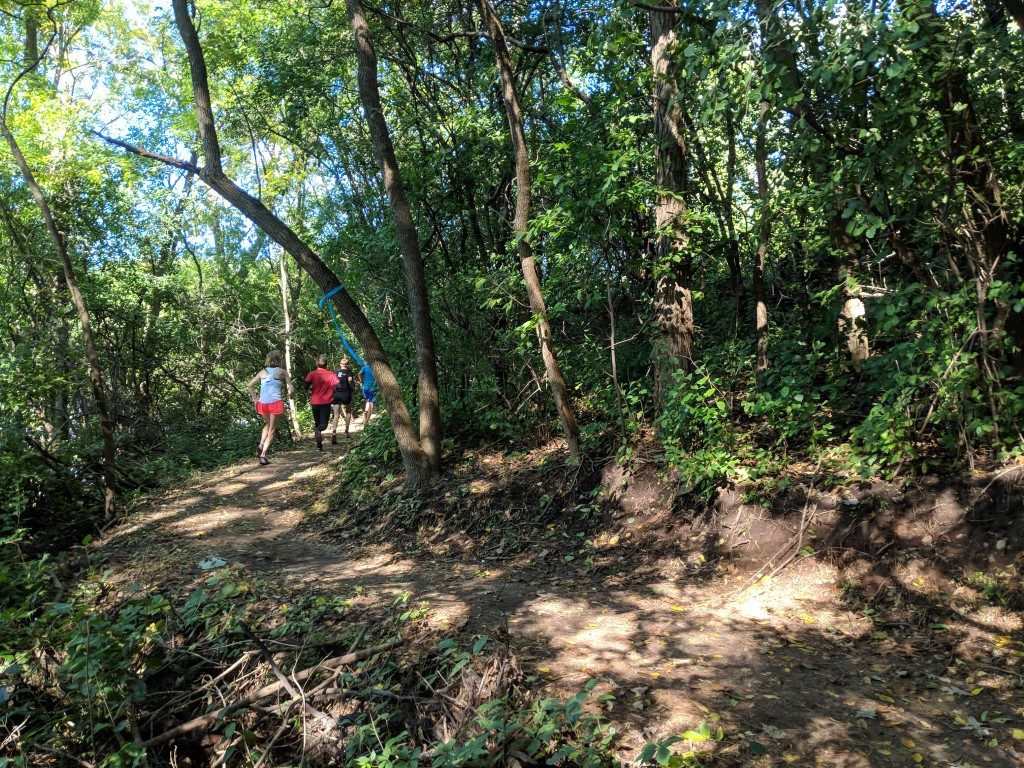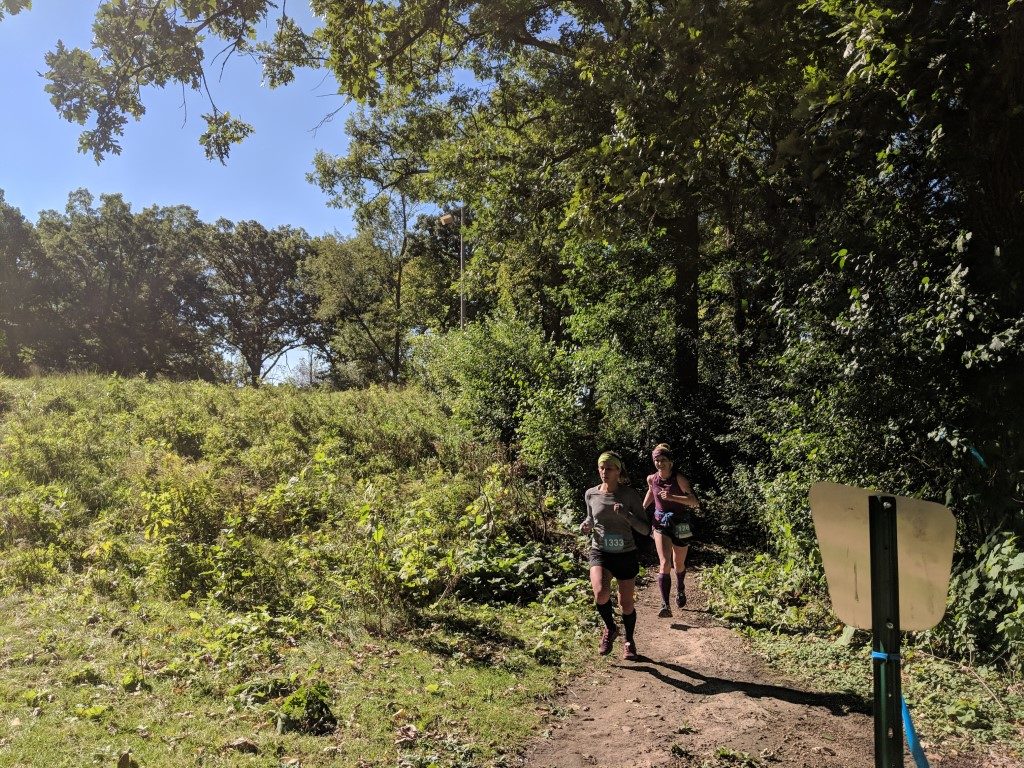 While the cooler weather coming in after last weekend's heatwave provided a certain amount of sweet (sweat?) relief for racers in the Surly Brewing Co. Trail Loppet, this year's race was by no means a walk in the park! Sunny skies and mild temperatures might have made the climbs a little more forgiving, but racers still got their collective butts kicked running on the new trails of Wirth Park — all part of The Trailhead project, our new home for the start and finish of the Surly Trail Loppet and soon, the City of Lakes Loppet Festival.
Runners in all three racers got treated to some of the toughest terrain and most beautiful views that this park has to offer. And in the spirit of hard work and great beer, our trails crew and course marshals insured that racers would be earning their finish line brews today!
Among the field across all three trail races, there were runners from 22 different states and four different countries, who ranged in age from 5 to 73. We had 28 runners representing our year-round Junior Loppet program coming from Anwatin, Franklin and Northeast middle schools. We also saw numerous TRAIL KIDS and Loppet Nordic Racing competing in the half-marathon, 7-mile, 5K, and age-gap relay races!
Mud and water from our downpour earlier in the week did not deter nearly 500 racers from giving it their all in the half-marathon, with an average time of 2:06:53.
It was a close call among the leading women, with the top three coming in within just a few of one another. Alex Gits, age 29 of Minneapolis, took first place with a finish time of 1:32:13. Coming in second place was Erica Wagner, 27 of Duluth, with a time of 1:35:23. In third place was Vivian Hett, 22 hailing from Burnsville, with a 1:35:52. Our youngest half-marathon finisher, 18-year-old Maya Demirchian, came in with an impressive finish time of 2:14:18 taking first place in the U19 age-class division.
The top finishers in the men's category were even closer for the half-marathon distance. Brian Gregg, 34 of Minneapolis, took first place with a finishing time of 1:20:34. Coming in a very close (like A SECOND) second was Matt Liebsch, at a time of 1:20:35. Jeff Lanners, 35 of West Saint Paul, took third place with a total time of 1:20:41. The men's half-marathon group was among the most diverse in terms of geography, with racers hailing from sixteen different states — plus a couple racers coming from as Ontario and even Russia!
We had a total of 449 finishers in the 7-mile with an average finish time of 1:05:42.
Among the men, Alex Nemeth, 17 of Sartell, came in first place with an impressive time of 39:52. Second place in the men's category was taken by Alex Kelling, 18 of Grand Rapids, with a finishing time of 42:36. Dennis Curran, 36 of Plymouth, took third in the men's category at 43:19.
Caitlin Durkee, 29 of Saint Paul, took the lead in the women's category with a finishing time of  49:15. Following up in second came Madeline Harms, 32 and hailing from Minneapolis, coming in at 49:24. Third place in this race went to our own Kim Rudd, with a finishing time of 49:45.
Nearly 300 racers from 11 different states came out for the 5K race — the youngest of which was a cool five years old! — with an average finishing time of 31:38.
In the women's category – Angie Voight, 41 of Saint Paul, took first place with a total finish time of 20:08. Coming in second place was Casey Schwarz, age 37 and hailing from Saint Paul, with a finish time of 20:39. Third place was taken by Lauren Munger, 14 of Minneapolis, who came in with an impressive time of 22:10.
The men's category was taken by Samuel Swartzendruber, 15 of Saint Paul, coming in at first place with a finish time of 19:05. A close second place in the 5K went to Erik Alfvin, 25 of Saint Paul, coming in at 19:06. Coming in third place was Jonathan Clarke, 14 of Bloomington, who came in with a finish time of 19:35.
Age Gap Relay Results
In the Age Gap Relay, there were 40 pairs of adults and youth finishers in this fun, 4K race! The adults took the lead off leg, followed by their younger partner, adults again on the third leg, and kids bringing it home! All racers had to navigate a series of hay bale obstacles.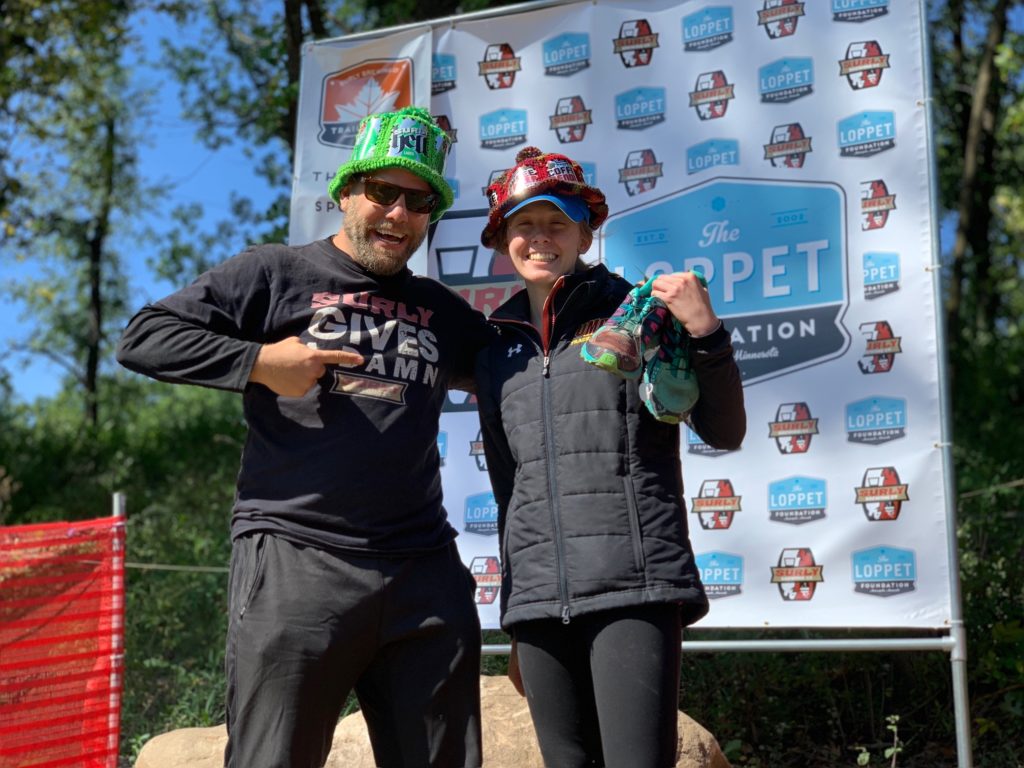 Surly-est Runner
An annual tradition at the Surly Brewing Co. Trail Loppet, this award goes to the runner who overcomes extreme obstacles during their race — or as others have put it, the person who gets the most messed up on the trail! The 'winner' in this category is crowned the Surly-est runner and wins free tickets to SurlyFest along with a sweet commemorative hat. This year's winner was Caitlan Richard of Minneapolis, who completed the half-marathon with an impressive time of 2:01:34 despite running with an open and bleeding blister on her left foot, as evidenced by the photo above. Hats off to Caitlan for toughing it out on the course!
Thank Yous
The Surly Trail Loppet would not be possible without our fabulous volunteers! More than 100 volunteers gave their time and talents to help to make this race happen. Special shoutout goes to the course marshals and course markers who did an excellent job keeping all of the racers on course despite route changes due to the rain.
And, of course, another big thank you goes out to the more than 1,500 racers and who showed up in huge numbers.
And, thank you to all of our sponsors for their continued support – Surly Brewing Co., North Memorial Health, Go Radio, Hoigaards, Gear West, Bachman's, Penn Cycle, Great Harvest Bread Co., Bearskin Lodge, f/go, CHUX Print, and Auto ID Solutions.
The Loppet Foundation
The Surly Brewing Co. Trail Loppet is one of four seasonal events put on by the Loppet Foundation. The Loppet Foundation is a non-profit organization that creates a shared passion for year-round outdoor adventure in the Minneapolis area. Every year, the Loppet gets more than 2,000 kids outside and active–including more than 1,100 in North Minneapolis. The Loppet has programs for every age, ability, and background, from a nationally-ranked competitive racing team to families on their first-ever winter outing. Loppet members, volunteers, and donors make this possible! Visit loppet.org to learn more about how your support will help the Loppet get people outside and active.
Next up is the Loopet Loppet Trail Ultra. Join us for this fun, all-day race at Wirth Park to test your endurance training from the season!