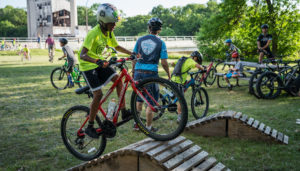 The Mountain Bike Camps are part of the Loppet Foundation's TRAIL KIDS year-round programming.
TRAIL KIDS offers nine weeks of half day (8am – 12pm) mountain bike camps for beginner to advanced riders ages 7-13. Youth will explore the single-track trails at Theodore Wirth Park while gaining skills they can use for a lifetime! The focus of the mountain bike camps is to have fun, meet new friends, and build confidence riding the single track trails. The camps will have mixed gender groups split up by age and prior experience. Non-binary and trans youth are welcome to join any group in which they feel most comfortable. TRAIL KIDS mountain bike camps will be instructed by trained coaches teaching mountain bike skills, games, orienteering, and single track riding on the many trails at Theodore Wirth park.
Camp Descriptions
Camp Registration by Ability/Experience
This year we are offering beginner and intermediate/advanced camps on different weeks so we can keep all youth challenged with similar riding skills. If your child has taken a past TRAIL KIDS camp or mountain bike evening session then they have most likely passed the green bike skill level and should sign up for one of the intermediate to advanced TRAIL KIDS summer camps. Beginner camps are designed for youth who have not taken any of the TRAIL KIDS past programs and are new to mountain biking. See below for descriptions of camps and make sure to read through the Mountain Bike Ability Group Registration Guide before registering your child. If your child is new to TRAIL KIDS programs but has prior experience in mountain biking that fits the intermediate/advanced biking skill levels then feel free to register them for the intermediate/advanced camps.
Equipment Needed: All camp participants will need their own mountain bike, helmet, and water carrier (camp will provide a TRAIL KIDS T-shirt as part of camp).
Loppet Bike Rentals: TRAIL KIDS has a limited mountain bike rental fleet for those who do not have one for an additional fee of $40. Make sure when you register to sign up with a bike rental.
Beginner Mountain Bike Camp Description
If your child is a true beginner rider with no experience, they should sign up for the beginner clinic. During the beginner mountain bike camp, the youth will be coached on a variety of fundamental mountain bike skills, so they can become safe and confident riders. Skills include:
Ready/neutral position for descending hills
Side/side bike body separation
Pedaling/shifting efficiently
Controlling speed and braking safely
Cornering confidently
Riding with vision
Participants will be tested at the end of the camp on the level green bike skills and will be able to move up in levels as they progress through the summer programs and camps.
Intermediate/Advanced Mountain Bike Camps
Those who have taken a past camp or TRAIL KIDS program and have passed the green, blue, or black mountain bike skill levels in the TRAIL KIDS program can register for the intermediate/advanced bike camps. The intermediate/advanced mountain bike camps will focus on more advanced bike skills along with riding more of the difficult single track trails around Theodore Wirth Park. If your child is new to the TRAIL KIDS program but is an intermediate to advanced rider that meets the descriptions in the TRAIL KIDS MTB Skill Level Guide, you are welcome to register for the intermediate/advanced camps.
Theodore Wirth Park Camps
Camp Dates:
June Camp Dates

Beginner: June 14 – 18

(Registration Closed)

Beginner: June 21 – June 25

(Registration Closed)

Intermediate/Advanced: June 28 – July 2

(Registration Closed)

July Camp Dates

Beginner: July 5 – 9

(Registration Full)

Intermediate/Advanced: July 12 – July 16
Intermediate/Advanced: July 19 – July 23

(Registration Full)

Beginner: July 26 – July 30

(Registration Full)

August Camp Dates

Intermediate/Advanced: August 2 – 6

(Registration Full)

Intermediate/Advanced: August 9 – 13
Camp Information:
Register Now!
Registration Information
Registration Guide
Registration based on ability: All TRAIL KIDS who attend the program must be able to ride their bikes safely on paved paths. When registering your child make sure to indicate their ability level as described in the Mountain Bike Ability Registration Guide.
Scholarships and Sibling Discounts
Scholarships: Need-based registration partial scholarships are available. For information about TRAIL KIDS Program scholarships email trailkids@loppet.org.
Sibling Discount: For those families who have three or more kids in the program we will given a fifteen percent discount code. Please email trailkids@loppet.org for more information.
Refund Policy
The Loppet will issue a full refund of the program fee minus a $40.00 processing fee up until one month before the program starts. There are no refunds for any cancellations within one month of the start of a program. During the program, if your child has a medical issue that makes it impossible to participate, we will issue a prorated refund minus $40.00 processing fee. If the Loppet cancels a program, a full refund will be issued.