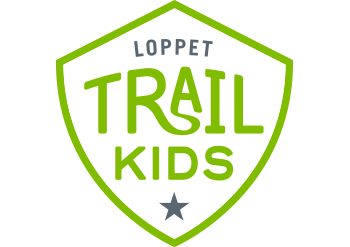 Loppet TRAIL KIDS
Mountain Bike Camps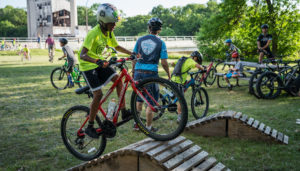 This summer we will be offering half day TRAIL KIDS mountain bike camps for kids ages 7-13 years old based out of the Trailhead. We also encourage kids to register for one of the many Loppet Adventure Camps that are offered from June – August. Each year there are several families that attend the annual July Family Hayward Mountain Bike Camp in Hayward. This is a great opportunity to connect with other families while also enjoying the 100 plus miles of single track on the CAMBA mountain bike trail system. Check out the pictures from camp here: 2019 Camp Photos!
TRAIL KIDS mountain bike camps will be instructed by trained coaches. The program will be a mix of teaching bike skills along with riding the different single track trails at Wirth Park. Youth will gain bike skills, play bike games and enjoy mountain bike adventures all week long! During camp the youth will be coached on a variety of mountain bike skills so they can become safe and confident riders. Skills include:
Ready/neutral position for descending hills
Pedaling/shifting efficiently,
Controlling speed and braking safely
Cornering confidently
Handling obstacles and rocky terrain
Riding with vision
Racing/pacing skills
Participants will be tested at the end of the session on different bike skills and will be able to move up in levels as they progress through the summer program.
All TRAIL KIDS Mountain Bike Camps will meet Monday through Friday from 8:00AM- 12:00PM There will be a boys camp and girls camp going on at the same time but run separately.
Experience: We will split the kids into groups based on ability/age/gender. We welcome beginner to advanced mountain bike riders. Each group will be lead by trained LCW mountain bike coaches.
Camp Schedule:
Drop off at Trailhead base camp starting at 8:00 a.m. The camp will start the first 20 minutes with large group games mountain bike skills course and specific bike drills. The rest of the day coaching groups will explore the mountain bike trails around the Wirth area along with some adventure rides to the beach, the Mississippi river Stone Arch Bridge, Ninja park, and Eloise butler Nature center.
Equipment Needed: All camp participants will need their own mountain bike, helmet and water carrier (camp will provide a TRAIL KIDS water bottle and T-shirt as part of camp). TRAIL KIDS will have a rental fleet of mountain bikes for those who do not have one for an additional fee of $30.
2021 Registration will open February 1, 2021
June Camp Dates

Beginner: June 14 – June 18
Beginner: June 21 – June 25
Intermediate/Advanced: June 28 – July 2

July Camp Dates

Beginner: July 5 – 9
Intermediate/Advanced: July 12 – July 16
Intermediate/Advanced: July 19 – July 23
Beginner: July 26 – July 30

August Camp Dates

Intermediate/Advanced: August 2 – 6
Intermediate/Advanced: August 9 – 13

Camp Location: The Trailhead at Theodore Wirth Park
Time: 8:00AM – 12:00PM
Cost:

$260 or $290 after May 14
$300 if renting a bike

Scholarships Available: Fee reductions available for those in financial need. Please inquire at : trailkids@loppet.org
For TRAIL KIDS registration refund policy click here
Registration Closed
Cancellation Policy
Summer camp can be canceled by the participant up to 30 days before the first day of camp, you will receive a full refund minus $40.00 processing fee. Their are no refunds 29 days before the first day of camp.