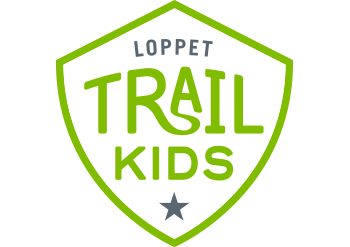 Loppet TRAIL KIDS
Mountain Bike Equipment Guide


Trail Kids Program Requirements
Each youth participant for any Trail Kids mountain bike programs will need the following:
Mountain bike: with gears for shifting and two front brakes (back pedal brakes are not allowed due to safety reasons).
Helmet: one that fits and is not too small or large and well adjusted straps so it fits snuggly.
Water bottle/Camelbak: Please no handlebar mounted water bottles (again for safety reasons).
Bike gloves: Optional, but is helpful to grip handles.
Sunglasses: Optional, but ones with clear or yellow lenses to protect eyes from branches and mud.
Backpack: Trail Kids coaches cannot carry layers, water, or additional items for all participants, so we advise bringing a bike-friendly backpack to store any items kids will need to carry with them.
Please take kickstand off of mountain bike before first session. They are not allowed on mountain bikes for safety reasons.
Trail Kids bike jerseys: Optional, but are available for purchase if desired at our online storefront (you will receive an email with more info on this).
We recommend a preseason bike check on tires, brakes and gears at your local bike shop. We will have a Loppet bike mechanic at the preseason skill assessment to help fix minor bike problems.
---
Mountain Bike Equipment Resources:
Additional Bike Fitting Tips:
Size of bikes: Most youth ages 7-12 should be looking at bikes greater than or equal to a 24″ bike. There may be a few smaller youth that would be on 20″ bikes.
Bike Brands: The big brands – Trek, Specialized, Woom, BMC, Cleary, Salsa and Diamondback – all have nice youth sized bicycles, some with shocks, or disk brakes and good components that will hold up in the riding that we do. Youth do not need to have shocks and disk brakes but eventually as they get older this will become more important.
Fat Bikes: For this age group, I would stay away from the fat bikes (tires >3″). It can much more difficult to ride on technical terrain with a fat bike and they are usually much slower to ride.
---
Local Bike Shops:
---