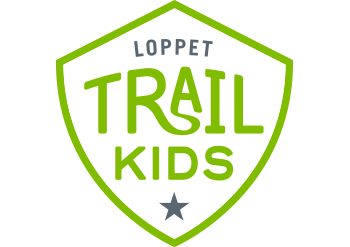 Loppet TRAIL KIDS
Mountain Bike Equipment Guide


TRAIL KIDS Program Requirements
Each youth participant for any TRAIL KIDS mountain bike programs will need the following:
Mountain bike with gears for shifting and two front brakes (pedal breaks re not safe for mountain biking on trails).
Helmet
Water bottle/camelbak. Please no handlebar mounted water bottles (again for safety reasons).
Bike gloves (not mandatory but is helpful to grip handles).
Sunglasses (one's with clear or yellow lenses to protect eyes from branches and mud). Not mandatory.
Please take kickstand off of mountain bike before first session. They are not allowed on mountain bikes for safety reasons.
TRAIL KIDS bike jersey's are not required but are an option for parents to purchase if desired. They have back pockets that kids carry items in such as snacks and tools. You can purchase your bike jersey at the new Trailhead bike shop for $45.00.
Pre-spring/summer/fall bike check up on tires, brakes and seat height are recommended at local bike shop.

The Trailhead BNS Bike Shop offers bike tune ups and repairs and mountain bike accessories. If your child is registered for one of the TRAIL KIDS programs you get 15% off of a basic bike tune up!
---
Mountain Bike Equipment Resources:
Additional Bike Fitting Tips:
Size of bikes: Most youth ages 7-12 should be looking at bikes greater than or equal to a 24″ bike. There may be a few smaller youth that would be on 20″ bikes.
Bike Brands: The big brands – Trek, Specialized, and Diamondback – all have nice youth sized bicycles, with shocks, disk brakes and good components that will hold up in the riding that we do. Youth do not need to have shocks and disk brakes but eventually as they get older this will become more important.
Fat Bikes: For this age group, I would stay away from the fat bikes (tires >3″). It can much more difficult to ride on technical terrain with a fat bike and they are usually much slower to ride.
---
Mountain Bike Equipment Swap:
---
Local Bike Shops:
BNS Bike Shop ( Trailhead)

(%15 off all full service tune ups for all TRAIL KIDS participants).
TRAIL KIDS bike jersey and other items for purchase here.
---
Recommended Brands:
Specialized: Hotrock series, a good bike with a range of specs and prices.
Riprock: Oversize tires help build confidence on rocky rutted trails.
Trek: Superfly series
Diamondback: Sync'r or Line series.