TRAIL KIDS Adventure Mountain Bike Series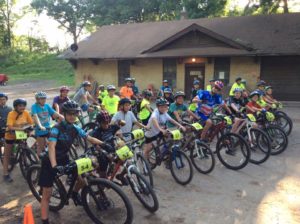 The TRAIL KIDS Adventure Mountain bike races are designed specifically for kids 7-13 years. The race series offers a variety of race formats including single track, short track and relay events. Relay Events are generally on a shorter 1 mile single track loop. We have also added an additional Age Gap Relay event where kids can do a relay race with an adult/mentor that is at least 10 years older.
---
---
Logistics:
Where: All Mountain Bike Adventure Series events meet across from The Trailhead building at South parking lot for check-in and registration. Races will be held on a variety of mountain bike trails at Wirth.
When: Registration starts at 5:45 p.m. Participants will bike together with coaches to warm up on the race course. Race start is at 6:30 p.m.
5:45 – 6:15 pm: Registration and warm up on race course
6:15 – 6:45 pm: Warm up on race course with team coaches.
6:45 – 7:15 pm: Mass start race for youth relay race ( all first leg of relay team starts together then relay partners do a lap, then first leg relay then second person finishes the race with a total of 4 laps.
7:15 – 7:30 pm: Cool down lap on race course and skills course
7:30 pm: Post race snacks, awards and door prizes
Race Course:
Intermediate/Advance mass start race ( 3 mile green/blue intermediate course on Area 36)
Beginner mass start race (  1 mile green beginner course on Area 36 Trail) All relay race courses will be held on beginner loop with each relay partner doing 2 laps and total of 4 laps combined for each relay team.
Format: There will be mass start races, youth relay race and age gap relay ( done with adult and youth).
The race series is free to all TRAIL KIDS summer session participants but we would like parents to sign up their kids online for the Age Gap Relay race to indicate what adult they will be racing with or if they need a relay race partner. Sign up at below link with free code: TKAGEGAP19
Cost:
$50 for full series. $60 after June 3.
$15 per race (race day only)
Entire race series is included in the TRAIL KIDS Summer Mountain Bike Program registration.
There will be prize drawings after each race for all participants
Register Now!
---
Race Series Schedule:
Monday, June 10 – Mass start race
Tuesday, June 25 – Youth Relay Race
Monday, July 15 – Mass start race
Tuesday, July 30 – Age Gap Relay and end of season grill out!
Age Gap Relay Format: Age Gap Relay (adult/youth relay) – Youth will pair up with their parents or any adult that is 10 years older then them for a fun relay race event. Race will start with adult mass start, youth, adult and youth will finish the race. Following the race we will have a grill out celebration picnic outside the new Trailhead building!