2019 Wave 1 Rollerskiing Summer
Wave 1 is an inspirational category. Participants are either already skiing at a high-level and want to get better or are trying to get to a higher level of skiing and have some skiing experience and/or are experienced athletes generally. Wave 1 is a higher level training regimen, complete with a general training plan and video analysis. This class is designed for proficient rollerskiers.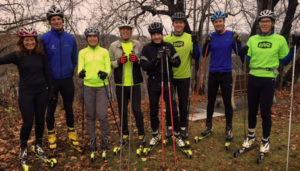 Must be comfortable on rollerskis and in good physical fitness to attend this session. Athletes can alternate between skate and classic techniques, but you can choose just to do one technique if you want. These sessions will focus on specific strength, threshold intervals, and technique. Rollerskis, poles, heart rate monitor and helmet required.
Dates: June 5 – August 14 (no session July 4) Meets Wednesday mornings
Time: 6:30 a.m. – 8:00 a.m.
Location: The Trailhead
Coach: Kate Ellis and Gene Kay
Cost: $200 or $220 after May 28 (cost includes 10 sessions)
Class Limited to 15