COVID-19 Updates
This event will take place in the lingering shadow of COVID-19. As such, the event will follow protocols outlined by national, state, and local health officials, as well as in conjunction with rules set forth by the national and regional ski governing bodies. Event specific guidelines will be available closer to the event.
Accommodations
All teams are responsible for booking their own stays in whichever location works best for the team. To assist with planning, we have connected with 7 partner hotels which teams can choose to book through directly for for their stay in Minneapolis from March 5-13, 2022, for the U.S. Ski & Snowboard Junior National Cross-Country Ski Championships. Each of the following hotels has its own special team pricing for the event, outlined in the documents linked below:
The contact information for the booking agents can be found for each group of hotels using the buttons above.
Local Information and Events
"Things to do" https://www.minneapolis.org/things-to-do/
Transportation: https://www.minneapolis.org/map-transportation/
Light rail: https://www.minneapolis.org/map-transportation/light-rail-and-bus-schedule/
MSP airport: https://www.Minneapolis.org/map-transportation/minneapolis-saint-paul-airport/
Getting downtown from Minneapolis from Airport: https://www.Minneapolis.org/map-transportation/minneapolis-saint-paul-airport/get-downtown-from-airport/
Eat breakfast, lunch and dinner at Mill Valley Market conveniently located inside The Trailhead with a window to order outside as well!
Eat and Drink: https://www.minneapolis.org/food-drink/
Mall of America: https://www.minneapolis.org/things-to-do/shoppin/mall-of-america/
PARENT/FAMILY ACTIVITIES
Updated/New (due to snow conditions): Group Ski!
Date: Tuesday, March 8
Time: 9:00am
Location: Three Rivers Hyland Park Nordic Ski Trails, 5K snowmaking loop, groomed daily for classic and skate.
Details: Park at the lower lot near "Jan's Place". Various local skiers will gather at 9 for a group ski. The trails are approximately 15 minutes from Wirth Park. Address is: Hyland Lake Park Reserve;10145 Bush Lake Rd; Bloomington, MN 55438
Questions? Contact: fleslie83@yahoo.com
Parent/Family Social
Date: Tuesday, March 8
Time: 4:00pm – 7:00pm
Location: Graze Provisions + Libations (www.grazenorthloop.com)
Address: 520 N 4th St, Minneapolis, MN 55401
Details: Join Parents/Family of skiers for an outdoor social at Graze Provisions + Libations, a gathering space within Minneapolis' vibrant North Loop neighborhood, including a collective of small food businesses made stronger together.
Our group will have the entire outdoor patio and access to six restaurants, a café and bar to meet all your dining and beverage needs. Don't miss the opportunity to enjoy a mingling game and a chance to win prizes. Giant Jenga, Cornhole (bean bag toss) and a few indoor arcade games will also be available for everyone to enjoy.
Parking: A parking ramp is located directly across the street from the patio at Graze ($10 est. cost) or there is abundant street parking with the use of the Mpls Parking app ($1/hour est. cost).
Note: Minneapolis currently has an indoor mask mandate.
Schedule
This is a preliminary schedule and is subject to change. All times are approximate and are subject to final registration numbers.
Check this link for the most current and up to date schedule.
Sunday, March 6: Training Day and Opening Ceremonies
Monday, March 7: 5/10km Freestyle
Tuesday, March 8: Training Day
Wednesday, March 9: Classic Sprint
Thursday, March 10: Training Day
Friday, March 11: 5/10/15km Classic Mass Start
Saturday, March 12: Freestyle Mixed Relay
Opening Ceremonies
The site for Opening Ceremonies begins on the West Bank of the historic Stone Arch Bridge. Teams of athletes will be parade across the bridge taking in the view of St. Anthony Falls, Minneapolis Skyline, Pillsbury A-Mill and many other city landmarks. On the East Bank is Father Hennepin Park where the athletes will gather for Opening Ceremonies. Minneapolis Mayor Jacob Frey along with the Loppet's Executive Director, Claire Wilson, and Olympian, Lindsay Williams, will speak to the gathered audience at 4 pm. Be sure to take advantage of this stunning setting to take team and athlete photos following the ceremonies.
Times and Parking: Athletes gather on the West Bank of Stone Arch Bridge at 3:00 pm. Wear walking boots!
Parking: Mill Quarter Municipal Ramp, 711 2nd St ($6) or metered parking.
Parent and Spectators gather on East Bank of the bridge at Father Hennepin Park Bandstand at 3:45 pm. Parking: River Place Municipal Parking Ramp, 30 2nd St or metered street parking.
Parking
Parking for athletes, coaches, and families will be at the Mortenson parking lots (700 Meadow Lane and 4100 Olson Memorial Highway, Golden Valley, MN 55422).
The North and South lots at the Trailhead building are permit parking only and reserved for team vans, officials, and volunteers.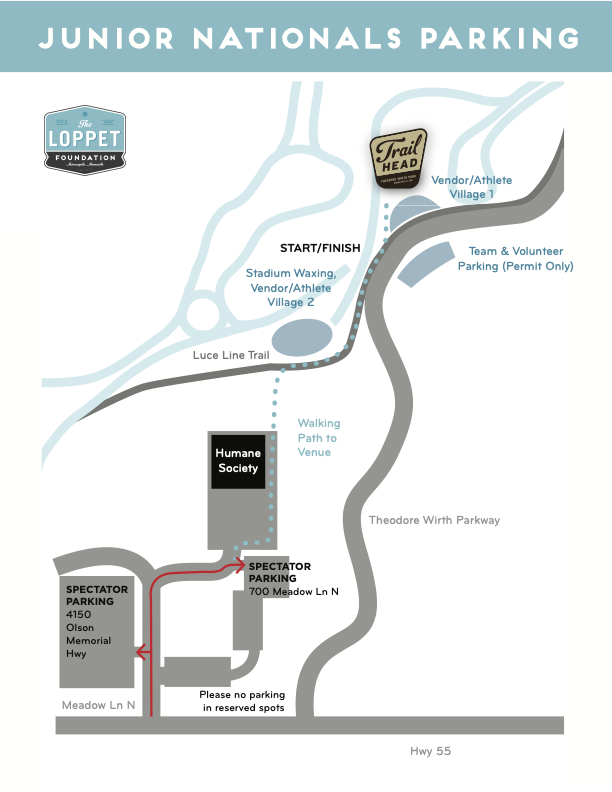 Start Lists / Results
Maps
Stadium Maps
Monday Individual Start Freestyle
Wednesday Classic Sprint
Friday Mass Start Classic
Saturday Freestyle Relay
Wax Testing, Warm-up & Venue Maps
Competition Rules
Rules
This race is governed by the International Ski Federation (FIS) Rules as well as the US Ski & Snowboard rules.
Fluorocarbon Ban
All events are restricted to non-fluorinated glide waxes. Randomized testing will be conducted – primarily in the start pen – and all athletes will be subject to a mandatory ski check pre-race. All competitors will be required to report to Ski Control in the start pen prior to their start at selected events.
Classic Pole Length
Per FIS rules (ICR 343.8.2), race officials will be enforcing the 83% classic pole length rule. Please ensure that you arrive at the start corral with sufficient time prior to the start time. For your reference, the athlete's height will be measured with the race boots on and to the top of the uncovered head.
Diagonal Technique Zones
The Organizing Committee is informing all competitors that, per FIS ICR 310.2.1, "the jury may ban or enforce the use of specific techniques on marked sections of the course." The Jury has decided to use zones where only Diagonal Technique (including Herringbone with NO glide phase) with diagonal movement of both arms and legs are allowed. In Diagonal Technique when only one pole is in the ground at any time. ALL other techniques are not allowed. Course controllers will be present to enforce the technique rule.
Wax Facilities
Wax Cabins will be provided at no charge to each regional team attending the Junior National Championships. A limited number of wax cabins are also available to product suppliers and event sponsors at a cost ranging from $0 to $1,850 per cabin, depending on the level of sponsorship. Sponsor/supplier space requests should be made directly to Amber Hoover with the Loppet marketing team at hoover@loppet.org.
Schedule
Wax cabins will be available for teams to "move in" beginning Saturday, March 5 at 8:00 am.
Wax cabins must be emptied and vacated by end of day on Saturday, March 12.
The cabins will be available to teams 24/7 throughout the event.
Wax Cabin description/security/location
Wax cabins are 20 ft. x 8 ft. ground level containers (15 sq meters). The floor plan is open and 100% unfurnished. Tables and folding chairs are available upon special request. If your team would like chairs or tables, please indicate such on the registration form linked below.
Cabins will be equipped with electricity, lights, heat, window ventilation (with window fans), and one door. Teams will be accountable for supplying their own extension cords as needed.
At the time of team move-in, the floors will be protected and covered with a temporary floor covering. Please notify Loppet personnel if this floor covering becomes damaged during the event and requires repair.
Wax cabins will have one lockable door. Each team will be provided with a key and will be responsible for securing the cabin as needed. Loppet personnel will also maintain a key to each cabin and may enter the cabins at any time to inspect or repair as needed.
Wax cabins will be located in the parking lot adjacent to the start/finish stadium.
Covid Protocols
Only racers and credentialed coaches, race staff, and volunteers are allowed in the start/finish/waxing areas. All personnel in the waxing area will be expected to follow all COVID-19 safety protocols.
Registration
To allow us to prepare and plan for an orderly and efficient wax facility layout, it is imperative that each team, business, or organization who will need space register at the following link. Please register as soon as possible, but no later than February 1, 2022.
Click Here to register your team/business/organization for waxing space.
Loppet Wax Cabin Contact Contact John Daniels at daniels.j55@gmail.com with any questions or to arrange for any special needs.