The CityTrail Loppet is a point-to-point urban trail run and is a Hoigaard's Challenge event. The race starts in Downtown Robbinsdale and ends at the Minneapolis Sculputure Garden, where racers enjoy great tunes, excellent food, and Surly Beer while resting in the shadow of the "Cherry on the Spoon".
This is a Hoigaard's Challenge event.
Event Updates
Should messages need be delivered to all racers for any reason they will be posted to this page and announced over the start line loud speaker.
Schedule
Thursday:
4:00pm — Racer information change deadline (e.g. race distance)
Sunday:
7:00am — Shuttle buses start to run from Parade Stadium (near the finish) area to downtown Robbinsdale (near the start)
7:00am — Bike corral opens in the Parade Stadium area
9:30am — 10 mile start
10:00am — 10K start
10:15am — Food, drinks, and music at the Minneapolis Sculpture Garden
11:30am — Awards ceremony
12:00am — Bike corral closes
Register
2020 CityTrail Loppet Registration Coming Soon
---
PROCRASTINATORS REJOICE! We are offering online registration up to and including race day, provided the event is not full. If you wake up on race day ready to run, go online using the button above, register, and bring your check-in pass on your phone to the start for the quickest way into the race! We will also have manual on-site registration available but please allow extra time to complete the registration form and payment.
DISTANCE CHANGES: The deadline to make race distance changes is 4:00 PM on Thursday, May 14th. After that, a registrant wishing to change distance will need to register and pay the full fee to compete in the new race distance.
Proceeds from the CityTrail Loppet benefit the Loppet Foundation. Learn more about the Foundation's mission, vision, and values.
Registration and transaction fees are nonrefundable, including in the event of cancellation. Registration is not transferable to another person or another event for any reason, including injury. Competing under another person's name will result in disqualification.
Course Information
Course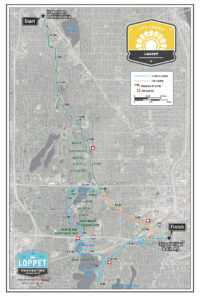 The 2020 course maps will be available soon.
For reference, you can view the last year's map here: 2019 Course Map (PDF)
The CityTrail Loppet provides a challenging mix of trails, with hills, rocks, and roots to navigate.
Both races start in downtown Robbinsdale and finish at the Minneapolis Sculpture Garden. To alleviate trail congestion and make for a better experience, all participants will be asked to line up at the start based on their estimated pace. Volunteers will be at the start area with signs and dividers to help facilitate this process, and each group will be held for approximately 2 minutes between starts. The start will be chip-timed.
The CityTrail Loppet is marked by its variety along the course. Get ready for narrow trails, city views, wooded corridors, asphalt paths, and more. Compared to the Surly Brewing Co. Trail Loppet the CityTrail Loppet is going to be a little flatter. The point-to-point aspect means that most runners will encounter trails that they have never seen before.
The course is well-marked with a combination of blue ribbons, blue arrows, and flour. However, know that there are many intersections and runners are responsible for staying on course.
Segments
The first mile takes runners from downtown Robbinsdale through Robbinsdale parks and residential neighborhoods. The next mile runs through Robbinsdale's Sochacki Park and Golden Valley's Mary Hills Nature Area, where runners will encounter a mostly-flat mix of narrow trails. From there the trail winds past a small pond and under roads before winding up at the 45th parallel in Theodore Wirth Park. The next mile follows a narrow trail towards Tornado Alley towards the first aid station. The two courses then diverge after the Highway 55 underpass.
The 10K goes through Glenwood and into the Bryn Mawr Meadows area before heading into Bryn Mawr Park. Participants will then head up and across an overpass that takes them over the City of Minneapolis public works area, offering a fantastic view of the downtown skyline. Coming off of the overpass, runners will merge onto the Cedar Lake Trail for a brief trot before joining up with the 10 Mile course again.
The 10-Mile will have runners heading back west along Bassett Creek and then over a boardwalk suspended above Wirth Lake. Next stop – the Quaking Bog area! Narrow trails, big hills, and maybe an angry fox or a giant gopher, waiting to devour slow or injured runners. Following the Bog, runners will end up crossing Interstate 394 at about 7 miles, and then descend towards Brownie Lake. Around Brownie and Cedar lakes, Cedar Lake Park, and back onto the Cedar Lake Trail, the course is mostly flat with a mix of wooded trails and asphalt paths.
With just under a mile to go, the two courses come back together. Runners will head under Interstate 394 one last time, take on a final section of gritty singletrack, and then head towards the Spoonbridge for a grand finish and a Surly Beer (or root beer)!
The CityTrail Loppet events features chip timing. All runners must wear their chip in proper position throughout the race in order to receive a timed result!
Race Logistics
CityTrail is a point-to-point race, so it pays to plan out your race day.
Packet pick-up schedule and locations will be posted 4 weeks prior to the event. Please check back at that time for details.
Recommended Routine:
Review the race day schedule.
Pick up your race packet (bib + bag tag).
Pin your bib to your race clothing.
Pack clothes you would like to wear after the race into a small gear bag (marked with your bag tag), and bring it with you.
Head to the finish area near the Minneapolis Sculpture Garden.

Biking, busing, and walking is preferred. If you bike you can leave your bike in a secured bike corral and you'll be entered in a drawing for a Loppet + Surly swag bag.
If you drive, park at Parade Stadium with overflow in the Dunwoody lot.

Take the shuttle bus from Parade Stadium to the start area at least one hour prior to your race. Shuttle buses will run beginning at 7:00 a.m. on Sunday.
Arrive in downtown Robbinsdale and get warmed up.
Leave your gear bag at our bag drop. It will be brought to the finish line.
Have a great race, then enjoy live music, excellent food, and great refreshments at the end.
Shuttle Bus & Bag Drop
CityTrail logistics are designed for racers to bike/bus/drive/walk to the Minneapolis Sculpture Garden finish area, then take a shuttle to the Downtown Robbinsdale start, then run back to the finish.
Shuttle Bus
Shuttle buses run from the Parade Stadium Parking Lot (near the finish) to the start line from 7 a.m. – 9:30 a.m. Please plan at least an hour to get from shuttle pick up to the start line.
There are no shuttle buses from the finish back to the start after the race.
Parking
Those who drive to the race should park in the paid parking will be available in the Parade Stadium Parking Lot, then take the shuttle to start line. Additional (free) overflow parking is available at the Dunwoody College of Technology.
Biking
If you can, use alternative transportation to get to and from the event. Just bus, bike or walk to the Parade Stadium Parking Lot (near the finish) and take the shuttle to the start. Bikers will be entered in a drawing for a sweet Loppet + Surly Brewing swag bag to be awarded at the Awards Ceremony.
Bag Drop
You'll receive a bag tag at packet pick-up. Bring that tag to mark your gear bag. You can drop their bag in the finish area before taking the shuttle to the start or take your bag to the start and drop their bag before the start. Bags dropped at the start area will be transported to the finish area.
Aid Stations
The CityTrail Loppet features the following aid stations:
3.2 miles (both the 10-Mile and 10K events)
5.2 miles (10K only)
6 miles (10-Mile only)
8.5 miles (10-Mile only)
Aid stations will have water and Tailwind to keep runners hydrated on the course.
Cut-off Times
11:00 am: Must reach aid station at the 6-mile point of 10-Mile
12:00 pm: Must have reached aid station at the 8.5-mile point for 10-Mile
Awards
Custom CityTrail Loppet locally-made, wooden plaques for the top three finishers – male and female – in the 10K and 10-mile.
Age class medals will also be available for pickup for the top three finishers, male and female, in the 10-Mile and 10K in the following age categories:
19 and under
20-29
30-39
40-49
50-59
60-69
70+
For those not present at the Awards Ceremony, awards will be kept for one month at The Trailhead.
Volunteer
Volunteers are needed in a number of areas. Signup below or contact volunteer@loppet.org to get involved.
Results & Photos
2019
Results
Photos
---
2018
Results
Photos
---
2017
Results
Photos
---
2016
Results
Photos
---
2015
Results
Photos
---
2014
Results
Photos
Sponsors
Join the Adventure!
Detailed sponsorship opportunities and packages are available.
Please contact the Loppet Foundation Sponsorship Manager:
sponsorship@loppet.org
Major Sponsors
Media Sponsors
Gold Sponsors
Silver Sponsors
Bronze Sponsors