Annual urban trail adventure with the epic finish at the Sculpture Garden!
Join us on Sunday, May 21, 2023! Three distances to choose from – 5K, 10K and 10 Mile. All finish together at the Sculpture Garden. The 5K is a great option for those that want a shorter distance or want to walk/hike the course!
Participants can look forward to:
A unique urban adventure trail run with a mix of ski trail, singletrack and asphalt.
A distance for everyone: 10 Mile for those who are ready to go long (not as hilly as Trail Loppet), 10K with all the trails and a taste of tough, and a fairly flat but adventurous 5K for anyone (speedy folks and walkers alike are welcome!).
Start at the community-hub Trailhead (the 5K start is a short walk away at Hwy 55) in Wirth Park and finish right at the Sculpture Garden with the famous Cherry and Spoon (and the Purple Chicken if that is your favorite .. or is it blue?)
A fresh tech shirt in time for summer training if you register by May 12!
A free Utepils Brewing beer at the finish (21+) or alternative drinks.
Finish line munchie fuel including the popular M&Ms in a cup.
Start line bag drop service for all races!
Finish line tunes
RunnerTag! We do our best to capture you in action.
Updates
PARTICIPANT GUIDE and START WAVES. Please know your wave assignment and start time.
5-19-23: Note that the clocks at the start and finish will be synced and show time of day (not race time).
5-5-23: we have the course information finalized! Check out the interactive Google Map below.
3-28-23: parking information has been updated! There are a few changes this year so be sure to check out this year's info below.
Volunteer
The Loppet Foundation needs help in all capacities supporting the athletes as they take to the trails! Please sign up to volunteer by clicking the button below. If you have any questions, please email volunteer@loppet.org.
Register
Register Now!
| | Starting 3/11/23 | 5/8/23 | 5/19/23 |
| --- | --- | --- | --- |
| CityTrail Loppet 5K | $40 | $50 | $60 |
| CityTrail Loppet 5K Youth | $25 | $25 | $25 |
| CityTrail Loppet 10K | $50 | $60 | $75 |
| CityTrail Loppet 10K Youth | $25 | $25 | $25 |
| CityTrail Loppet 10 Mile | $50 | $60 | $75 |
Proceeds from the CityTrail Loppet benefit the Loppet Foundation. Learn more about the Foundation's mission, vision, and values.
Registration and transaction fees are non-refundable, including in the event of delay, rescheduling, or cancellation of an event or program. An event or program registration is not transferable to another person or another event for any reason, including injury. Participating under another person's name will result in disqualification.
A Note About the Data We Collect
PACKET PICKUP
Saturday, May 20: 10am-2pm , Utepils (225 Thomas Ave N) in Bay 9

Utepils' Taproom opens at 11 a.m. if you want to redeem your free beer! Please note that Utepils has their Ute-Fest celebration and access to the Taproom will require a $5 cover. Bay 9 is not in the Taproom.
***Pick up your packet on Saturday and get a tootsie roll!

Sunday, May 21: 7am-10:30am, Trailhead (1221 Theodore Wirth Pkwy)
Schedule
7:30am-10:00am Shuttle Buses at Parade Stadium (near the finish)
7:00am-10:15am Packet Pickup (Trailhead-all events)
9:00am 10 Mile Start (Lower Stadium-Trailhead)
9:30am 10K Start (Lower Stadium-Trailhead)
10:30am 5K Start (Packets at Trailhead, Start at 55/Theo Wirth Pkwy)
10:00am-1:00pm Sculpture Garden Party and Utepils Brewing Beer Garden
*Start times and waves are tentative and dependent on weather, registration numbers, course, pandemics and any other possible factors. Final times will be communicated closer to the event and/or at packet pickup.
Logistics
All events are point to point and finish at the Sculpture Garden.
Shuttle Buses and Parking
This year we will not be able to utilize Dunwoody's parking lot for CityTrail, however we are able to offer the following alternatives:
Very limited, free parking at the two Blake lots pictured here.
Paid parking at the Parade lot (we expect that this this will fill up quickly too)
Paid parking ($6 daily rate) at the Vineland Parking ramp. This is a short walk from the shuttle pick up area in the Parade lot. Please note this ramp is underground.
We will shuttle participants to the Trailhead start from the finish (Parade lot). Please note that we WILL NOT shuttle participants back to the Trailhead after the race.
Alternative Transportation
Bikes: We will have a bike corral near the finish. We encourage everyone to ride their bike to the race!
Bus: Racers are encouraged to use public transportation to get to the Parade Stadium parking lot.
Rideshare: Uber/Lyft options are a great way to avoid parking and shuttling!
The Start
Each race may require wave starts to spread runners out on the trails. Start times are set for the races based on minimizing overlap.
10K/10Mile: Start at the Trailhead in Lower Stadium
5K: Start at the corner of Theo Wirth Pkwy and Hwy 55. From the shuttle dropoff and packet pickup at the Trailhead, walk south half a mile along Theo Wirth Pkwy (on the path) – perfect warmup jog/hike.
If the weather is bad, all participants may use the Trailhead for shelter before their start.
Bag Drop/Claim
All three races offer a bag drop. Bring your own bag. Please clearly mark your bag with your race number. Wire tag labels will be provided in your packet that may be used. The 10 Mile and 10K bag drop will be in the Trailhead parking lot. The 5K bag drop will be at the start on the corner of 55 and Theo Wirth Pkwy. Bag claim for all three races will be at the finish by the Sculpture Garden.
Change Your Event
You can change which event you registered for through RunSignUp. Click the button below for a video on how to switch your registration and instructions to help with troubleshooting. Event transfers can be made up until 11:59 p.m. on May 14.
Mtec Results App: Your fans can track your progress and cheer you on!
Download the Mtec Results app from the Apple App Store and Google Play Store to track participants, view post race results, and stay up to date on event information. Once downloaded, open the app and search for CityTrail Loppet or find CityTrail Loppet under the lists of upcoming/recent events. When viewing a participant, you can opt into realtime tracking notifications by tapping the heart in the top bar.
Course
Course Map
Here is a google map for reference: CityTrail Course Map 2023. Please note that google maps is an approximation and will not always match up exactly with various GPS units. And depending on conditions, the course markers may need to make last minute changes. So plan to follow the course markings on race day and expect changes and surprises!
Course Markings
The course is marked with a combination of blue ribbons, blue arrows, and flour. However, know that there are many intersections and runners are responsible for staying on course. There will be "distance left to finish" signs at each aid station and "1 mile left" signs on each course.
Aid Stations
Aid stations will have water, Gatorade (Glacier Freeze) and Gu to keep runners hydrated and fueled on the course at the following locations:
Overflow lot – approx 3 miles (10-Mile) and 2.5 miles (10K)
Bryn Mawr- 5.2 miles (10K), 1.6 miles (5K)
394/N Wayzata Blvd- 6 miles (10-Mile only)
Cedar Park- 8 miles (10-Mile only)
Course Description
All CityTrail courses use a mixture of singletrack dirt trail, ski trail and asphalt paths. Choose your footwear accordingly. The 10Mile and 10K have a few hills right at the beginning but then it levels out for more of the remaining miles. 10 Mile and 10K participants are expected to run/jog most of the course and maintain a minimum of 15-18 min pace per mile. Walkers are absolutely welcome to do the 5K.
10 Mile and 10K (first 6K):
From the start, runners will tackle the biggest hills of the course right from the start in the N Wirth area including ski trails (wider trails to begin to spread out runners) and some singletrack in Area 36, part of the Conundrum singletrack track trails (10K will skip the Conundrum section), along Bassett Creek and some 45 North singletrack. The rest of the course is relatively flat though the 10-mile picks up a few nice rollers. Dead Dog trail on the east side of Theo Wirth Pkwy brings you back to the first aid station at the winter overflow lot. From there, runners take Tornado Alley to where the courses split near Bassett Creek.
10 Mile Continued:
From the split, the 10-milers take the Wirth Lake bridge-Jar Hill and cross Theo Wirth Pkwy and run through the woods to Glenwood. The route is then Bog-Brownie Lake and a horseshoe in Cedar Lake Park before taking the bikeway to Kenwood Pkwy-Spring Lake trail to the finish.
5K and 10K Cont:
The 5k starts at 55/Theo Wirth Pkwy and merges in with the 10K on Tornado Alley. From the race split (where the 10-mile turns off), the 10K turns south toward Utepils Brewing and Bassett Creek Park, cutting through the woods to Cedar Lake Rd and over to Bryn Mawr Park. Construction has changed our traditional route from Bryn Mawr following the detour to a spiral staircase-394 bridge-Kenwood Pkwy-Spring Lake trails and on to the finish.
Sculpture Garden Party
After the race stay for the after party at the Sculpture Garden finish. Utepils Brewing will be providing a free beer for participants 21+ (root beer available as an alternative). Soak in the vibes of accomplishment and camaraderie, music, the usual post-race munchies including oranges, bananas, the classic cup of M&Ms and more.
Your free beer ticket is a tear off tag on your bib
Additional beers available for only $7
Gerhard Brats Food Truck! Several food options. Bring some extra dollars.
Awards and Swag
Awards
Awards for the top 3 overall finishers in the male, female and non-binary categories for each distance (awards TBD). Awards will be presented at the Finish as soon as official results are available from the timer.
Age group results will be listed online for 5 year age groups; 19 & under, 20-24, 25-20, 30-34….etc, through 70 and up. Bragging rights (!) but no age group awards or presentation.
Swag
All 21+ participants will receive a free Utepils Brewing beer at the end of the race. Alternative drinks (soda) will also be available at the finish.
Those who register by 11:59pm on May 12th will be guaranteed to receive a tech tee-shirt in the size specified in registration. Extra shirts will likely be available after that date and will be distributed to those who did not register by the shirt deadline and will be given out on a first-come-first-served basis.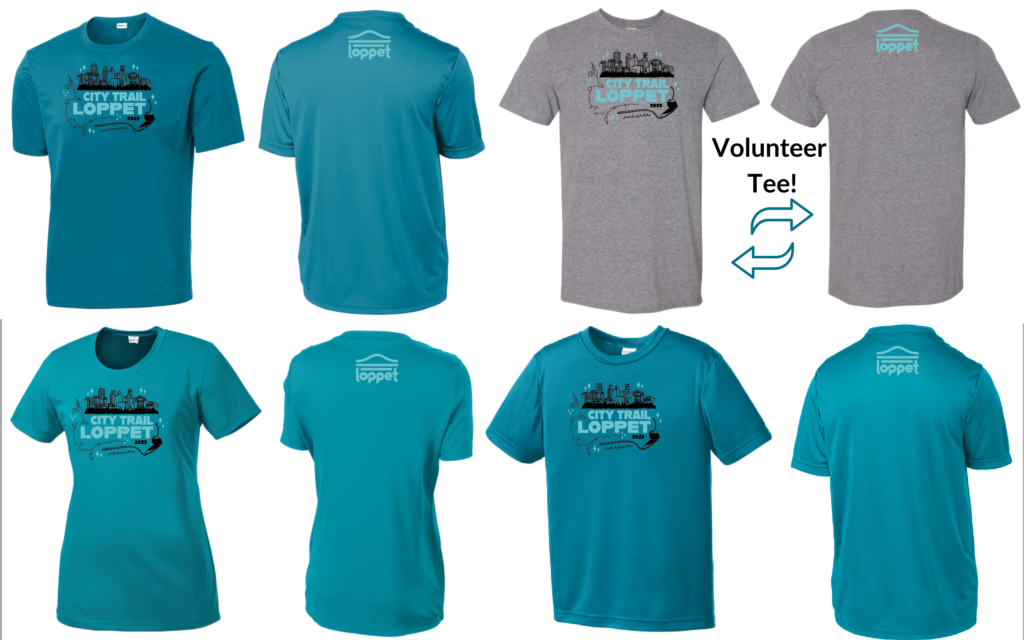 Shirts are available in Youth XS-L, Unisex/Male S-4XL, Womens XS-4XL. Click the links to see sizing!
Sponsors
Join the Adventure!
Detailed sponsorship opportunities and packages are available.
Please contact the Loppet Foundation Sponsorship Manager:
sponsorship@loppet.org
Official Beer Sponsor
Supporting Sponsors
Results + Photos
2023 Results & Photos
2022 Results & Photos
2021 Results & Photos
2020 Results & Photos
2019 Results & Photos
2018 Results & Photos
2017 Results & Photos
2016 Results & Photos
2015 Results & Photos
2014 Results & Photos