Piecing together elements of little-known trails in the Minneapolis area, the Sitka Salmon Shares CityTrail Loppet has earned a reputation as a trail running challenge for those pushing the pace at the front of the pack as well as a great entry event for those looking to try off-pavement running for the first time.
We are moving ahead with our 2021 event!
We are ending the winter season with hope that we will be able to put on events "closer to normal" this year. However, we are still not quite there yet. In order to begin planning for the 2021 Sitka Salmon Shares CityTrail Loppet, we are moving ahead with a version that still works with prevailing COVID-19 guidance and safety measures. We will forgo the usual point-to-point from Robbinsdale to Minneapolis in favor of a mostly looped course that doesn't require transportation but still incorporates the amazing urban trails that make this event special.
In addition, this year's event will feature both an in-person timed race (5K/10K) and a "hybrid" event (5K only) where participants can time themselves as they run the marked course on their own. In order to move ahead with planning, we will stick with this plan even if COVID-19 guidance changes closer to the event. However, our starting procedures and finish line festivities will adjust with guidance changes.
Updates
Registration is now open!
Register
| | Status | Starting 4/1/21 | Starting 4/19/21 | Starting 5/10/21 | Registration Closes 5/19/21 end of day |
| --- | --- | --- | --- | --- | --- |
| Sitka Salmon Shares CityTrail Loppet 5K/10K (timed/in-person) | Open | $35 | $40 | $50 | |
| Sitka Salmon Shares CityTrail Loppet 5K Hybrid (time yourself) | Open | $25 | $30 | $35 | |
Register Now!
Proceeds from the Sitka Salmon Shares CityTrail Loppet benefit the Loppet Foundation. Learn more about the Foundation's mission, vision, and values.
Registration and transaction fees are non-refundable, including in the event of delay, rescheduling, or cancellation of an event or program. An event or program registration is not transferable to another person or another event for any reason, including injury. Participating under another person's name will result in disqualification.
Schedule
To meet COVID-19 guidance, we are anticipating a need to spread out the field and are therefore offering two start times. Note that you will have the option to choose your start time when you register (8:30am or 10:00am).
Friday, May 21:
4:00pm – 7:00pm: Packet Pickup at The Trailhead turnaround
Saturday, May 22:
8:00am – 1:00pm: Packet Pickup at The Trailhead turnaround
8:00am – 7:00pm: 5K Hybrid Event (packets available at Trailhead)
Sunday, May 23:
7:00am – 10:00am: Packet Pickup at the start line.
8:30am: 10K / 5K Timed Event Start (early morning wave)
10:00am: 10K / 5K Timed Event Start (mid-morning wave)
12pm (noon) – 7:00pm: 5K Hybrid Event (packets available at Trailhead)
Tuesday, May 25:
11:59pm: Hybrid time online submission deadline
Course
Course Map
The 2021 course map will be available soon.
We will also provide a .gpx map file that you can download onto your smart watch/device.
For long time CityTrail fans, the 10K course will incorporate much of the 10-mile and 10K sections that come after the usual split point. Thus, those of you that have traditionally run the 10-mile will get to see the 10K section and those that have run the 10K will get to see the 10-mile section.
This is an "urban" trail run and you will encounter a mix of paved and non-paved trails, so wear appropriate footwear. Compared to the fall's Surly Brewing Co. Trail Loppet, the Sitka Salmon Shares CityTrail Loppet is a bit flatter.
Course Markings
The course will be marked with a combination of blue ribbons, blue arrows, and flour. However, wily critters sometimes pull down our course markings. Particularly for the hybrid event, please let us know if there are sections that seem confusing or might be missing markings. We will check the course frequently but cannot continuously patrol the entire course.
Aid Stations
We anticipate being able to provide at least some basic fuel and water this year on the course and at the finish but may be constrained by continued COVID-19 guidelines and safety measures. Participants should plan to be self reliant and supply their own nutrition and hydration.
Logistics & Transportation
Hybrid Format
We want everyone to be able to participate in whatever way works better based on your own health and safety situation. The 5K Hybrid Version is a great option for those looking to maintain maximum social distancing yet still enjoy the official course.
The 5K course will be well-marked. You may also choose to use the Google map and .gpx course map files (on your smart device) that we will provide. Beyond that, participants are responsible for knowing where to go. In addition, you need to plan on being self-reliant as there will be no volunteers, course marshals, or aid stations. You will need to carry your food and fuel, and we suggest you carry a phone as well.
COVID-19
Review the Health Screening Form from the Minnesota Department of Health on race morning. If you are experiencing any COVID-19 symptoms, please stay home.
At this time, please expect masks to be required to be worn in the start/finish areas, and participants must have a mask on their person at all times.
Transportation
We encourage participants and spectators to bike, bus, walk, or jog on race morning.
We will have a bike corral available for the in-person, timed events on Sunday for those who bike to the event.
Swag & Awards
Swag
Those who register by 11:59pm on May 19th will be guaranteed to receive a high visibility Craft tech tee-shirt (see image below). Extras will likely be available after that date and will be distributed to those on a first-come-first-served registration basis.
Men's and Women's sizing available. Please view the Craft sizing chart for reference before selecting your size at registration.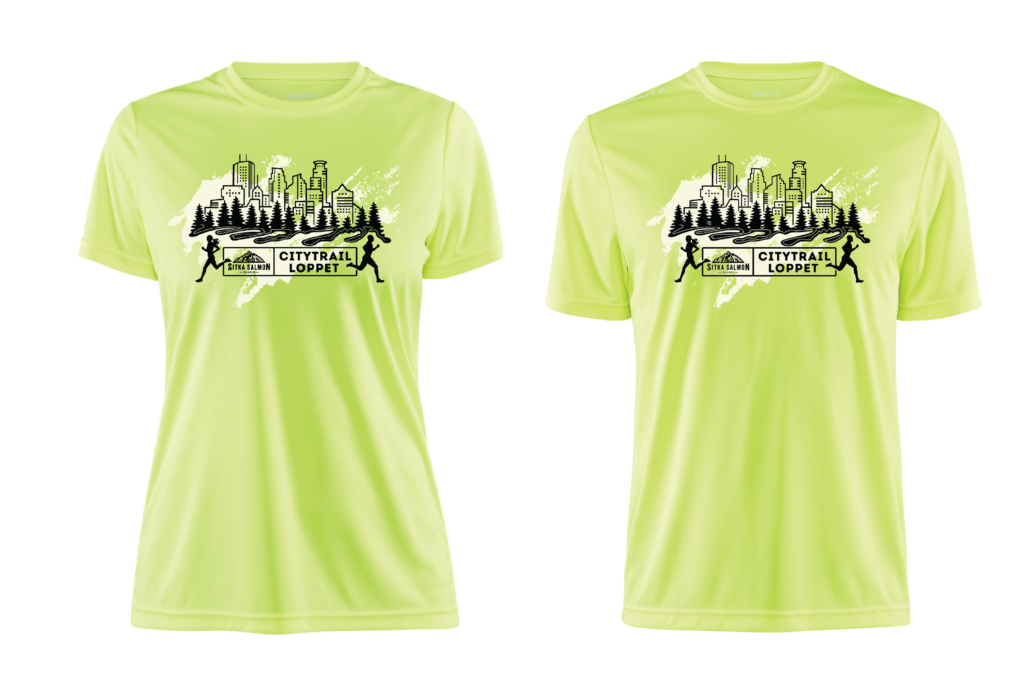 Awards
Specific awards information for the 2021 event will be posted here soon.
All registrants will be entered to win a 3-night stay at the beautiful Heartwood Resort in Trego, Wisconsin — perfect for your outdoor adventure getaway. One 10K participant and one 5K participant will be chosen after the conclusion of the event.
The top male and female finishers in the in-person, timed event will be awarded.
Volunteer
The Loppet Foundation needs help in all capacities supporting the athletes as they take to the trails! Please sign up to volunteer here: CityTrail Volunteer. If questions, please email volunteer@loppet.org.
Sponsors
Join the Adventure!
Detailed sponsorship opportunities and packages are available.
Please contact the Loppet Foundation Sponsorship Manager:
sponsorship@loppet.org
Title Sponsor
Lodging Sponsor
Official Apparel Provider
Gold Sponsors
Silver Sponsors
Bronze Sponsors
Results + Photos
2020 Results & Photos
2019 Results & Photos
2018 Results & Photos
2017 Results & Photos
2016 Results & Photos
2015 Results & Photos
2014 Results & Photos