Call for Art – Inspiration is Everywhere!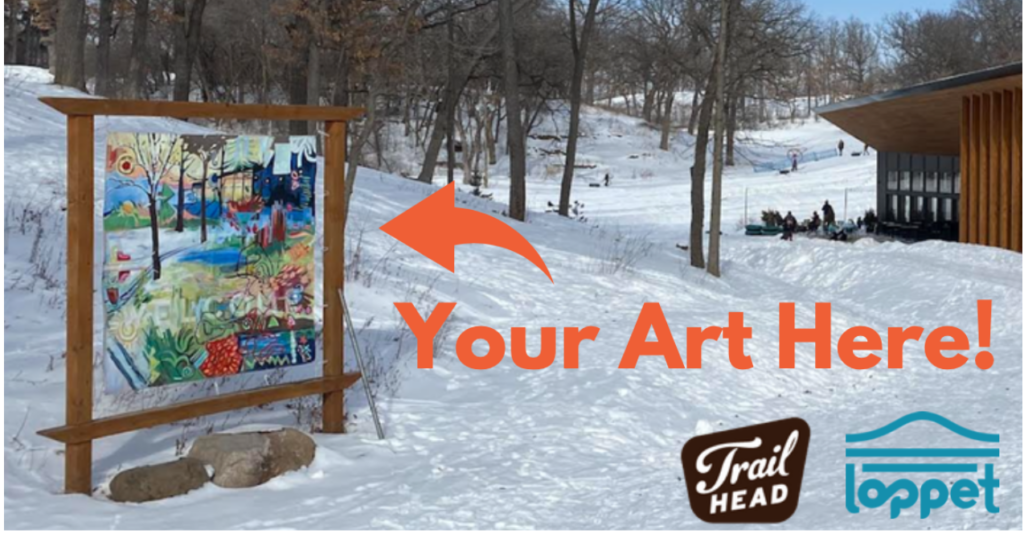 Loppet Banner Call – 2023-24
Call for Art- Inspiration is Everywhere!
Seeking artists to submit existing or new works to be reproduced on a 10' x 10' vinyl banner to be displayed outdoors at Theodore Wirth Park in Minneapolis.
Artist Stipend: $1000
Deadline for Submissions: November 30, 2023 11:59PM
Project Details:
The Loppet Foundation seeks visual artists to submit existing works or create new work to be reproduced on a 10'x10′ vinyl banner and displayed in Theodore Wirth Park adjacent to The Trailhead facility located at 1221 Theodore Wirth Parkway in Minneapolis. Up to three works will be selected from the submissions, and will be displayed on a rotating basis throughout the 2024 calendar year. Only one work per artist will be chosen.
One of the selected works will be featured during the Loppet Cup, a FIS COOP World Cup Cross Country Ski race that will be hosted at Theodore Wirth Park February 17-19, 2024. Over 20K spectators are expected to attend the event.
Timeline:
Selected artwork will be reproduced on a 10'x10' vinyl banner in December 2023 and rotated every 4 months in 2024. The first banner will be displayed approximately Jan 1-April 30, etc through the end of 2024.
Banner Themes and Details::
The Loppet Foundation seeks visual artists whose work illustrates our mission, vision and values. Priority consideration will be given to local, Minnesota artists whose themes reflect the following:
Connection of art and the outdoors
Meaningful community connections in the outdoors Representation of local flora and fauna
Celebration of inclusion and diversity in the outdoors Sustainability and habitat restoration
Connection of wellness in the outdoors
Play in the outdoors
We welcome artists to submit existing or new work that conveys the above themes. Artists may work in any medium- drawing, painting, digital art, photography etc. Emailed artworks to be considered can be phone photos or other low-res images. Selected artists will be required to submit a hi-res digital image of the work, required file as follows: Vectored EPS, AI, PDF files, and/or 120′′ tall x 120′′ wide at 150 dpi.
Selection Process:
A panel of Loppet Staff and Community members will select 3 artworks from submissions. Artistswillbenotifiedby Dec20,2023
How to Apply:
Email up to 5 images of work to be considered and artist statement to Andrea Bidelman (bidelman@loppet.org) with Banner Art Submission in the subject line of your message. You may also include links to your portfolio and/or resume, but not required.