A Message From Utepils Brewing


Both Utepils Brewing and The Loppet Foundation have been around for years; each of us excelling at our respective passions. Last fall we finally officially connected with Utepils Brewing becoming the official beer of The Loppet. We want to introduce ourselves to you.
Inspired by our travels in Europe, Deb and I knew Minnesotans were primed for a shift in beer culture and yet we also knew that when something is a "classic" it means it has found a sweet spot in human nature. Just as the invention of the snowmobile doesn't mean the end of cross-country skiing, the invention of triple hopped IPAs doesn't change the delightfulness of an authentic Pilsner and social media doesn't replace the joy of sitting around a table with a beer in hand telling stories with friends.
We created our brewery on these beliefs and gathered a talented team to brew our beers with artesian spring water, traditional ingredients from Europe, and with solar power from our roof. We deliberately chose our location because of the parks that surround us and make our creekside Beer Garden a truly unique experience.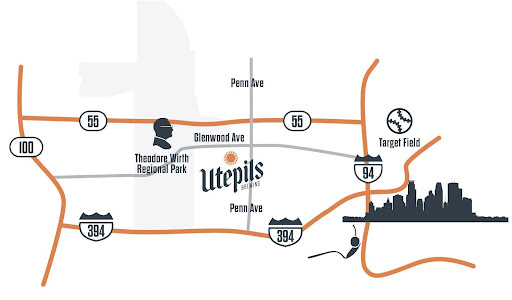 Of course, many of you are wondering what the heck is up with the name. Many years ago, during our planning process, Deb read me some interesting articles as I sat stuck in traffic getting to our cabin on a holiday weekend. It started with words that just do not translate into English. We discovered the meaning of Utepils and loved it. Later that weekend as we shared the word over beers with friends, we couldn't say the it without smiling. We hope Utepils (ooh-ta-pilz) makes you smile too.
Utepils is a Norwegian word used by them to convey "the anticipation to enjoy your first beer outside in the sunshine after a long cold and dark winter." In essence it is emotion of joy that spring is truly happening and I have a delicious beer in my hand. We thought that would resonate with Minnesotans.
We invite you to get to know us!
Our spacious Taproom and park like Beer Garden are open every day of the week.  We offer at least fifteen classic European styled beers that range from our best selling Bavarian Hefeweizen called Ewald the Golden to other golden delights such as our Skolsch kolsch & both German and Czech pilsner.  We also offer dark malty beers such as a European style Alt & a Czech Dark Lager.  And of course, we offer our hoppy beers & hard seltzer because we want everyone to find something that pleases them.  You will find a number of non-alcoholic beverages from root beer to locally brewed kombucha.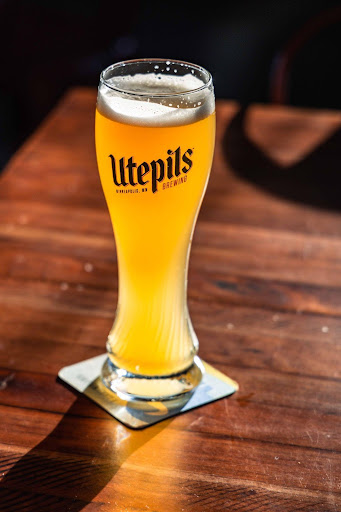 We built a big brewery and you can see all of it without a tour as our Taproom embraces the experience of right in the middle of it. You will literally walk through it on your way to our bar. Check out our historical artifacts from German breweries pointing to the connection to past brewers and the traditions they created besides just looking really cool.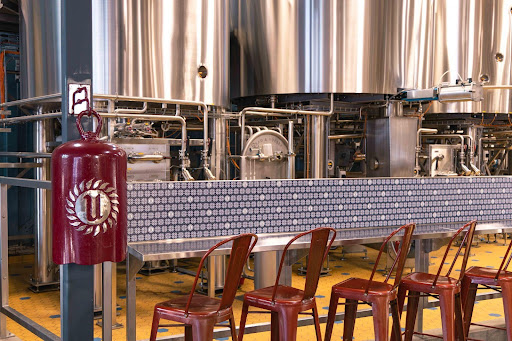 With that "big" brewery, we're still small compared to the big guys, we brew and package our beers for sale in four packs, twelve packs and in draft kegs. Please support us and please yourselves by making Utepils beers part of your getting out and doing something life. People who get up and do stuff have the most interesting stories to share. Keep a four pack or two in fridge, grab a mix pack of our beer for a weekend or when you have friends coming over. Of course, we are served in both fine and dive bars and restaurants all across the metro and from Ely to Winona.

In the end, beyond our beer, our brewery, our belief in classics, our staff makes our place hum. Many people ask us if this is what we imaged when we started. Truthfully it kind of is, but it is so much better because of the ideas, innovations, and passion they have poured into it. They are our best ambassadors.
We hope that you will find a new beer for your life's adventures in Utepils Brewing.
Thank you,
Dan & Deb Justesen
Co-Founders, Utepils Brewing