2021 City of Lakes Loppet Winter Festival Recap

Thank you to everyone who joined us for this year's City of Lakes Loppet Winter Festival!
Loppet is a Scandinavian term which translates roughly to "adventure over uncertain terrain." Most years for the Loppet Foundation, that means planning events to accommodate uncertain snow and weather conditions. This year, in the shadow of COVID-19, the term took on a whole new meaning! Our staff began planning for the City of Lakes Loppet Winter Festival last spring, during the start of quarantine, when we were unsure exactly how the world would look come early 2021. As months passed, it became clear that COVID-19 would not be gone by festival time and that creating a safe way for everyone to still enjoy our annual winter festival would require plenty of creativity and hard work.
We unfortunately had to cancel some of our popular events, like the Captain Ken's Kubb Tournament and Crew Ski Loppet, that do not lend themselves well to social distancing. However, those openings in the schedule allowed room for brand new events, like the Open Loppet 5K and Next Generation Loppet!
Although no spectators were allowed this year due to COVID-19 safety rules, the spirit of the Loppet was alive and well in the participants who expressed their enjoyment of being able to feel some semblance of normalcy by racing and connecting – if only briefly – with their fellow competitors.
To relive the entire weekend's events through short video clips and photos, click here. All professional photos and official results can be found here. Hybrid and Virtual race version results are still coming in and will be updated after February 7 and February 14, respectively.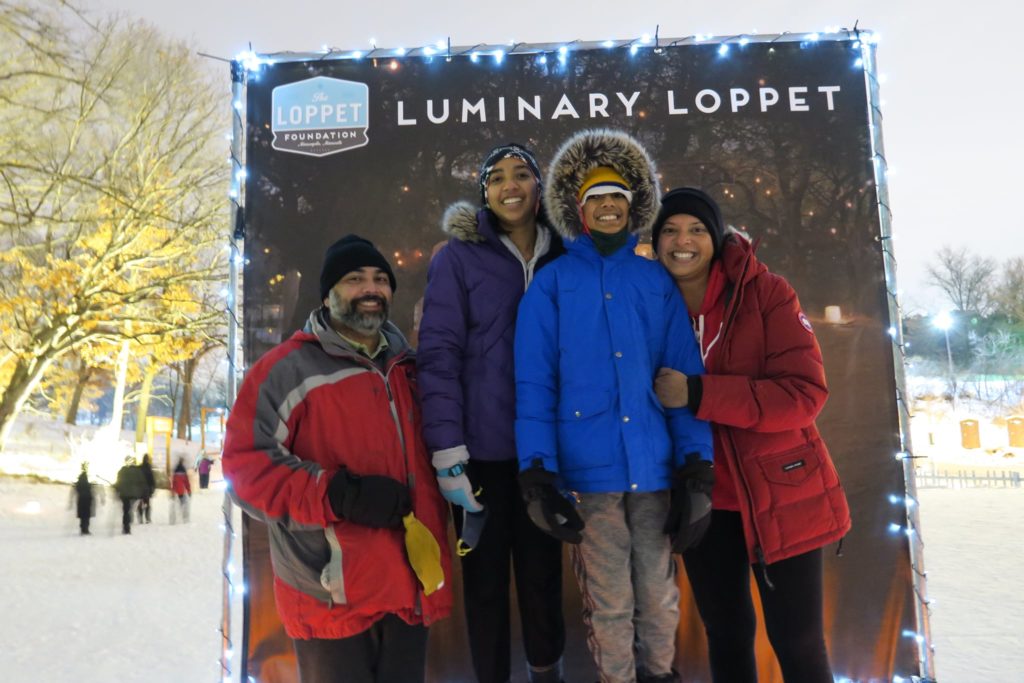 Luminary Loppet
The City of Lakes Loppet Winter Festival kicked off Friday, January 29, with the Luminary Loppet. COVID-19 safety protocols led to a new location for this year's Luminary Loppet and allowed people to experience the magic over the course of five nights instead of the usual one! Due to the socially distant starts, people were able to spread out on the lighted trail at Theodore Wirth Park and experience an event more quiet and event more peaceful than usual. Ticket holders were treated to some of the favorite features (icecropolis, ice pyramid, and ice henge) in addition to light up dancers, glowing animal puppets, live musicians, and more! The course even crossed over a frozen pond for those missing the lake.
This year's Luminary Loppet was truly a community effort! With COVID-19 preventing the Luminary crew from gathering together to create the 1,300+ ice luminaries needed for the event, individuals and families learned from our luminarians in the weeks before the event how to make the ice luminaries at home, where they stored them safely until dropping them off at The Trailhead before the event. Thank you to everyone who helped light up the night, we could not have done it without your assistance! Continuing with the community theme, the Loppet Foundation also partnered with North Minneapolis front line workers this year to provide them with free Luminary Loppet tickets in gratitude for all the hard work our front liners have put in during this pandemic.
The brutally cold weather on the second weekend of the festival threatened to cancel the event, but thanks to some incredible volunteers and staff members who stepped up to the plate, in a matter of a couple days, we were able to add a whole new date to the Luminary Loppet schedule which allowed all ticket holders the opportunity to shift their plans and attend the event on one of two much warmer evenings.
Next Generation Loppet
The Junior Loppet and Minne-Loppet were combined into one event this year which allowed youth of all ages the opportunity to race together in 1K, 2K, and 3K races. The event featured youth from across the metro area, including many of those involved in the Loppet Foundation's Northside outdoor adventure programming.
Open Loppet 5K
The Open Loppet 5K was a fun ski event for all ages, and it featured an outstanding number of beginner skiers and participants accomplishing their first-ever race, in addition to quite a few high schoolers who had been itching to get back racing again.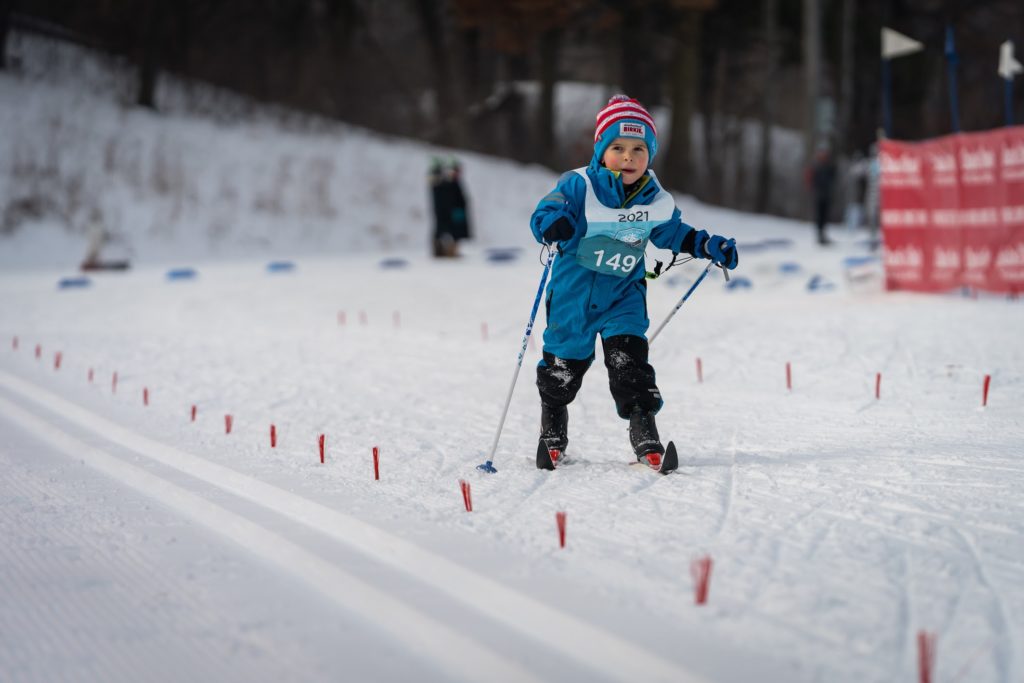 MNOC Ski-Orienteering Loppet
Participants in the MNOC Ski-Orienteering Loppet couldn't just rely on fast skis and good athletic training. This unique event required mental braun and directional prowess to reach the finish line. Skiers were given maps of two different courses, Medium/Long (7-9k) and Short (4-5k), depending on which event they registered for, and they had to then navigate on skis using only a map and compass. Many families chose to tackle the event together, including 4-year old Ned and his dad who found all the checkpoints and earned Ned the title of youngest MNOC Ski-Orienteering Loppet finisher!
Freewheel Fat Tire Loppet, Puoli Loppet, & Tour
30K The Freewheel Fat Tire Loppet, 18K Freewheel Fat Tire Puoli Loppet, and 10K Freewheel Fat Tire Tour events welcomed to the course fat-tire bikers of all skill levels! Staying warm was no issue during the point-to-point fat-tire bike events on Sunday, January 31. However, the warm temperatures and subsequent soft snow made everyone's legs a bit more sore and definitely worthy of the post-race beer from Mill Valley Market!
Classic/Skate Ski Tours
The 10K Classic/Skate Ski Tours were two more beginner-friendly events that captured many of the new skiers COVID_19 has brought into the sport. These were also popular event with many families who were looking for a fun weekend activity where they could be outdoors and active together.
Askov Finlayson Snowshoe Loppet
To those who envision this event only as a leisurely stroll through the woods, it may be shocking to see the leaders come sprinting by on small, racing-level snowshoes. Although there are quite a few speedsters in the Askov Finlayson Snowshoe Loppet, the event also has its fair share of those looking for a slower paced way to view the City of Lakes Loppet Winter Festival race course.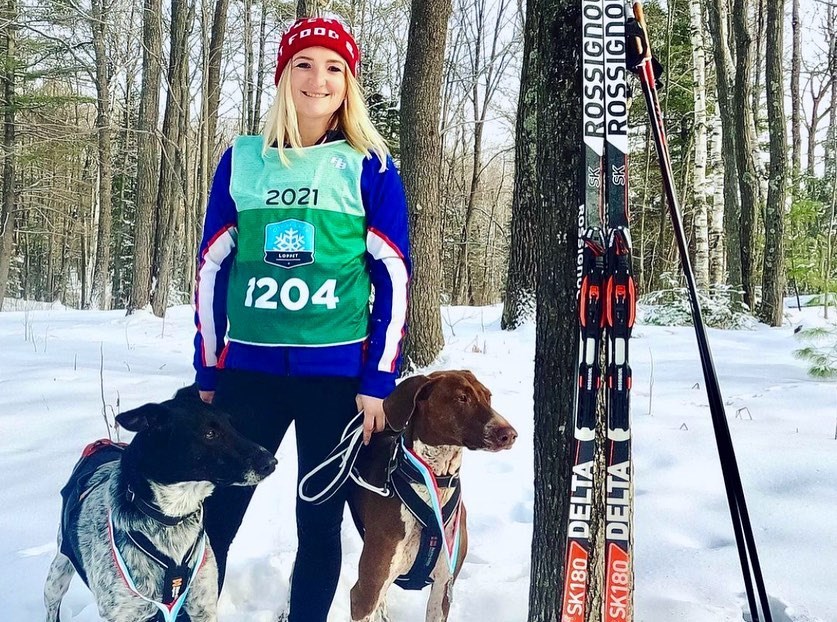 Chuck & Don's Skijor Loppets
The Chuck & Don's One-Dog Skijor Loppet held on Saturday, January 30, had three distances for racers to choose from: 10K, 5K, and 3K. Almost 100 dogs and skiers competed, all with varying levels of skijoring expertise, including one team whose humans tried not just skijoring – but skiing – for the first time during the event!
The 10K race was part of the National Skijoring Championship, combined with Sunday, January 31's, Chuck & Don's Two-Dog Skijor Loppet point-to-point 10K. Both days' 10K events were accredited IFSS World Cup Races, so they featured some of the best skijoring teams in North America.
Classic/Skate Ski Loppet & Puoli Loppet
An icy, arctic blast directed at the Twin Cities during the second weekend of events forced the cancellation of the second weekend's events due to concerns of keeping volunteers, staff, and participants safe in weather well below zero while following COVID-19 protocols. Luckily, the event already had Virtual and Hybrid (semi-virtual) event formats for individuals to compete in, so everyone was still able to compete the event in some capacity!
"What we can all agree upon and enjoy is the fact that the Loppet course is SUPER fun to ski – it is rare we have enough snow to ski that full course (except for the lakes) for more than two days in a row. I LOVE the directional evergreens and no where is there such a mix of hills, woods, manmade loops, city skyline… It was a JOY to ski / race this morning – we got back before work started – and even if I forgot to turn on my watch for virtual timing. I will remember my 'fake' race, complete with bibs, in a tiny snowstorm and under headlamps, for years to come. Thank you Loppet."

Jan Guenther, Owner of Gear West
"I did the hybrid versions of the Loppet 30k on Tuesday and Friday. I just skied the course for fun and had a great time! Even ran into a few ski friends. The pandemic throws a wrench into everything. Glad to support the Loppet Foundation."

Mark Trumper, longtime Loppet volunteer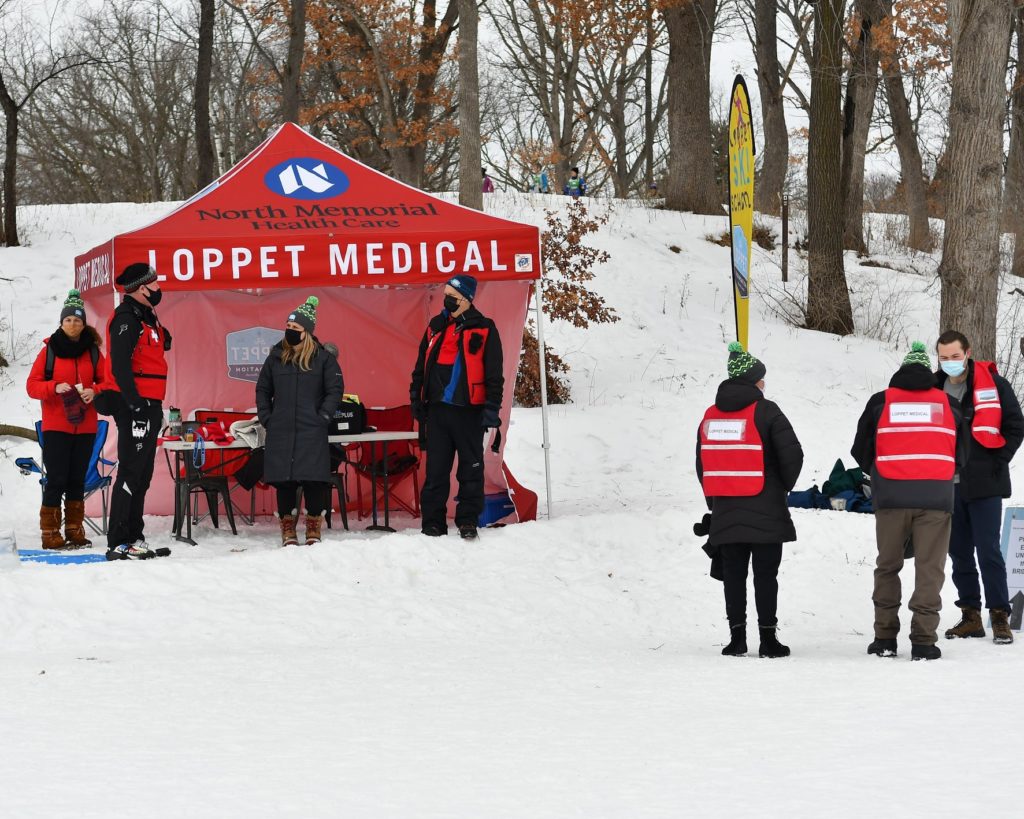 Thanks to all who made the 2021 City of Lakes Loppet Winter Festival possible!
No Loppet Foundation event would be possible without the help of many individuals and organizations assisting us, and the City of Lakes Loppet Winter Festival is no exception. In fact, as the Loppet's largest annual event, the City of Lakes Loppet Winter Festival requires the largest number of volunteers and sponsors out of any Loppet event to make the weekend run smoothly. Those who support us do not give up just one weekend of their lives to help out, they have been working tirelessly behind the scenes for months to make sure that your festival experience is the best it can possibly be. So from the bottom of our hearts, thank you to all of you for all that you have done for us this year, and to all of you who have already committed to helping us again next year. We have thoroughly enjoyed working with you all, and this event would not have been possible without each and every one of you!
To find out more about how you can get involved in future events, email volunteer@loppet.org or sponsorship@loppet.org.
Top news coverage from the 2021 City of Lakes Loppet Winter Festival: