TRAIL KIDS December Family of the Month – Meet the Woeste Family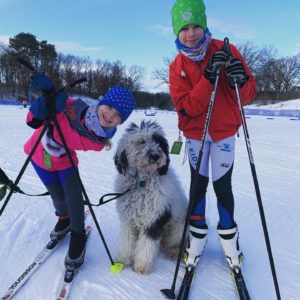 Sara and Pete Woeste have two children Griffin (10) and Hazel (8) in the TRAIL KIDS programs.. Griffin has been in the Trail Kids program for three years; started Fall 2017. And Hazel for about 1.5 years; started Summer 2019.
Both of their children participate in all three of the run, bike and ski programs. Griffin's favorite is skiing; with mountain biking a close second. Hazel is our social butterfly and has yet to be confident in her skills. That said, simply being with her friends is tops for her; with running a close second.
The Woeste family has connected with many TRAIL KIDS families at varying levels as well as the at-large Loppet community. It's so easy to make friends when out on the trail. Our kids go to Meadowbrook Elementary and it has been great to see the growing number of kids from Meadowbrook in the TRAIL KIDS programs. When we started in 2017 there were only a handful. Now….a lot! 
The Woeste have been involved with the Loppet for about 10 years as foundation members, training group athletes, race participants and of course as spectators as well! Pete and Sara also are great ambassadors of the Loppet's programs when training with other groups as well. Pete  started coaching the TRAIL KIDS mountain bike program the fall of 2019. This winter he will be coaching skiing for the first time. 
The Woeste family enjoys getting up to the Northwoods a few times a year for mountain biking and skiing. They also try to get in a camping weekend or two, as well as nearby hikes and canoe outings every now and then. Most of our time is at home either outside in our yard on our "luge", ski trail, mtb obstacles, slackline, hammocks, trampoline and Swurfer; along with sledding, walking our goofy sheepadoodle, scootering around the neighborhood and playing with friends. Indoors we can often be found doing puzzles, Lego building, reading and watching the Packers!