TRAIL KIDS October Family of the Month – Meet the Yore Family

Each month this summer, we have been focusing on a different family that has been an important part of our TRAIL KIDS community. TRAIL KIDS has become a family affair since many of our activities of running, orienteering, mountain biking, and skiing are lifelong sports that families can enjoy together. Many of our TRAIL KIDS parents have also helped with coaching or volunteering for our events.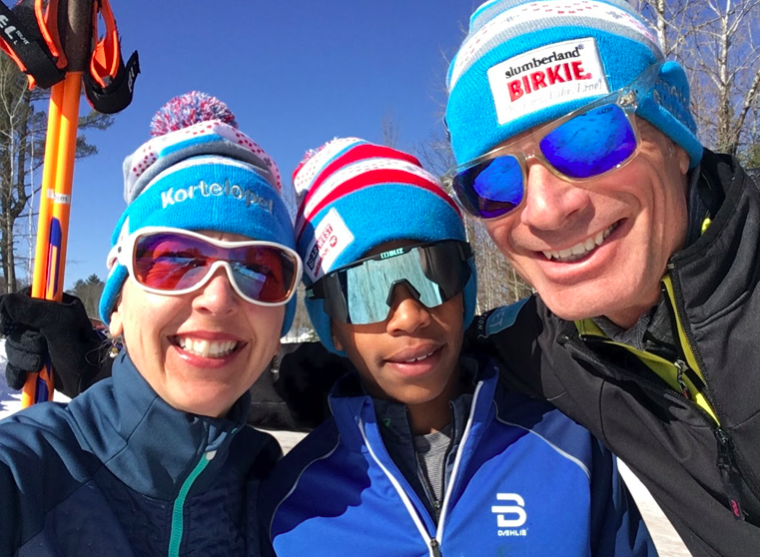 Meet the Yore Family
Janine, Steve, and Eyob have been involved with the Loppet TRAIL KIDS program for half of Eyob's twelve-year-old life. In 2014, Eyob received an exception to join the TRAIL KIDS ski group (as he was only 6 years old at the time) as long as a parent was nearby, which started both Eyob and his parent's involvement which has continued today.
As a young skier, Eyob was very proud of himself for hanging with the big kids during the fall and winter programs, keeping up with skiers a few years older than he was. Eyob said that mountain biking and skiing are both so great, but if he had to pick one, he would pick mountain biking. He enjoys the travel opportunities that come with racing and training, especially the summer TRAIL KIDS mountain bike camp held in Hayward, Wisconsin. As Eyob grows out of the TRAIL KIDS program, he plans to transition to Loppet Cycle Works, but he hopes to continue his adventures with TRAIL KIDS as a junior coach.
The Yore family participates in and volunteers with many Loppet events each year. Both parents have expressed their enjoyment in socializing with the Loppet community. Janine served on the World Cup organizing committee this past year, and Steve has been a TRAIL KIDS coach for the last five years for both the mountain biking, running and Nordic ski programs. Steve was named TRAIL KIDS Coach of the Year in 2018, and now coaches for LCW and Hopkins mountain bike teams too.
The Yore family enjoys outdoor sports that include Nordic skiing, mountain biking, hiking, paddling, running, road cycling and Alpine skiing. They moved to Minneapolis from Santa Fe, New Mexico, when Eyob was 3, choosing to live in a Golden Valley neighborhood because it bordered Wirth park. The Yore's knew they needed the trails and green space to feel good, and they now live on the other side of the park, in Bryn Mawr. Janine said that the Loppet and TRAIL KIDS have been their family's primary social connection in their new community, saying "Theodore Wirth Park and the Loppet are the biggest factors in the quality of life we experience in Minneapolis. We picked the park, and the Loppet programs were a surprise bonus. The families we've met – the friends Eyob has made, their parents, the coaches we've connected with – are dear friends."