TRAIL KIDS June Family of the Month – Meet the Sherman-Strands Family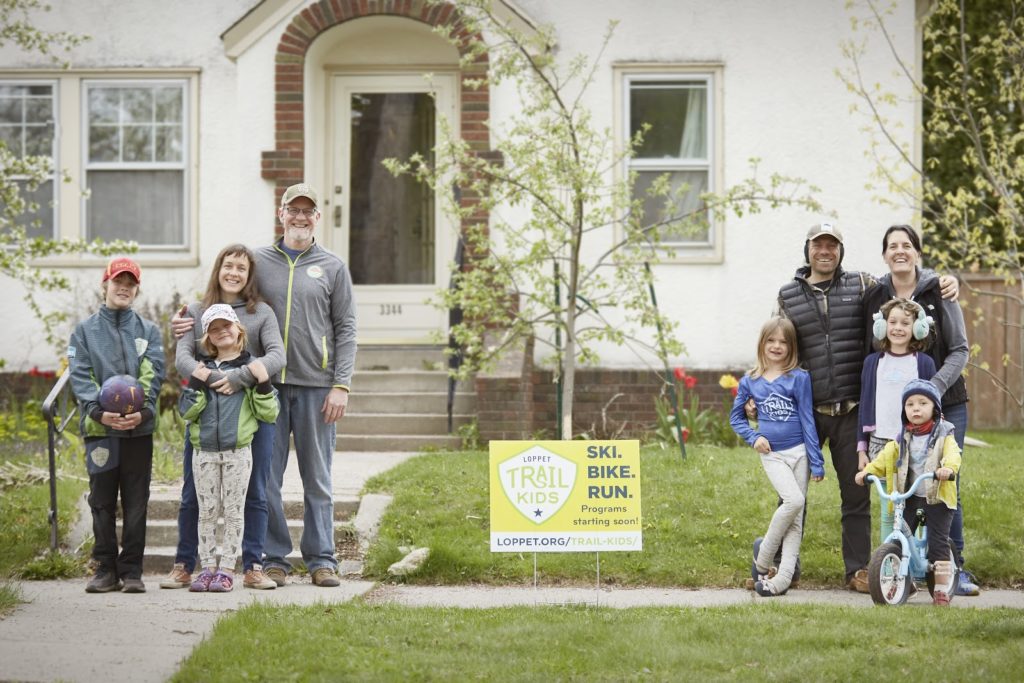 John Strand has been coaching TRAIL KIDS fall and winter programs for the past three years. John and his wife Katie have a son Bjorn (age 10) who just completed his fourth year of TRAIL KIDS along with Segovia (age six) who just finished her first year in the program. The Sherman-Strands also have a nine-year-old son, Wendell, who has a very rare genetic mutation (GNB1) that confines him to a wheelchair, among other challenges that he faces. Their youngest child and future TRAIL KIDS participant is Abraham who will turn two in July.
John initially started coaching because his son Bjorn was doing the program and the coach's discount helped him defray the cost of the program. It quickly became apparent to him that he loved helping kids fall in love with being active out in the natural world. John has also enjoyed the friendships he and his children have made with all the coaches and TRAIL KIDS families.
John explains that what his son loves about TRAIL KIDS the most is being out in the woods on the trails having adventures. Bjorn also loves his coaches and teammates. His daughter Segovia enjoys the social aspect of TRAIL KIDS and was very proud of winning a medal at this past winter's Super Ski race events.
TRAIL KIDS is broken up into different teams of ten youth and two coaches. Each team has a different country as their team name such as Team Sweden, Norway, Canada, USA, etc. When asked about the specific teams John has coached, he states:
"When I first started coaching, I coached Team Norway, and I wrote a team cheer that my cousin helped me translate into Norwegian. The kids loved it. This year, our team name changed to Team Canada, so the cheer needed to change as well. My family members are big fans of the Grammy-winning band the Okee Dokee Brothers (who were scheduled to perform at the World Cup event this year at Wirth). On the band's last record, Winterland, they had a song called 'Slumberjack.' I took the lyrics and rewrote them (in fine folk music tradition) into our new Team Canada Cheer, in call and response style, which the kids also love!"
The words of the Team Canada cheer are below:
When the northern lights come out—Eh!
And the forest goes to bed—Eh!
The great Canadian skiers—Eh!
Start skiing 'bove your head—Eh!
From the pines of the big woods—Eh!
Skiing classic and skate—Eh!
Don't hate these skiers—Eh!
Just because they're great—Eh!
Eh!—Eh!
Eh!—Eh!
Ehhh!
John has also been involved in reviving the Nordic ski program at Patrick Henry High School, and was the head Nordic ski coach there from 1999-2005. John's ski team was responsible for shoveling snow underneath the Olson Memorial Highway bridge so that the Loppet groomers could groom the ski trail (they called it Patriot–the Patrick Henry mascot–Pass).
John is an IB Higher Level English Literature, 11/12 Literature teacher and Outdoor Club Adviser at Thomas Edison Senior High. In 2012, another teacher at Edison High School who shared a passion for nature and active outdoor sports joined with John to start the Edison Outdoor Club (EOC) with the goal to share that passion with Edison's highly diverse and economically disadvantaged student body. Beginning in 2017, the EOC forged a partnership with The Loppet Foundation to expand that vision to include nordic skiing and mountain biking. Andy Harris at the Loppet has worked tirelessly with them to achieve their aims.
Bjorn and Segovia Sherman-Strand and Team Canada pictures below.