Congratulations to the 2020 Spirit of the Loppet Award recipients!

During the week of May 18-22, 2020, the Loppet community is honoring the recipients of the 2020 Spirit of the Loppet Awards, and coming together to support the mission of the Loppet Foundation: to get people outside and active, no matter their age, background, or ability.
The Spirit of the Loppet Awards honor members of the Loppet community who exemplify the core Loppet values of Adventure, Excellence, Integrity, Inclusiveness, and Stewardship. Make sure to check out the Loppet Facebook page all this week to hear more from these fabulous folks about what these Loppet values mean to them!
If you are able, please consider making a donation to support the Loppet's work in honor of these amazing individuals!
ADVENTURE
The Loppet Foundation defines "Adventure" as "We believe that living an inspired life requires taking paths with uncertain outcomes. We focus on the journey." Our honorees for Adventure are LNR skier Michael LeBlanc and the World Cup Organizing Committee Leadership Team.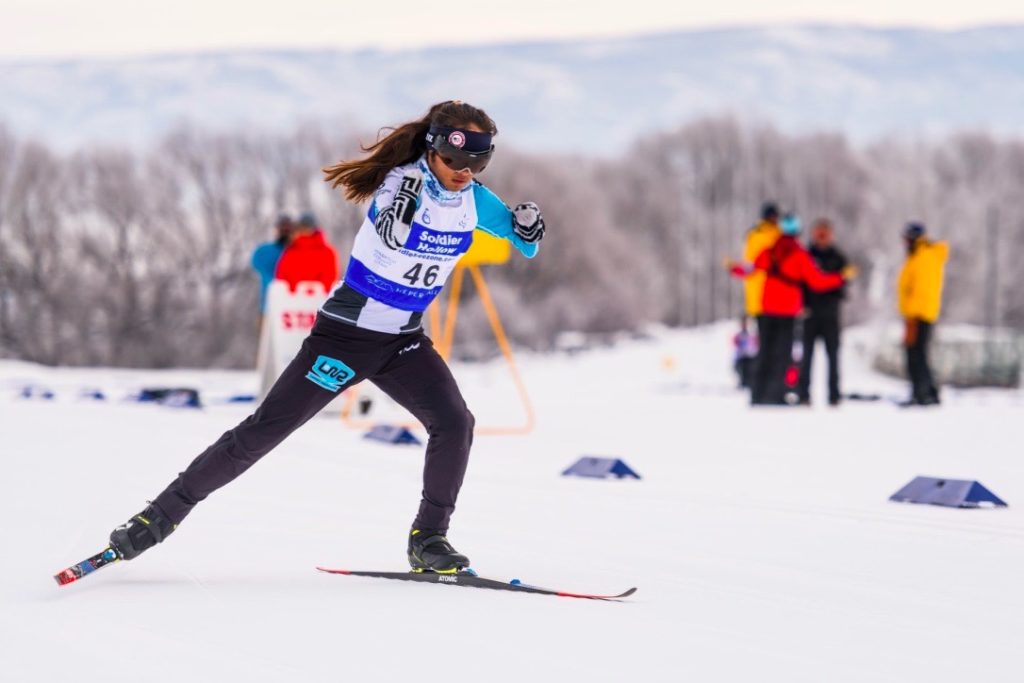 Michael LeBlanc is a standout member of the Loppet Nordic Racing Juniors team who also skis for his high school, Benilde St. Margaret. This past winter, Michael made the jump to national and international Para Nordic competition. Michael is an adaptive skier who competes without the use of poles, but prior to this year had only competed against able bodied skiers. Michael debuted on the elite scene at the World Para Nordic Ski NorAm in Midway, Utah, in February, 2020, where he won three national titles. He made his international debut that same month at a World Cup race in Finsterau, Germany. According to LNR Head Coach Chris Harvey, Michael's work ethic and determination mean that he is on track for continued success at the national and international level. Michael says, "Nothing is impossible if you set your mind to the task, work hard, persevere, have fun, and be creative."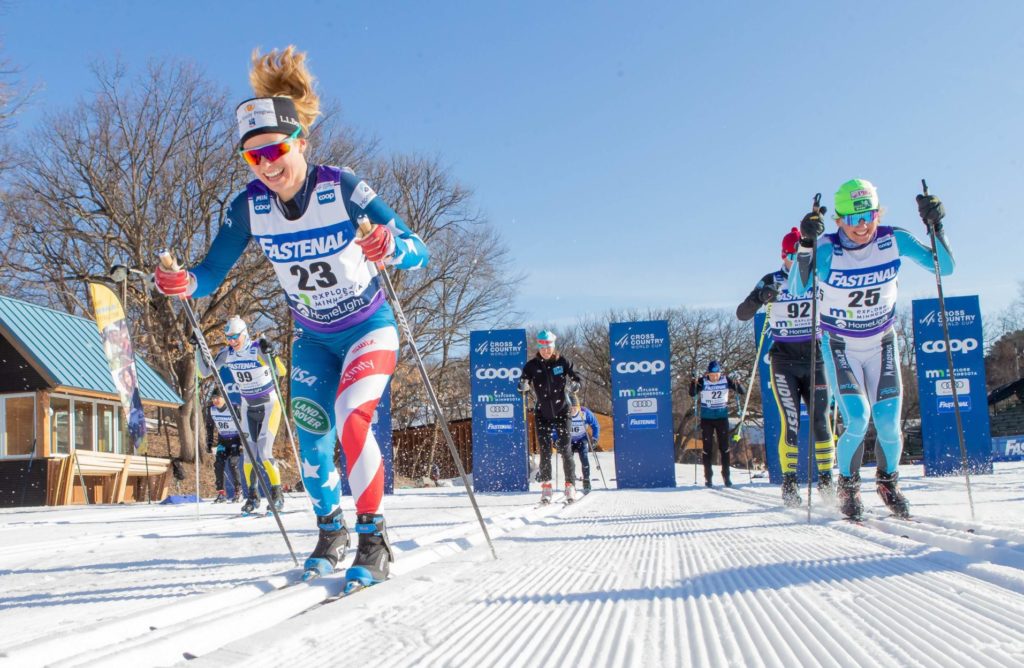 The World Cup Organizing Committee leadership team is a group of nine intrepid volunteers: Mike Bono, Matt Hedman, Jill Sonnesyn, Raquel Counihan, Doug DeBold, Tom Ajax, Carla Pardue, Dan Ness, and Corey Brinkema; supported by Events Director John Bussey. When the idea of a World Cup at Wirth Park arose, it was clear that it was going to take an effort unlike anything seen at the Loppet or on the World Cup circuit. While there were literally hundreds of volunteers who contributed to the World Cup effort, as leaders of the effort, these nine stepped willingly into the unknown, putting in thousands of volunteer hours over two years. A week out from the event, it was clear that this World Cup race was going to be an unqualified success. Then, when circumstances intervened and the event had to be cancelled at the 11th hour, the team stepped up with grace and composure to lead the process of winding down and cleaning up, setting an example for us all about what it means to "focus on the journey."
STEWARDSHIP
The Loppet defines Stewardship as "We are committed to nurturing the resources – like youth, natural resources, and financial assets – entrusted to our care." Our honorees for Stewardship are Loppet Nordic Racing and TRAIL KIDS coach Mary McKelvey and the Ski Ambassador team.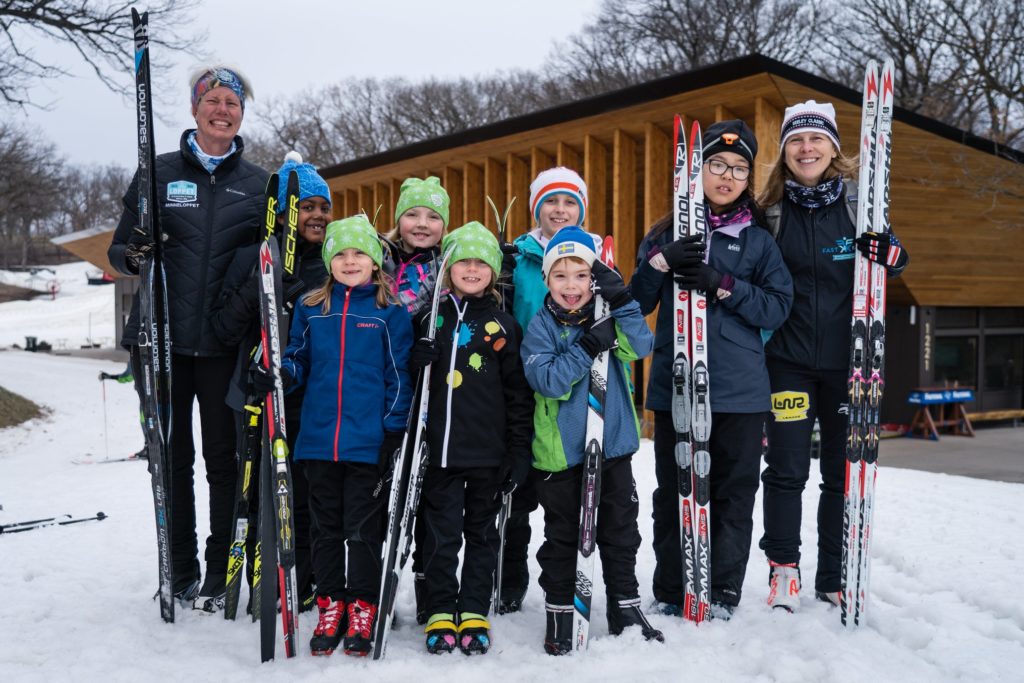 Mary McKelvey (far right) is a long-time Loppet Nordic Racing athlete, Loppet Run Club member, and Loppet volunteer, and is being honored for her work to support the growth of fellow skiers. She is known for the equal care and attention she brings to encouraging high-level LEMONS adult skiers, coaching adult beginners, and leading her TRAIL KIDS group. Mary's fellow skiers describe her as "the perfect combination of humble and nice, but driven and tough." Her patient teaching style helps bring out the best in Loppet skiers of all ages and abilities.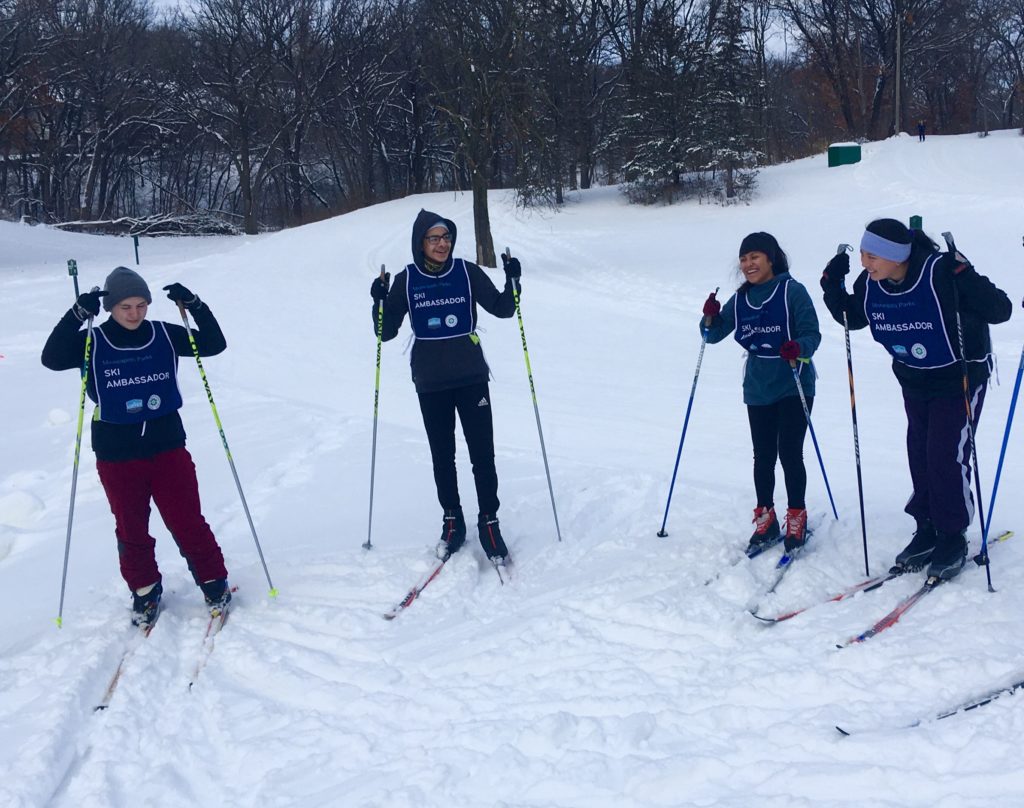 If you skied at Wirth Park this past winter, you probably ran into one of our youth Ski Ambassadors at some point. Holden Holland Magnuson, Manuel Gomez Romero, Denise Pliego Galan, and Sofia Hernandez Limas (left to right) were the pioneers of this new effort. The Ambassadors skied the trails to check conditions, welcomed people to the park, helped skiers learn more about the trails, and reminded skiers to display their trail passes. Trailhead Manager Ben Bauch says, "I am so proud of this crew, all alums of our Junior Loppet programs. They were willing to set the tone for a new program and the increased responsibility that came with it. Their hard work made it clear how much they care about their trails and our community, and their leadership has set a great foundation for this idea to grow."
EXCELLENCE
The Loppet defines Excellence as "We set the highest standards and strive for continuous improvement in everything we do." LCW cyclist Julie Gujer and the dynamic duo of Cynthia Osterling and Naomi Ohman are our honorees for Excellence.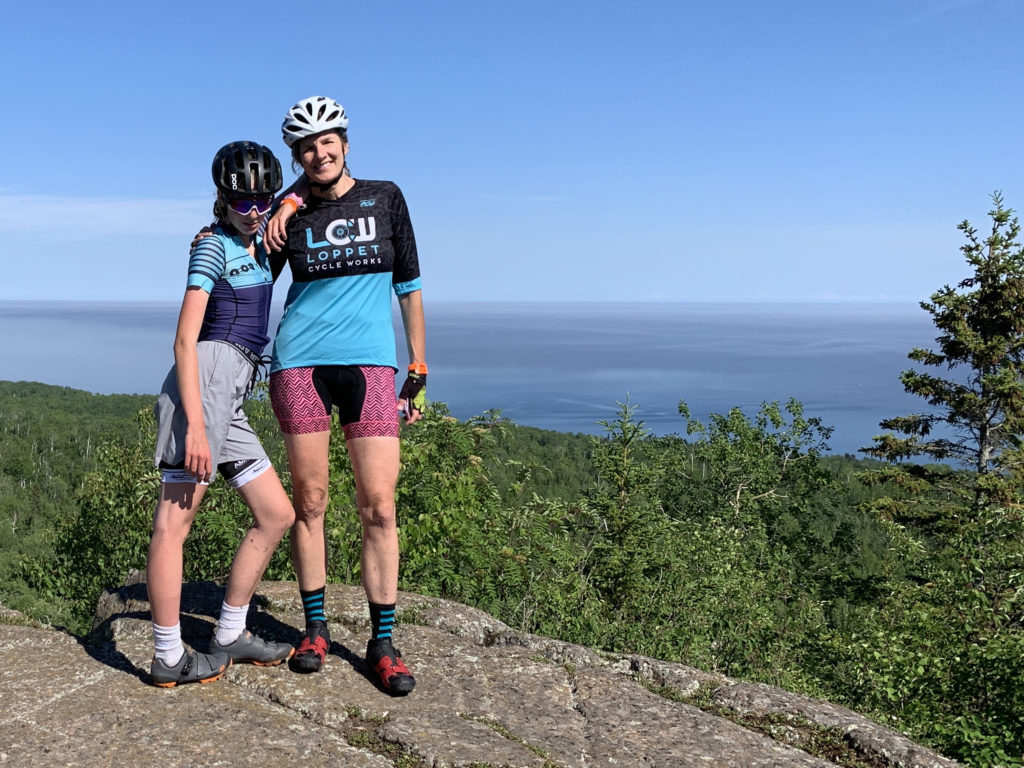 Julie Gujer (right) is an avid mountain biker, skier, and general seeker of outdoor fun and adventure. She's also a talented coach and designer, who has brought her high standards and skills to Loppet Cycle Works programming. LCW Head Coach Bruce Martens says that in addition to being the creative force behind the stylish LCW kit, "Julie has been instrumental in structuring Loppet Cycle Works as a program that embraces the highest level of integrity and professionalism. She has volunteered hundreds of hours assembling the training materials we use for on-the-bike coach training for Adventures, TRAIL KIDS, and LCW. Her work makes our programs PRO."
Naomi Ohman (left) and Cynthia Osterling (right) are great examples of how striving for improvement can lead to extraordinary–an unexpected!–outcomes. Naomi is a senior at Orono High School, where she was a captain of the Nordic Team this season, and qualified for state. Cynthia is a long-time Loppet volunteer and has trained extensively with both LNR Monday Night Women's Group and the Loppet Run Club. At the 24 Hours of Wirth Race this past February, both women skied a total of 253 km (a little more than 5 skate Birkies), with Cynthia finishing the distance in 23:47:23 and Naomi right on her heels at 23:48:06. After the race was over, a curious volunteer did some research, and discovered that Cynthia and Naomi had (accidentally?) set a new American women's record for distance skied in 24 hours! We can't wait to see what they do next year!
INTEGRITY
The Loppet defines Integrity as "We value honesty and high moral standards, but our definition of integrity also includes holding each other accountable for living the outdoor active life that we promote." This year, we're honoring event stadium guru Kim Boyce and all-around adventurer Mary Bauer for the example they set in this value.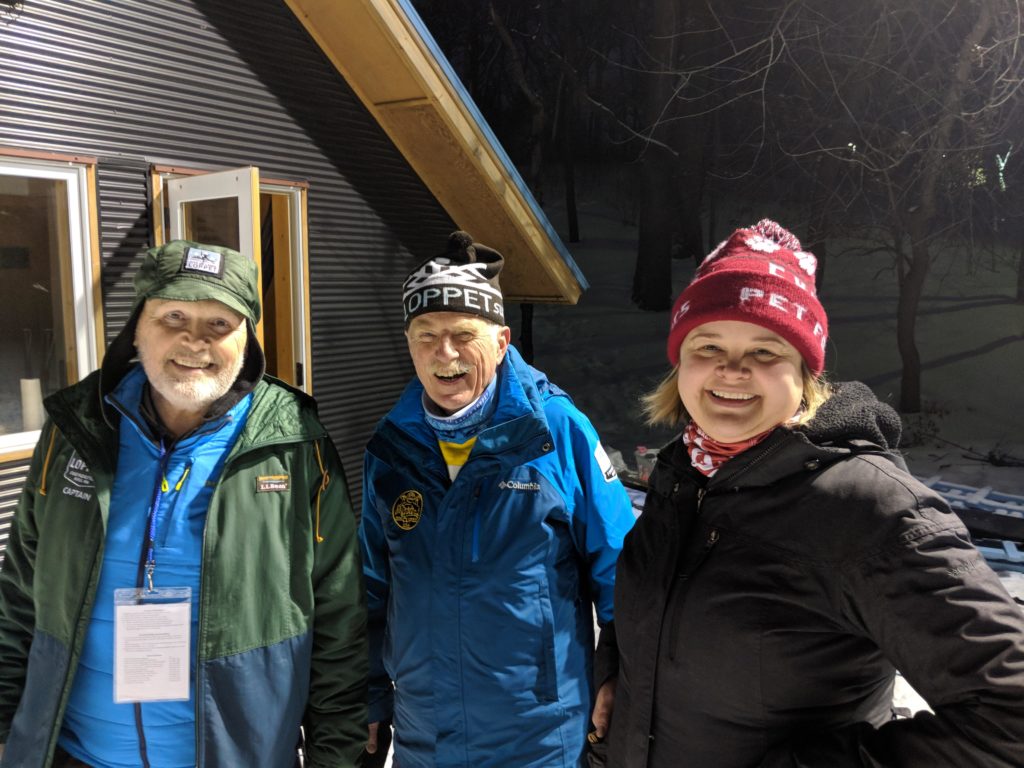 If you've ever volunteered with the Loppet, you probably know Kim Boyce (far left). Our database says he volunteered for key roles at 14 events last year, but we know there were more, and other Loppet trail and signage projects too! Trails and Trailhead Director Isaac Kasper says, "Kim works tirelessly and has a spirit of positivity that is infectious. He volunteered to be the chief of stadium for a number of events (including the citizen portion of the World Cup) and spent countless hours on site making sure everything would run smoothly. He would spend hours in the days leading up to an event creating these amazing maps of the stadium… by hand! To scale! During events he would be the first one at the stadium and the last one to leave. When he says he is going to do something, you can count on him 100% of the time to get it done and do it well!"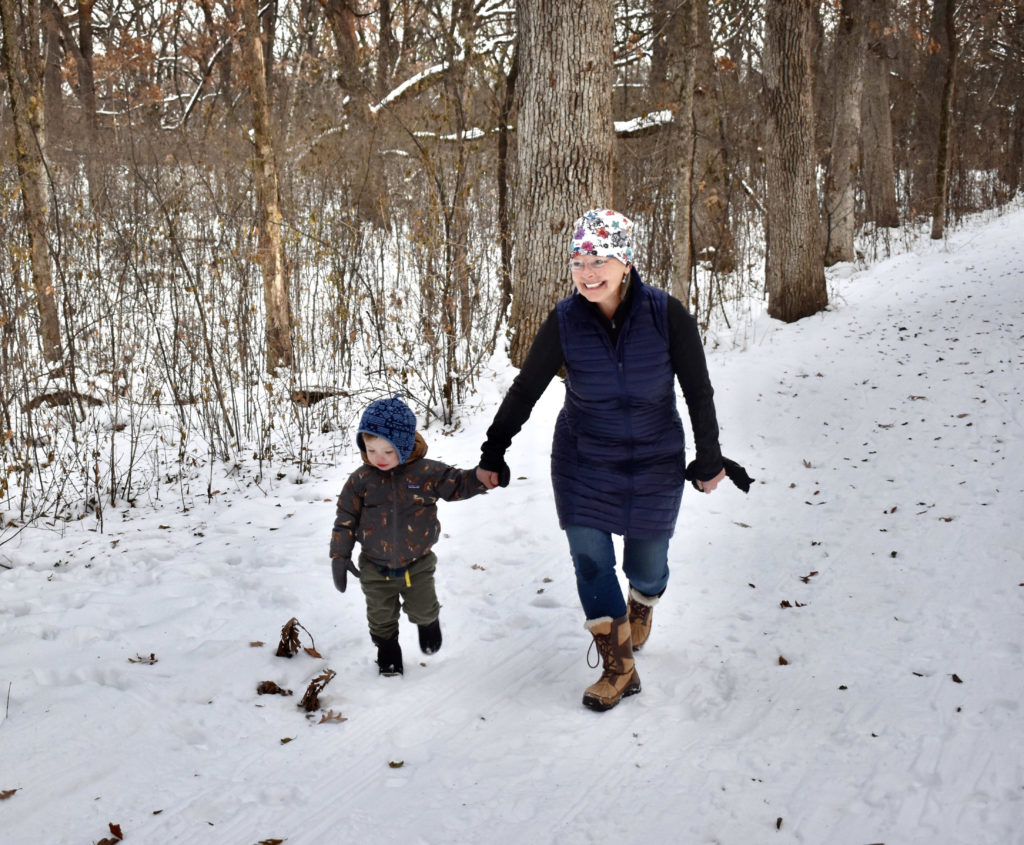 There is no finer example of an outdoor active life than the one Mary Bauer has chosen to live. Mary has been a stalwart member of Loppet Run Club, has done about every ski thing a Loppet person can do, and is a competitive canoer as well! Mary never hesitates to support and encourage others to find their best life. She's a life-long medical professional, currently serving as a registered nurse at the Minneapolis VA. She's a regular medical team volunteer at Loppet events, she was recently appointed to the new Minnesota Outdoor Recreation Task Force, and she never misses a chance to take her grandson into the woods. Run Club Coach David Bitner says, "Mary is awesome. In any race where Mary is on the medical team, you know she'll be ready for anything and waiting at the finish to greet every single finisher with a big smile!"
INCLUSIVENESS
The Loppet defines "Inclusiveness" as "We believe that everyone should be able to live an outdoor active life, and we strive to share our passion for outdoor activity across individuals with differing abilities, as well as ethnic and economic lines." This year, we're honoring two talented educators, Kyle Hansen and Mark Trumper.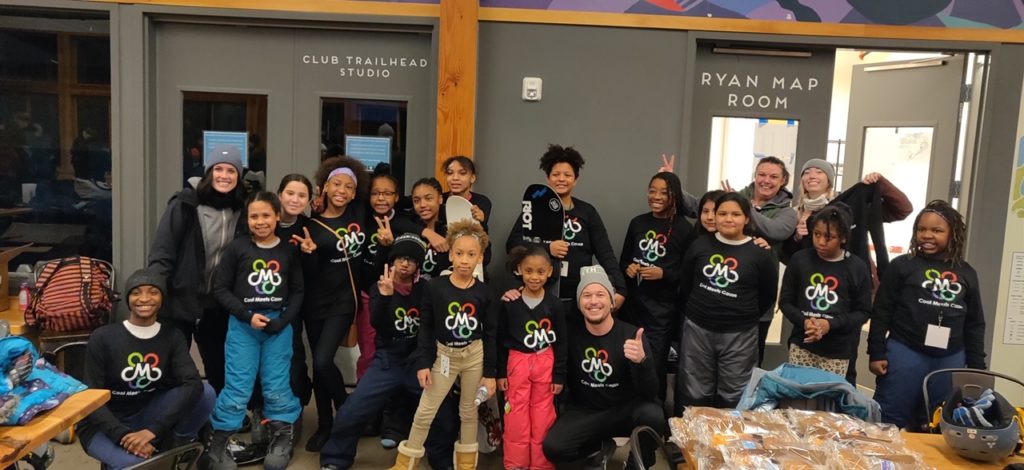 Kyle Hansen (kneeling in front) is an advocate and active member in the North Minneapolis community where he's the physical education teacher at Mary McLeod Bethune Community School, an elementary school with 94% students of color and 95% free and reduced lunch. At Bethune, Kyle goes the extra mile to get his kids outside and active, not only linking students to the Minne-Loppet program every winter, but also running bike programs for summer school students. Over the past two winters, Kyle has been the driving force behind "Cool Meets Cause," a program based at The Trailhead. With a dedicated group of volunteer coaches, the program connects girls of color from the North Minneapolis community to snowboarding, and ensures that the girls have all the equipment and gear they need to shred with confidence and style. Kyle's belief in the power of his students is infectious!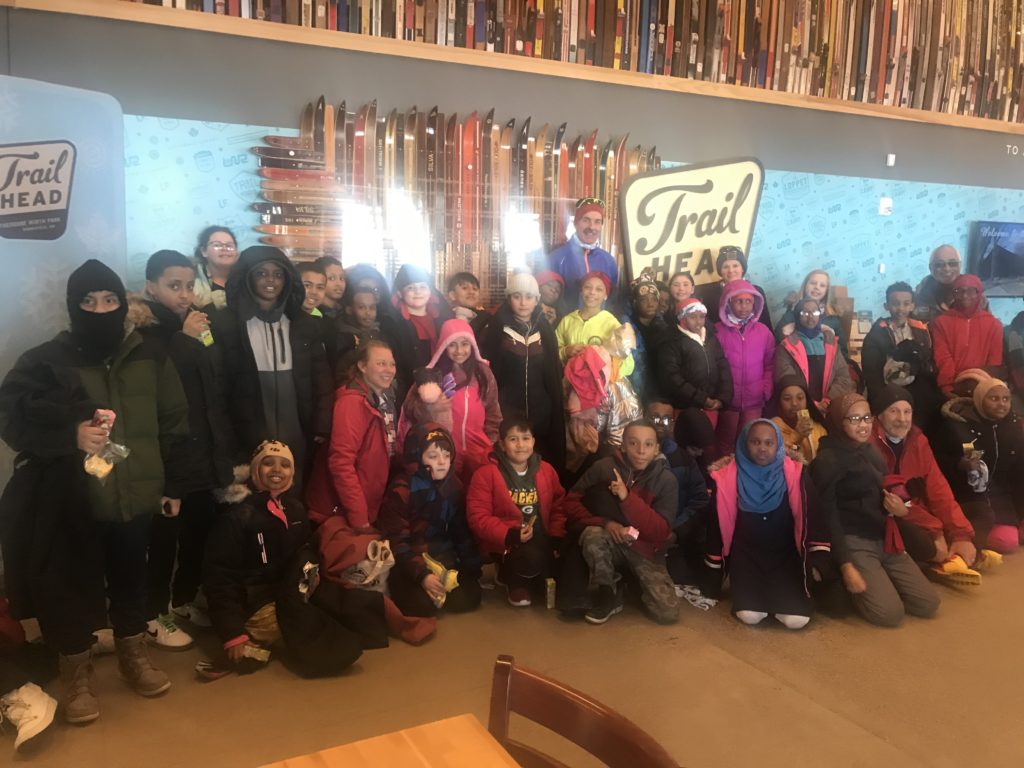 As the Loppet's Minne-Loppet partner at Pillsbury Elementary School, Mark Trumper (back row) has helped get hundreds of kids outside and on skis. The Minne-Loppet came to Pillsbury, a school with 80% students of color and 84% free and reduced lunch, in 2006. Mark retired from his position as an English Language Learner teacher last year, but has continued working with kids at the school, both with the skiing program and with Pedal Power, his effort to get kids out and biking in the city on sunny days, rainy days, and everything in between. Mark says, "I believe any child in Minneapolis can go anywhere in the city on a bike in any weather, year round. Half our students don't own a bike. A third don't know how to ride a bike at all starting 4th grade. We take 4th graders who don't know how to ride a bike in September and they end up doing a 17 mile ride in the winter. We like to say first we learn to bike, then we bike to learn."
We hope that these stories of our Loppet community inspire you, and that you are already making your plan for your next outdoor adventure.
If you are able, please consider making a donation to support the Loppet's work so that we will have even more stories in the future. Our work is only possible because of the support of our community!