Congratulations to the 2019 "Spirit of the Loppet" award winners!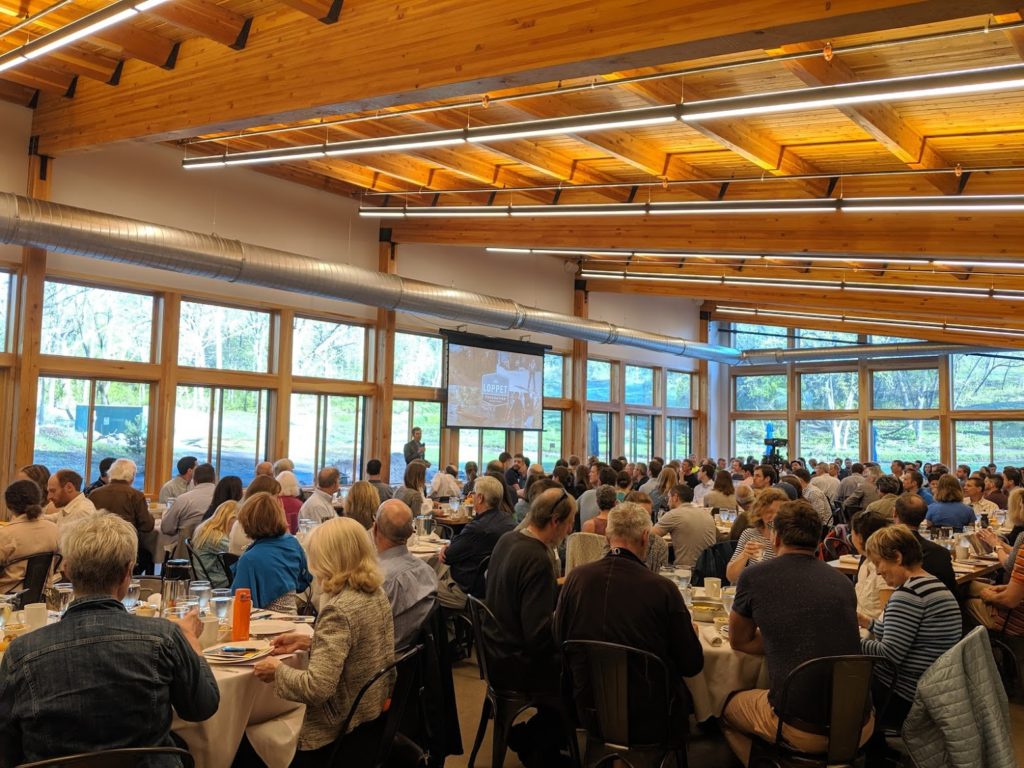 On Wednesday, May 15, 2019, 225 people gathered at The Trailhead to celebrate the first "Spirit of the Loppet" awards, enjoy a breakfast meal together, and support the work of the Loppet Foundation.
The Spirit of the Loppet Awards honor members of the Loppet community who exemplify the core Loppet values of Adventure, Excellence, Integrity, Inclusiveness, and Stewardship.
The 2019 award recipients are as follows:
For Adventure, Carol Markham-Cousins. The Loppet defines Adventure as, "We believe that living an inspired life requires taking paths with uncertain outcomes. We focus on the journey." Carol exemplifies this value because she has never shied away from what she thought was right, even when the outcome for taking a stand was unclear. A lifelong educator and leader dedicated to working toward equity, access and excellence within communities, Carol is also an avid skier who has trained with Loppet Nordic Racing and competed in a dozen City of Lakes Loppet marathon ski races. In accepting her award, Carol spoke eloquently about the importance of making sure that everyone can be part of "the adventure".
For Excellence, Julia Curry. The Loppet defines Excellence as, "We set the highest standards and strive for continuous improvement in everything we do." Julia exemplifies this value because she has both achieved extraordinary things in her own career as a skier, and inspired others to achieve as a coach. Julia was a standout skier at Woodbury High School and at the College of St. Scholastica, where she served as team captain for two years. In addition to being a member of the LNR coaching team, Julia was named the head coach for the 2019 and 2020 Midwest Junior National Team (the youngest person and first woman to hold this role), and Chief of Course for the 2018 World Masters. In accepting her award, Julia described how excellence doesn't necessarily mean achieving at a "10", it can also mean moving from an "8" to a "9", or a "2" to a "3"–the key is continuing to grow.
For Integrity, Shueyeng Lee. The Loppet defines Integrity as "We value honesty and high moral standards, but our definition of integrity also includes holding each other accountable for living the outdoor active life that we promote." A graduate of Patrick Henry High School in North Minneapolis and the University of Minnesota, Shueyeng has returned to his high school alma mater to help grow the next generation of bikers as assistant coach for the Patrick Henry Mountain Bike Team. Shueyeng leads by example, biking to practice, to work (at a bike shop!), and pretty much everywhere he goes. In accepting his award, Shueyeng expressed how important biking is in his life, but that he would never have expected that he would receive an award for biking a lot!
For Inclusiveness, the "Winter Extravaganza" crew, represented by Bex Klafter, Pastor Kelly Chatman, and Sara Hovren of the Redeemer Center for Life, and Mike Bash of the Loppet Ski Club. The Loppet defines Inclusiveness as "We believe that an outdoor active life is part of all cultures and we strive to share our passion for outdoor activity across individuals with differing abilities, as well as ethnic and economic lines." Redeemer Center for Life, a community development organization based in the Harrison neighborhood, was founded in 1998. RCFL celebrates and invests in the vibrant, diverse Northside community, answering the call for job growth, attainable housing, and youth development. Loppet Ski Club Coach Mike Bash is a classic skier known for his calm and patient teaching style. This winter, RCFL and Mike collaborated to connect more than 150 Harrison residents to The Trailhead through two "Winter Extravaganza" days. In accepting the award, Bex and Sara told the story of Christina, a long-time North Minneapolis resident who had never been skiing before. She had so much fun at the Winter Extravaganza that she got a ski pass for the rest of the season!
For Stewardship, the Junior Loppet Leadership Team. The Loppet defines Stewardship as "We are committed to nurturing the resources – like youth, natural resources, and financial assets – entrusted to our care." Members of this team include Lee Lang, Sam Scott, Michele Nguyen, Bela Santan, Maria Lee, and Roy Michael from Anwatin Middle School; Holden Holland Magnuson, Manny Gomez Romero, Liz Martinez, and Gold Lee from Northeast Middle School; and Ameerah Shaheid, Denise Pliego Gayan, and Sofia Hernandez Limas from Franklin Middle School. The members of the team are from the Loppet's three middle school after-school programs, and have all demonstrated skill and interest in leadership. This spring, after identifying climate change as one of their priorities, the team travelled to the Minnesota Capitol to meet with legislators and other elected officials, and to make their voices heard on this important issue. In accepting the award on behalf of the team, Ameerah Shaheid described how being in the Junior Loppet helped her see the landscape of her North Minneapolis home in a different way, and her commitment to continuing to advocate on behalf of the natural environment.
Thanks to the extraordinary generosity of the attendees, more than $40,000 was raised to help ensure that the Loppet's good work can continue and grow.
Mark your calendars for Wednesday, May 13, 2020, when we'll celebrate the next Spirit of the Loppet awards!