#Loppet2019 Race Recap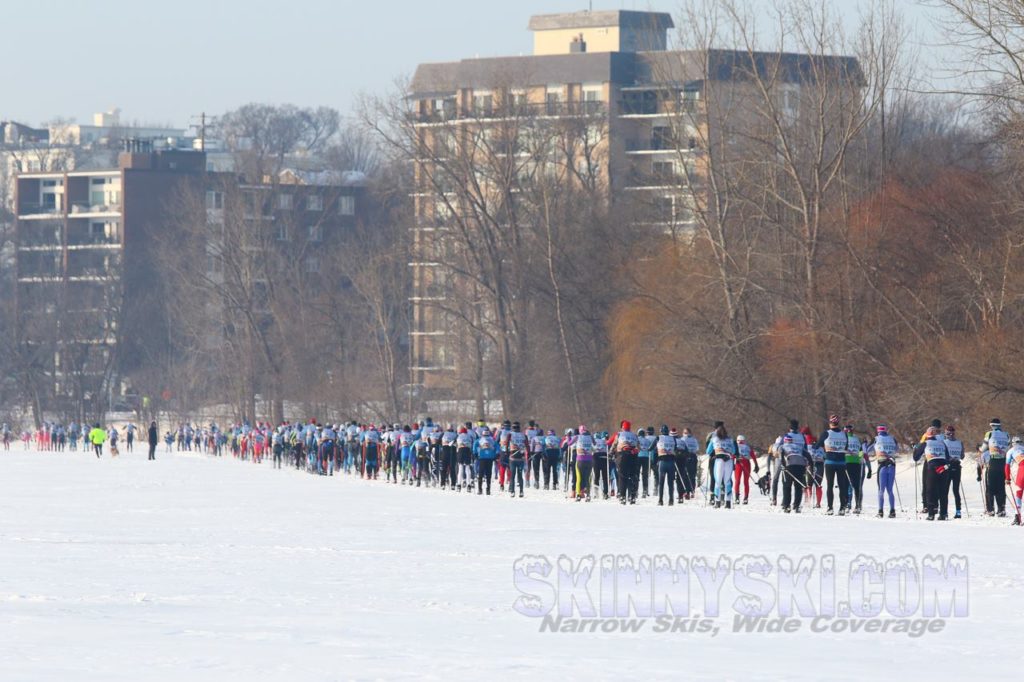 Thursday & Friday
Evening temperatures were no joke last week, but racers in the Classic, Freestyle, Penn Cycle Team Sprint and Chuck & Don's Skijoring sprints showed us all what bold looks like by coming out and giving it their all despite less-than-favorable conditions.
Sprint Races
Classic Team Sprints on Thursday evening were won by Felicia Gesior and Hanna Cole in the women's category, Karl Nygren and Andrew Tilman in the men's category; and Adam Johnson and Kelly Donahue in the mixed category. Youth racers also put on an impressive show that evening! The U16 races were won by Bergen Thorson and Owen Lindseth on the boys side, and Brooke Ailey and Maaritta Puiras on the girls side. Cedric Martel and Edgar Sarrazin, and Sydney Drevlow and Olympia Sparks won the U14 division in the boys' and girls' categories, respectively. The U12 winners were Ethan Albrecht and Logan Drevlow on the boys' side, with Milena Beitz and Megan Snider winning on the girls' side. Our youngest winners, in the U10 category, were Claire Britton and Linnea Ousdigian on the girls' side, and Colby Cepek and Ethan Calrosn on the boys' side.
Racers in the Fat Tire Team Sprints, a new event in 2019, also put on quite a show! Peter Olejniczak and John Heinlein III won the overall and men's division, with teammates Atsuko Fukushi and Risa Hustad winning the women's and taking 6th overall.
On Friday night, the Skate Sprints provided for another great spectating and racing event at The Trailhead. Felicia Geisor, Hanna Cole, and Emma Albrecht came in as the top finishers in the women's category; with Brian Gregg, McEwan Rodefeld, and Zach Goldberg completing the men's race in first, second, and third respectively.
The Chuck & Don's Skijoring Sprints, also a new event this year, were won by Tyler Mckean and teammate Buddy, with Dallas Johnson and Comet coming in second, and Alexandra Anderson and teammate Teddy in third place.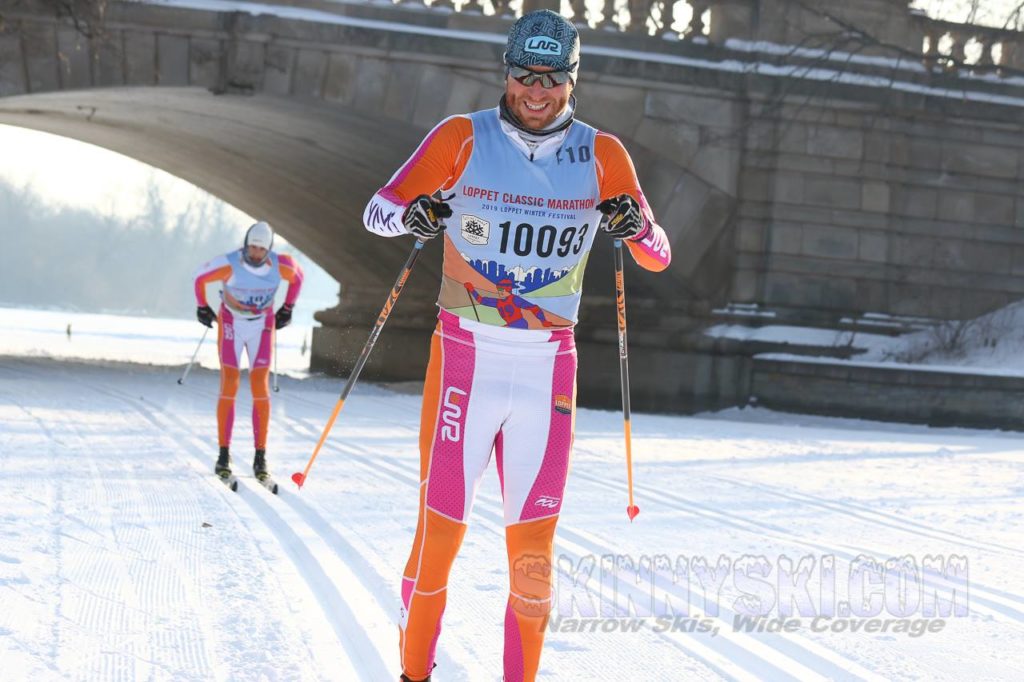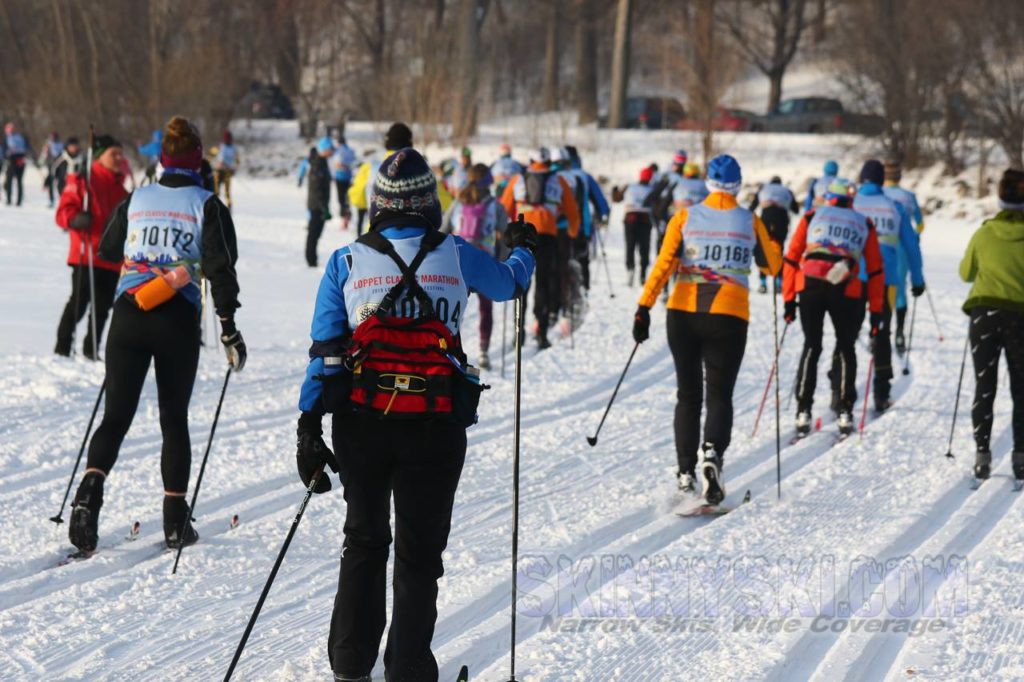 Saturday
Sunny skies and warm temperatures greeted participants in their races on Saturday, which was much welcome after the week's deep freeze. With just enough snow and cold temps through the week, Loppet Festival organizers were pleased to hold point-to-point races on Saturday.
Classic Races
Nearly 500 participants in the classic marathon, puoli, and tour events enjoyed their point-to-point skis from Bde Maka Ska in Uptown to a grand finish at The Trailhead in Theodore Wirth Park. In the classic marathon, the top finishers were Felicia Gesior, Hannah Cole, and Vivian Hett in the women's category; on the men's side, Brian Gregg, Nick Power, and Andrew Brown led the pack in this race.
In the Puoli Classic, participants crossed the finish line at Wirth. The men's category was taken by John Hallet, Tyler Thompson, and David Anderson; and the top female finishers were Maria Hauer, Lily Richmond, and Brittney Dorn.
Following the puoli and marathon events, over 150 people came out to participate in the non-competitive Classic Tour on the point-to-point course from Uptown to Wirth. Thanks to the amazing volunteers who came out to last week's shoveling parties to make that course possible!
Chuck & Don's Skijoring Loppet
As per usual, the Chuck & Don's Skijoring Loppet and One-Dog National Championship drew quite a crowd for the 10K, 5K, and 3K races. The 10K race was won by Tyler McKean, Jessica Pulliam, and Erik Evensen, in first, second, and third respectively. The 5K race was led by Carter Moening, Alexandra Anderson, and Brennen Schulz. Finally in the 3K skijoring race, Roxy Franta took first place followed by Rick Pertl, and Patrick Horst.
Youth Races
The Junior Loppet was well-attended once again this year, with about 150 kids participating in 1.5K, 3.5K, and 5K races. Additionally the Age-Gap Relay event brought many racers, both young and young-at-heart, together for some good old fashioned family fun! With racers in many categories across these events, it's tough to properly acknowledge everyone properly – but we were so pleased and proud to see so many folks out giving it their best and having a blast at these Saturday events.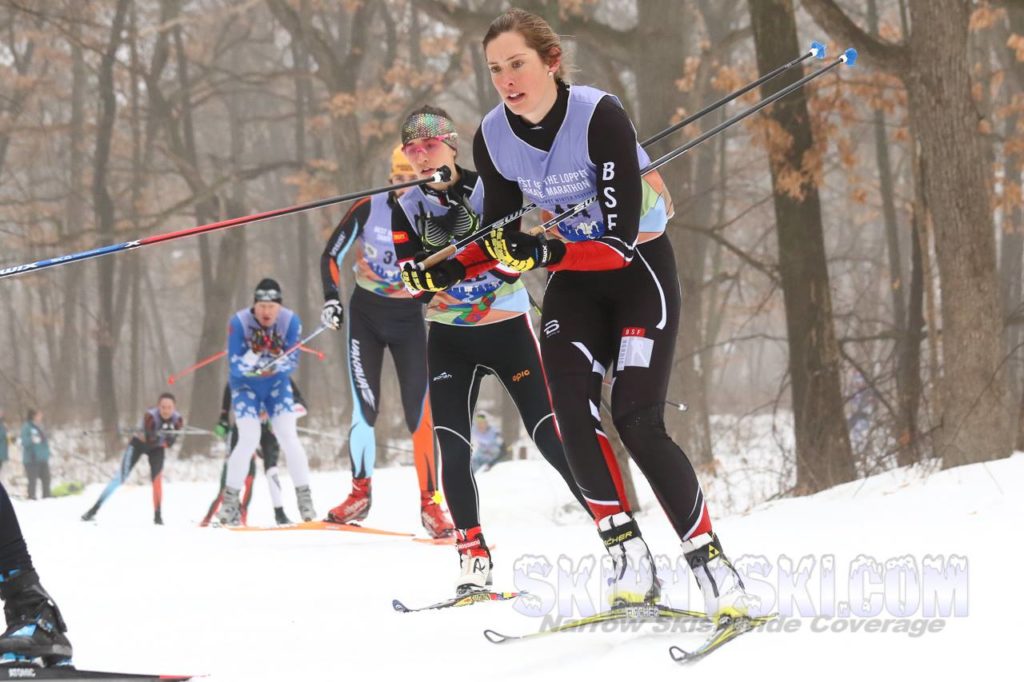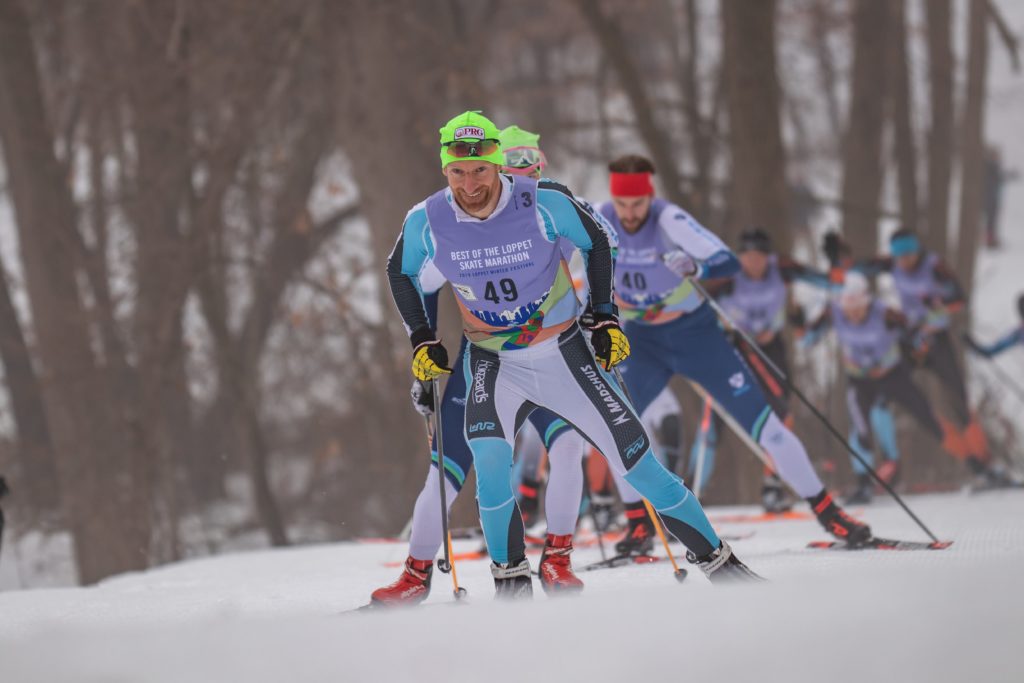 Sunday
In the early AM on Sunday, race officials had to make the tough decision to pull all point-to-point skate races back to Wirth Park due to unsafe course conditions. Despite the last-minute changes, Loppet staff and volunteers were able to pull off a great event on the snowmaking loop at Wirth Park.
Skate Races
Kicking off a little late due to race changes, racers in the Skate Marathon lined up Sunday morning ready to race on the course at Wirth. Felicia Gesior impressed again taking first in the women's category, with Hannah Cole and Marit Sonnesyn following closely behind. In the men's category, Brian Gregg, Andrew Brown, and Joel Lafrance took the first, second, and third spots on the podium.
In the Puoli Skate, a good turnout of 166 skiers raced with a start and finish at Wirth Park. Jack Wenz, Brennen Schulz, and Kristofer Johnson took first, second, and third place in this race; with Susanne Hill, Rebecca Kolstad, and Brooke Ailey taking podium spots on the women's side.
More than 120 skiers, hailing from locations as close as Minneapolis to as far as Thunder Bay, Canada, came out to take part in the non-competitive Skate Tour following Sunday's competitive races. With great "crunchy soft" snow conditions, participants were able to enjoy a great day of skiing at on the trails at Wirth.
The Askov Finlayson Snowshoe Loppet had a solid turnout of nearly 30 racers, each enjoying a particularly challenging 10K course with plenty of climbs along the way. Once again, the snowshoe race was won by Eric Hartmark with an impressive time of  31:07, followed by Mark Brose and Rob Class.
Many participants in the Penn Cycle Fat Tire Loppet had a slight advantage this year, as the Loppet Foundation recently opened up snowmaking trails to fat tire bikers during off-hours on weekends. Overall winners of this event were Peter Olejniczak, Steve Marshall, and Josh Bauer finishing in first, second, and third places respectively.
The Penn Cycle Puoli Fat Tire Loppet was another great Sunday race for both participants and spectators. Ethan Komp, Jake Palen, and Adam Spears won the overall race in first, second, and third places on the podium.
All in all, the 2019 Loppet Winter Festival was one for the books. With our new home base at The Trailhead, racers were treated to a fun and challenging course on Saturday and Sunday.
Thank You
We know that the challenge of putting on events of this magnitude is no small feat, and requires a great deal of commitment, on-your-feet thinking, and care. Which is why we would be remiss to not offer our most sincere thank you to all of the volunteers, racers, and sponsors who pull together with their talents and resources to make the annual City of Lakes Loppet Winter Festival happen. Hats off to all of you, we can't wait to do it again next year!