Nayeli's Story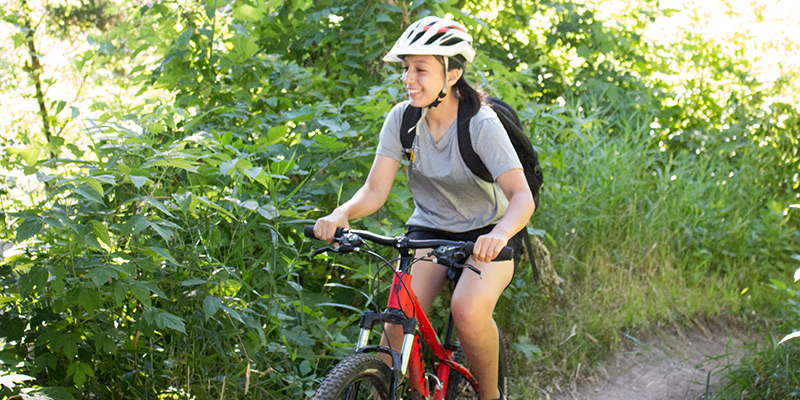 Nayeli Hernandez Limas was a shy 6th grader when she joined the Junior Loppet team at Franklin Middle School in North Minneapolis. She was a bit hesitant about trying cross country skiing, mountain biking, trail running and canoeing. But Nayeli's coaches supported her and encouraged her to step out of her comfort zone. She soon developed great confidence in her abilities as a mountain biker, learning to ride over log piles and across narrow bridges.
In 2013, Nayeli participated in her first "Tri-Loppet" race with her Junior Loppet teammates. An annual off-road triathlon that draws hundreds of community participants, the Tri-Loppet is not for the faint of heart. It can take about 3 hours, and consists of paddling through Minneapolis' Chain of Lakes, followed by mountain biking and trail running in Wirth Park. Nayeli, just a middle schooler, finished the entire race – a testament to her growing skills, fitness, and mental fortitude.
The Tri-Loppet was such a formative experience for Nayeli that she went home and wrote a book about the race. "Her whole family was hyped, and they brought the book out to show me. It was literally 20 pages with the story and hand-drawn pictures," Loppet Adventures Director Anthony Taylor remembers.
After her Tri-Loppet experience, Nayeli was all in. Her consistent attendance, positive attitude, and burgeoning teamwork skills earned her the title of Junior Loppet team captain. When she aged out of the Junior Loppet, she became a junior counselor at Loppet Adventure Camps.
Now a junior at Patrick Henry High School, Nayeli has an impressive Loppet resume. She's done 7 Loppet Adventure Camps and 15 Loppet ski races, trail running races and Tri-Loppet races! This past summer, we hired Nayeli as a Loppet Adventure Camp counselor, where she was a standout leader and role model for young campers. She's also volunteered our annual "Loppet Games", a series of activities and races for younger kids. Her talents are helping the Loppet community, and inspiring the next generation of Loppet kids.
"Everyone should experience the opportunities the Loppet gives." Nayeli says. "The Loppet made me a part of races and made me feel proud!"
Indeed, Nayeli's Loppet accolades have helped shape her ideas of what she's capable of — from mountain bike racing extraordinaire to budding leader in the North Minneapolis community. Now, she helps organize jobs fairs for fellow high-schoolers through Hennepin County Libraries, and has even volunteered at the office of the Secretary of State of Minnesota with primary elections. Her academic drive is evident as well: she's taking post-secondary courses at Minneapolis Technical College this year.
At a Loppet event last fall, our Executive Director got to talk with Nayeli's mother, Fabiola. Fabiola recounted years of seeing Nayeli and her younger sister Sofia coming home with medals from Loppet events – and how proud it made her of her children. She talked about how wonderful Loppet coaches have been for her daughters, and how empowered they are because of their experiences.
We thank the George Family Foundation for helping us support the development of strong young women like Nayeli! We're so excited to see where her talents, hard work and leadership skills take her next.