Edison Outdoor Club — skiing recap and springtime pre-cap

Andy Harris, High School Liason, the Loppet Foundation
Sometimes it is hard to tell what season it actually is. One day, it'll be forty degrees and rainy, the next day you get six inches of snow, day three is wind-blown sideways sleet.
So, as we sit somewhere between winter and spring, let's circle back with one of our favorite crews of outdoor adventurers from Northeast Minneapolis — the Edison Outdoor Club, out of Edison High School — to take a look back, and also a look forward.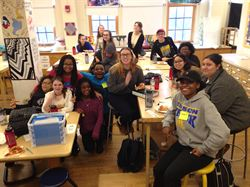 This winter we…
got fifteen high-school youth on skis, most of whom had never skied before
convinced them to come back three more times (it wasn't that hard…)
played ski-ball, ran relays, and skied under the night sky with headlamps
and, to top it all off, had some skiers participate in the City of Lakes Loppet 10K!
For one of our hardy participants, Caliyah Rush, this outing was her first ski event. For another, Victoria Inamagua, this was an opportunity to reconnect with a sport she pursued competitively in the varsity squad over at Patrick Henry. Medals were won, hot cocoa was drank, and adventure was had in spades.
On the docket for the spring, the Edison Outdoor Club and the Loppet will partner to bring mountain biking, trail hiking, orienteering, and canoeing to high school age youth in North and Northeast Minneapolis. So keep your eyes peeled on the trails when the snow melts for us. We will be sure to say, "hey!"