Edison – Loppet Partnership Brings the Trails to Northeast MPLS

Since the snow has been playing shy this winter, the Edison Outdoor Club at Edison High School in Northeast Minneapolis was able to have a full slate of mountain bike outings from late October to late November, thanks, in part, to coaching and equipment provided by the Loppet Foundation.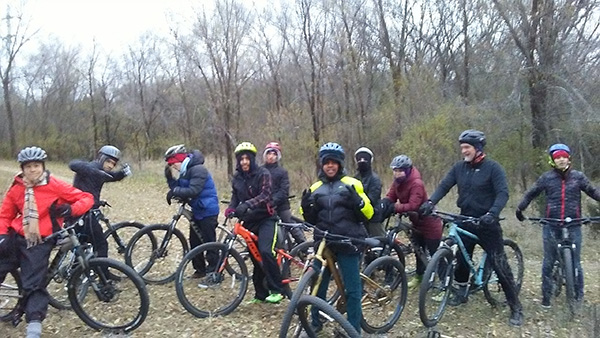 The switch to a dedicated mountain bike progression represents something of a culture change for the Edison Outdoor Club, which has traditionally focused on climbing, backpacking, and camping with other activities sprinkling in to create a "tasting plate" of outdoor experiences for urban youth. But, the four mountain bike outings were a smash hit.
Starting with skill work and drills on the nearby Jackson Square Park, a dedicated crew of 15 students and 3 Outdoor Club leaders built mountain bike proficiency and self-confidence, going on to tackle two challenging rides at Theodore Wirth Park — one made more difficult with finger-numbing temperatures and the other a romp in near-perfect conditions (other than the occasional mud pit…).
The Outdoor Club finished their mountain biking season with a trip to the Minnesota River Bottoms, handling a long, two-hour ride over unfamiliar terrain with skill and aplomb — fully earning a reward of late-season honeycrisp apples and homemade cookies.
The Edison Outdoor Club is just starting their Loppet Adventure, however. When the snow does start to fly, you will find us on the trails of Theodore Wirth — training, the plan is, for the 2018 City of Lakes Loppet Classic Tour 10K. If you are nice, we may even save some apples for you.