Edison Outdoors Club Hits Some Homemade Trail with the Loppet

-by Coach Andy Harris
Trail is not so much a place you go to ace berms and get air as it is a state of mind — a mental engagement with the out-of-doors that transforms perspectives and changes lives.
This idea is at the heart of the Loppet Foundation's mission, and at the heart of the Edison Outdoors Club, which has recently partnered with the Loppet to provide mountain biking and cross country skiing modules to their offerings of rock climbing, overnight camping, and hiking to Edison High School students free of charge.
Consider Jackson Park. Maybe a few acres of green space in Northeast Minneapolis, kitty corner to Edison High School, its main attraction are its blacktop basketball courts and playground.
But add a few cones, flags, and few bumps in the road, an up-an-over, hills and valleys and turns, and Jackson Park becomes, for a few hours, these high schooler's first mountain bike trail.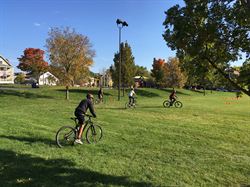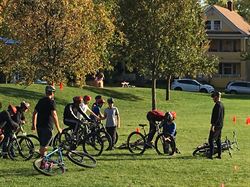 The Loppet provided basic instruction and equipment to over 15 Edison High School students. Skills including attack and neutral positions, shifting, descending, braking, and cornering were both taught and put to the test in a time-trial course.
Future plans for the Edison Outdoors Club – Loppet Partnership including seeking out actual singletrack at Wirth Park and Lebanon Hills (November 10 and 17 being the respective dates for those adventures). But, for a little bit, the trail wasn't so far away — in fact, the trail was right between these kids' ears the whole time.