Anwatin Team's Fall Trip to Jay Cooke State Park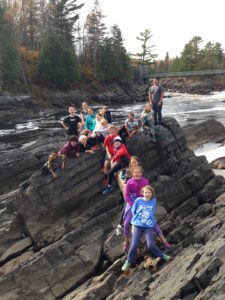 On Wednesday, October 18, eighteen Anwatin middle schoolers headed to Jay Cooke State Park to embrace bright fall colors and very fortunate October temperatures. This included many returning team members, however we had many new athletes as well, and, as we arrived, I asked them all if they knew what they had gotten themselves into.
My goals for the trip included long hikes and proper rollerskiing practice. Our captains had requested a rollerski-focused trip, and it can be difficult to get enough time during an after-school practice to really dig into rollerskiing. The spotlight of the trip was Thursday's "50K Day", where we were to rollerski down the Munger Trail from Jay Cooke State Park into Duluth, and then hike from the Lake Superior Zoo to Canal Park in downtown Duluth via the infamous Superior Hiking Trail. This trip was based on a trip I did three years ago, and is the first "recycled" trip, and it was as much a hit this time around. Maybe even a little bit improved.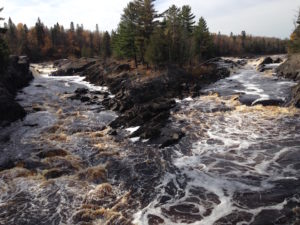 When we arrived at the State Park, we immediately checked out the Swinging Bridge and jumped around on the rocks by the river. After settling into our group campsite, we strapped on our rollerskis, and skied down the gravel road until we found the Forbay Trail, which was a bumpy, hilly trail that we took for about a mile until the smooth, flat Munger Trail. This went pretty well, as it was mostly uphill, and we were all ready to take off a layer by the time we got to the Munger Trail. We skied toward Carlton and made it to the Thomson Dam, a bridge that made me very nervous as the railings were not that high. Round-trip, this was about 4 miles and a good test-pilot for tomorrow's 15 mile section. Everyone was doing well, and we talked about the downhills on the way back, and how we would likely need to walk down in the grass for parts of it. Well, those downhills snuck up on us, and I'm glad we went over grass braking the day before, because we had quite a few rapid grass bailouts as the winding trail just kept going. Again, what did these poor kids get into…
After dinner, as it got dark under a new moon, we took a hike to the Thomson Cemetery, from the 1800s, which came with a good amount of "spooks" along the way. When we got back, we made a bonfire and played an inspired game of Ghost in the Graveyard.
Early Thursday morning, we woke up and ate breakfast in the dark, and got ready to go as the sun came up. It was chilly overnight (low 40s) so it took a little coaxing to get everybody out of the tents, but everyone rallied and we were ready ahead of schedule. We left the campsite on rollerskis (two kids on rollerblades) at 8:15 AM. Twelve of us embarked back toward the Munger Trail for a 15 mile rollerski, and six went to a part-way point for a shorter route, as they were newer to rollerskiing and contrary to how it sounds, I did want them to enjoy rollerskiing at the end of the day.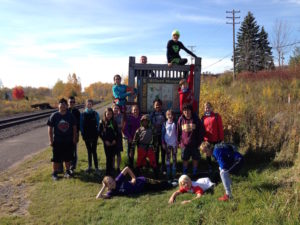 The rollerski was incredibly dreamy. This particular section of the Munger Trail was gorgeous, and with the fall leaves and birch trees, tall walls of dark rock, and fresh new pavement for most of the trail (it reopened the weekend before after construction), as well as just a very pleasant slight downhill the whole way, we cruised through the rollerski portion easily. Everyone was surprised when we made it to the end parking lot, and most of the kids even skied backwards on the trail to cheer in the kids further back, which tacked on another kilometer or so. The kids who skied the shorter section got there early and decided to ski more as well. This was my favorite "proud coach" moment.
The team took a little break, and then put on our walking shoes and cut up by the Lake Superior Zoo to the Superior Hiking Trail. This first section of about 5 miles was largely uphill, and we took a brisk pace. Everyone was a little worn out by the time we got to our lunch spot. But with some new sandwich and chocolate milk energy, everyone got back on the trail and kept going. After about 4 more miles, we checked in, and the biggest dilemma seemed to be needing a bathroom, despite coaches' encouragement to find a nice spot off-trail. Two younger hikers decided to take a break at this point, and hopped in our support van, but everyone else kept on going. The lift bridge and Enger Tower kept getting closer, if slowly, and we kept cruising through the woods, catching overlooks, weaving through bits of town. Finally we made it to Enger Park, which the kids affectionately dubbed "Anger Park," and most still had the energy to climb the tower for its overlook. From there, it's about two downhill miles to Canal Park, so everyone made the final push down and finished just as the sun was setting, around 6:30 p.m.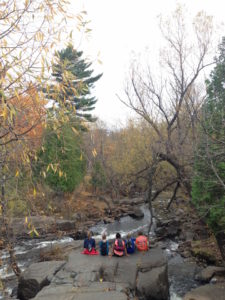 We shuttled over to the Duluth Grill for dinner, which tasted phenomenal, and there were some clean plates that night. The kids enjoyed bragging to the waitress that they had traveled 50K by foot. And of course, they insisted that they also had bragging rights to the rest of the team back home. I agreed to that.
My hope for 50K day was to show them what they can do. I hope that after this journey, everyone felt a little more accomplished, a little better about rollerskiing, a little more connected to their own body and nature, and of course, I don't think I'll ever hear a complaint about a 90 minute practice again!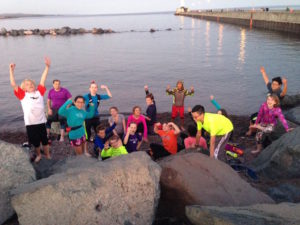 The next day, Friday, we slept in, went back to the Swinging Bridge, and hiked around the Jay Cooke trails, along the river, and through the ski trails. The kids all agreed that we should probably come back in the winter to ski, and maybe next summer/fall, bring the bikes for all of those sweet mountain bike trails that we passed on our hike.
Here's to many more adventures and lots of great kids to do them with!