Anwatin Team UCare Tri-Loppet Recap

By Coach Allie Rykken
The Anwatin Trail Kids Team had an exceptional day at the UCare Tri-Loppet! Our team had a strong focus on paddling this summer, and I think it really went a long way. We partnered with the Minnesota Canoe Association and attended their Monday evening "Rookies" nights where experienced paddlers partner with newer paddlers to teach them the basics of canoe racing.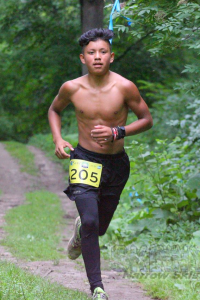 Boonkoon Thao, who partnered with Alex Reich, commented that paddling was his strongest leg (at 57 minutes), and was surprised to see how well they were doing. He "expected to be in the middle, maybe back half of the boats," and was excited that he saw a whole bunch of boats behind them! Reich reflected that Thao was "the best paddler he'd ever paddled with!"
We had quite a few Tri-Loppet veterans with us, including some alumni – Quinlan Brogdon, William Munnich (9th male overall!) and Henry Munnich. Nico Borrello, Victor Morales and Gabe Cayetano are also incoming freshmen, so it was fun to celebrate one last Loppet event with the Anwatin team, though one of the great parts of being an alumni is coming back and joining us at year-round Loppet events, so I hope we can see all of those guys next year!
A couple of parents jumped in as well! Maria Lee completed the full event, but was also on a relay team with her parents, Lori and Patty. Kellen Sonquist partnered with his dad, Ben, who often helps coach the team during the school year, as he is also a teacher at Anwatin.
I was especially proud of our first timer Tri-Loppet participants: Bela Santan, Maria Lee, Kellen Sonquist, Michele Nguyen, and Emiliano Cayetano, all incoming 7th graders, were strong competitors! I think all of them were pretty nervous going into it, but had big smiles at the finish. Michele made it to all of our paddling practices prior, as well as one of the Hoigaard's Derbies, and Bela and Maria were out there doing extra out of practice paddle sessions with their partners. So a lot of hard work, put to the test! This race is definitely a benchmark in knowing how much our bodies can handle, and these kids were up for the challenge.
Thanks to UCare for sponsoring the event and supporting our team during the day on race day. And thanks to all of our Paddle Partners!